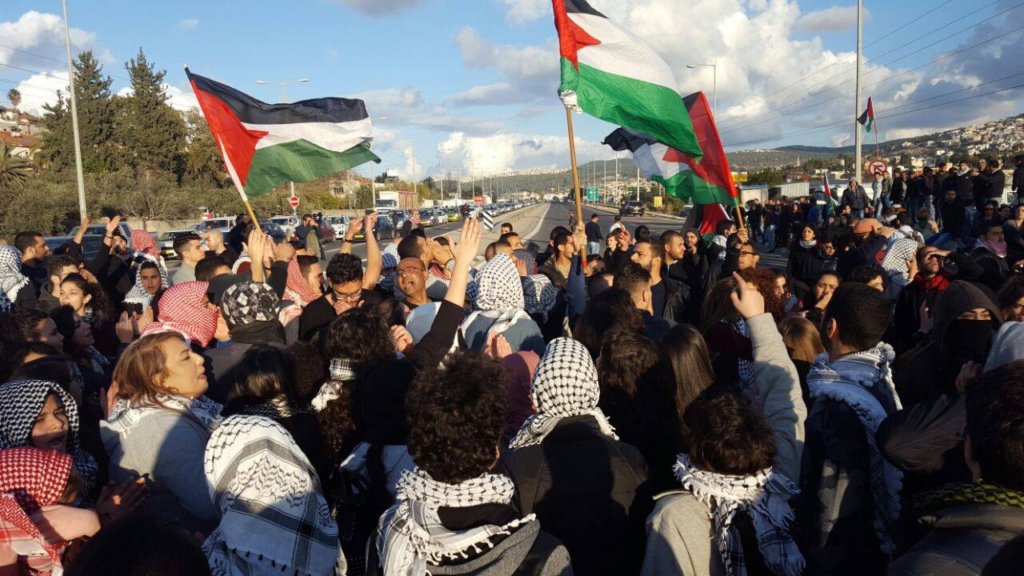 Dear Friends,
Your support for our project has played a crucial role in protecting the freedom of expression rights of Palestinian citizens of Israel since the start of 2017.
In January, hundreds of Palestinian citizens participated in protests across the country against the killing of 50-year old math teacher Mr. Ya'akub Abu Al-Qi'an, who was shot unjustifiably by Israeli police during a home demolition operation in the Bedouin village of Umm al-Hiran in the Naqab (Negev) desert in the south. Adalah is representing the family members of Mr. Abu Al-Qi'an in demanding an independent and thorough investigation into the killing.
Adalah lawyers were present as observers at one of the largest demonstrations in the Arab town of Ar'ara in the center of Israel, where they monitored the police's practices to ensure that they did not violate the protestors' right to express their opinions.
Adalah staff also produced live documentation of the protest with photos and videos, which were widely viewed and shared on Adalah's Facebook and Twitter accounts. See examples of our posts here, here and here.
During the same period, in the city of Haifa in the north, Israeli police used illegal methods to try to prevent a protest led by Arab high school students from taking place.
In the days leading up the protest, plain-clothed police officers summoned or paid visits to local Arab school principals to pressure them to stop students participating in the protest.
Police also sent Whatsapp messages in Arabic to individual students telling them – falsely – that the protest was illegal and that there would be clashes with police if they went forward with it.
Adalah sent an urgent letter to the Israeli police in response to these practices, demanding that the police's acts of intimidation immediately end.
"The facts of the case," wrote Adalah Attorney Mohammad Bassam, "demonstrate that the police force is prepared to employ even illegal means to deter Arab school children from exercising their right to freedom of political expression."
The police claimed in response that they had acted legitimately and out of concern that the event could "endanger public safety." However, Adalah retorted that such claims were baseless and that the acts of the police remained illegal. "According to this logic, the police would be authorized to prevent any form of student protest on the pretext of maintaining public order," wrote Attorney Bassam.
Thanks to our legal support, the protest in Haifa was held successfully on 24 January, with the young Arab protestors being reassured of their legitimate right to exercise their freedom of expression rights. Adalah lawyers were also present during this protest as observers to ensure that the police did not harass the students further.
We could not have done this work without your support. Your contributions ensure that our work to #ProtectTheProtest will continue to achieve these tangible successes for many more Palestinian citizens of Israel in the months ahead.