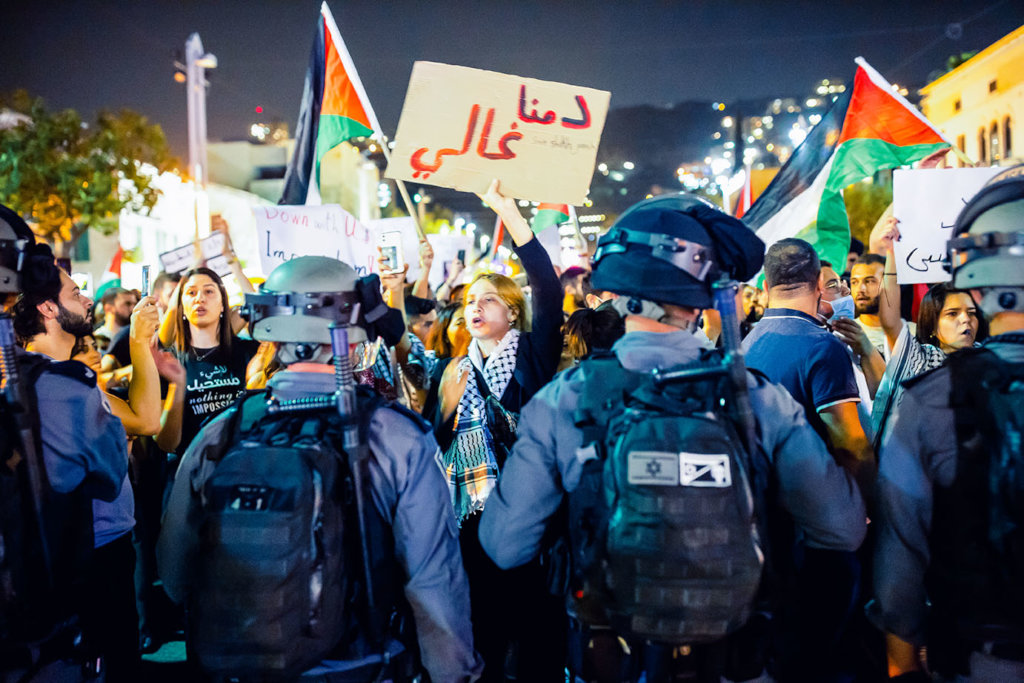 Dear Friends,
Many greetings and warm hellos to you from Adalah.
We are writing to update you on Adalah's recent actions to protect and defend Palestinians' freedom of protest. Our last report discussed the beginning of the very violent events of May 2021, with the brutal suppression of the protests in Sheikh Jarrah and near the Al Aqsa Mosque in Jerusalem. Palestinian citizens of Israel have also suffered grave human rights violations by the Israeli authorities as they took to the streets in Israel to protest the Israeli police violence in Jerusalem, and later Israeli military attacks on Gaza.
Adalah's main concerns regarding Palestinian citizens of Israel during the violent events in May 2021 included:
Organized violence by extremist ultra-right-wing Israeli Jewish groups against Palestinian citizens and their property, oftentimes with police protection and collusion.
Excessive use of force and violence by Israeli police against Palestinian peaceful protestors, and a campaign of mass arrests and detentions.
Incitement by Israeli government officials against Palestinian citizens, including by then-Prime Minister Netanyahu.
Selective enforcement of curfews and lockdowns against Palestinian citizens in mixed Jewish-Arab cities in Israel.
We documented Adalah's major legal and advocacy actions in May and June 2021 in two newsletters that we published. You can read them here:
Adalah's Emergency Work during the War, 21 May 2021
New Israeli government must confront police violence and impunity, 21 June 2021
In the aftermath of these events, Adalah has been following up on the Israeli police's campaign of mass arrests and detentions and the excessive use of violence by the police against protestors. An example of egregious events that we are monitoring closely involved the brutal beatings and other criminal acts of violence by the Israeli police against detained protestors in Nazareth. Adalah wrote extensively about these events in its 7 June 2021 press release entitled, "What happened in the 'torture room' at Israel's police station in Nazareth?".
In July 2021, the Police Investigation Department (PID) opened a formal investigation into the brutal acts of the Nazareth "torture room" following Adalah's complaint. Adalah continued to monitor the investigation and in August requested that the PID hear testimonies on what took place at the station not only from direct complainants but also from other detainees as well, and in particular, those who required medical treatment, and those who had marks of violence on their faces and bodies when they were brought to extension of detention hearings in the Nazareth Magistrates' Court. A failure to do so would raise serious concerns about the genuineness of the investigation, Adalah argued.
Adalah also demanded the immediate suspension of the commander of the Nazareth police station, and the initiation of criminal proceedings against him and all others involved following the investigation. Adalah wrote that we considered the fact that the commander of the station has not been yet suspended a sign of the lack of seriousness and severity that the police see in these acts.
This month, we are continuing to follow up on this case, and we have filed an additional complaint on behalf of another Palestinian citizen of Israel who was brutally arrested and beaten by the police officers in the Nazareth police station in May 2021.
Also this month, Adalah filed a complaint on behalf of three minors and one adult – all Palestinian citizens of Israel - who were injured by the police during a massive shooting in the mixed city of Jaffa during the May 2021 events. We demanded that the PID open an immediate, comprehensive criminal investigation into the dangerous conduct of the police who used stun and tear gas grenades, as well as rubber bullets to disperse peaceful demonstrations in Jaffa. The four complainants were injured as a result of the police's massive and random shooting of rubber bullets, despite that they did not even take part in the protests.
Adalah will continue to closely follow these cases to ensure that those responsible for these violent acts are held accountable, and that such collective and arbitrary police practices against Palestinian citizens of Israel are halted.
Thank you, as always, for your continued interest in and support of Adalah's 'Protect the Protest' project. Your support is critical for our work, and we greatly appreciate it.
In solidarity,
Ranna Khalil