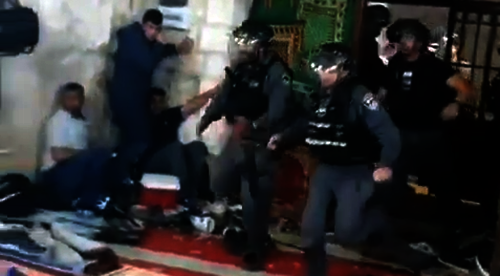 Dear Friends,
Warm regards from Adalah. We hope that you are healthy and safe.
During the past month, the use of violence by the Israeli police has escalated against Palestiniansin Jerusalem, including in and around the Al-Aqsa Mosque compound in the Old City and in the Sheikh Jarrah neighborhood.
Protests took place throughout the Muslim holy month of Ramadan, following the police forces' construction of barricades at the Damascus Gate, a main entrance to the Old City and one of its most iconic spots, where worshippers gathered after prayers at Al Aqsa. Tensions further intensified at demonstrations against the possible forced evictions of refugee Palestinian families from their homes in the Sheikh Jarrah neighborhood of Jerusalem for the purpose of settling extreme Israeli Jewish residents, who have made pre-1948 land claims in this area.
Throughout Ramadan, the Old City of Jerusalem and Al-Aqsa Mosque, one of the three holiest sites in Islam which is located at the heart of the old city, are crowded with worshippers. In response to protests, Israeli police have repeatedly raided Al-Aqsa compound over the past days, deploying extreme, excessive force and wounding hundreds of Palestinians. Additionally, Israeli forces blocked the main road leading to Jerusalem, preventing Palestinians from accessing Al-Aqsa compound on the Muslim holy night of Laylat al-Qadr, this past weekend.
Following these events, Adalah sent an urgent letter on 8 May 2021 to the Israeli Attorney General and Police Commissioner, demanding to end the police's violent incursions into Al-Aqsa compound,and to refrain from the use of excessive force against worshippers and medical staff at the site. The police used extreme measures to disperse them, firing rubber bullets, and stun and tear gas grenades, including against women and children.
Adalah stressed that the use of these deadly weapons at Al-Aqsa compound endangers the lives of Palestinians, is illegal and constitutes a violation of their right to freedom of worship. Adalah also demanded that the police reopen the road to Jerusalem in order to allow worshippers access to Al-Aqsa mosque to mark Laylat al-Qadr on that same night.
Adalah called on the police not to aid the extremist Israeli settlers in their attacks on Palestinian residents of Jerusalem, particularly in Sheikh Jarrah, and warned that if the police do not reconsider its violent practices against Palestinians, it would lead to bloodshed and further harm to innocent people.
In response to these recent violent events, on 9 May 2021 Arab citizens of Israel held protests in solidarity with the Palestinian residents of Jerusalem. Once again, police forces resorted to extreme violence against demonstrators, refusing to transfer injured detainees for medical care in Haifa, and denying lawyers access to a police station in Nazareth to provide legal counsel to the detainees. Adalah sent a letter to the police headquarters in Haifa demanding to provide injured detainees with immediate medical care. Adalah also sent a letter to the Attorney General and the Police Commissioner demanding to allow lawyers access to the Nazareth police station.
Read: Adalah to Israeli attorney general, national police chief: End violent police incursions into Jerusalem's Al-Aqsa Mosque compound immediately, 8 May 2021
Read more: Possible Israel War Crimes In East Jerusalem Land Right Case: UN, Agence France Presse (AFP), 7 May 2021
Read more on forced evictions in Sheikh Jarrah: "Dispossession & Eviction in Jerusalem", a 2010 report by The Civic Coalition for Defending Palestinian Rights in Jerusalem and Adalah.
Follow the hashtag: #SaveSheikhJarrah
Thank you again for your support for Adalah's critical work. Please consider a further donation to our project. We sincerely appreciate it.
In solidarity,
Ranna Khalil