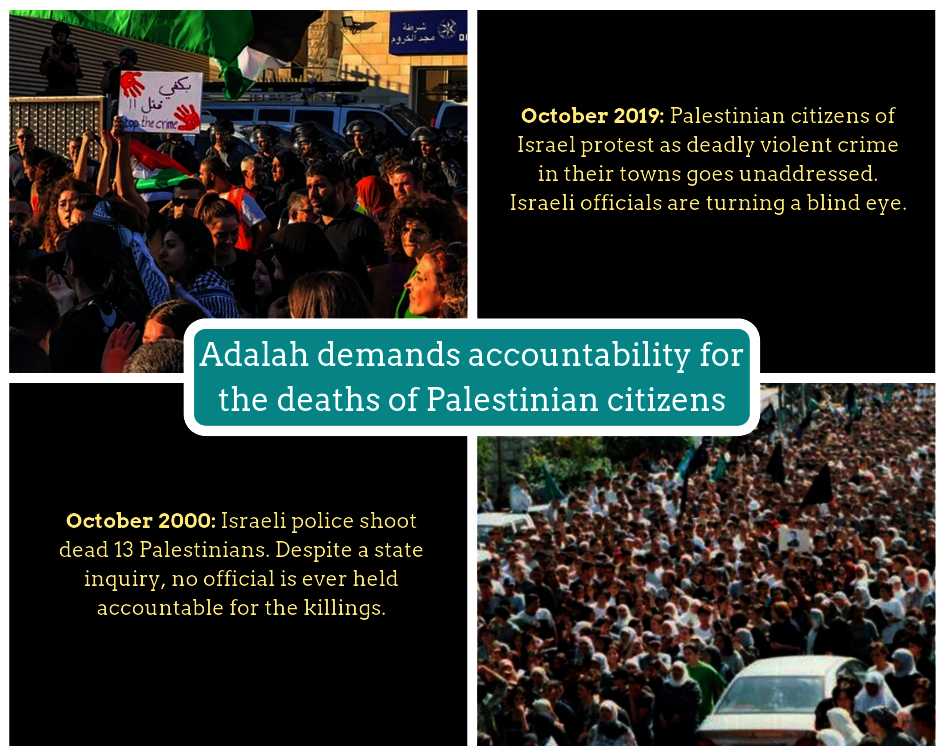 Dear friends,
Nineteen years ago, in October 2000, Israeli police shot dead 13 Palestinians in Israel during mass protests against Israel's repressive policies in the Occupied Territories at the start of the Second Intifada. The police, who used live-fire and rubber bullets, also wounded 1,000 protestors and arrested 660 in Israel.
For years Adalah represented the families of the 13 killed Palestinian protestors, demanding that those responsible be investigated and prosecuted.
In a 2003 report, a commission of inquiry confirmed that there was no justification for the police's use of lethal force against the protestors. It also called on the police to "root out the existence of negative prejudices against the Arab sector" across its ranks, adding that the police should no longer see the Palestinian citizens as an "enemy".
Despite these strong words, the Attorney General in 2008 closed all of the files against police officers, commanders, and political leaders. To this day, not a single Israeli officer or other official has been indicted for the killings. And years later, it is clear that the Israeli authorities have refused to heed Palestinian demands for fair, humane, and accountable law enforcement.
This month, thousands of Palestinian citizens of Israel have taken to the streets to protest the police's systemic negligence in tackling the rise of deadly violent crime in Arab communities.
On 3 October, Adalah participated in a general strike by the Palestinian community to protest the police's inactivity. Adalah staff also attended a mass demonstration in the northern town of Majd Al-Krum, where we legally observed the protests and stood ready for any legal representations of protestorsthat may have been necessary.
To commemorate October 2000, Adalah issued a meme on its social media pages connecting the protests in 2000 with the current protests of October 2019 (see above), and reiterating our demand for justice and accountability for the killings and injuries of Palestinians past and present, whether by the police themselves or by their grave inaction.
Our persistent efforts over all these years to protect Palestinian citizens' right to protest, and to hold the Israeli police accountable to the people they are meant to serve, can only be possible by your ongoing, generous support for our work.
A monthly, recurring donation will help to ensure our continued ability to "Protect the Protest".
Will you make a new contribution to Adalah today?
Thank you in advance for all of your support to our crucial work.