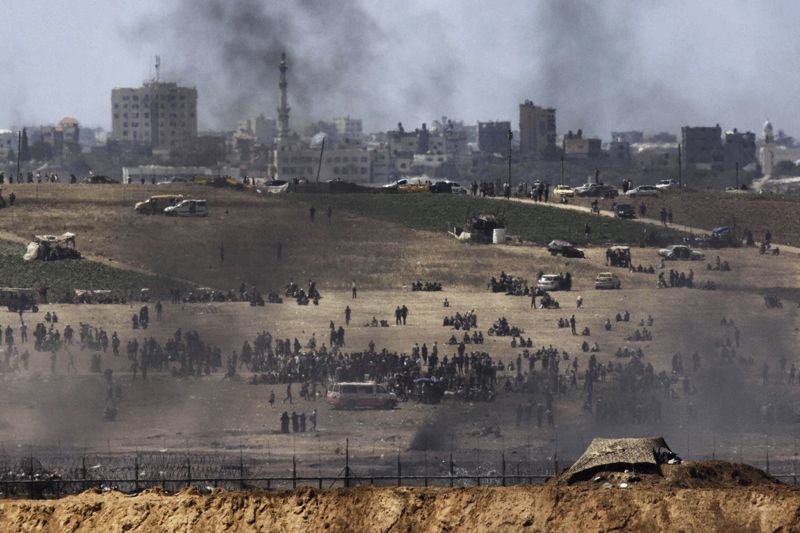 Dear friends,
For over a year, Israel's military forces have used lethal sniper fire to intentionally kill or maim Palestinians participating in Gaza's Great March of Return, a mass weekly protest demanding Palestinians' right to return to their homeland and the end of Israel's blockade of the Strip.
Adalah challenged this brutal sniper policy – which has killed 207 Palestinians in Gaza and wounded 8,490 since the protests began on Land Day, 30 March 2018 – before the Israeli Supreme Court last year. But the court rejected Adalah's arguments and fully adopted the military's position, giving a green light to the continued use of live fire against protestors.
Our legal battle to end this outrageous and deadly policy, however, is not done yet.
A military document officially released in February 2019, eight months after the court delivered its ruling, reveals that Israeli snipers are permitted to open fire on protestors defined as "key instigators" or "key rioters" – even when they move away from the crowd or are resting.
The alarming details in this document were never presented by the state or the military when Adalah, Al Mezan, and other human rights organizations challenged Israel's sniper policy before the Supreme Court. And even if they were, the military's broad categorizations, and its approval of deadly methods to suppress the protests, still grossly violate international law.
The UN Commission of Inquiry, an independent body that investigated the protests, found Israel's sniper policy illegal. Its report, released in March 2019, emphasized that the use of live ammunition against protestors was "unlawful", as they did not pose any threat to the lives of Israeli soldiers or civilians or participate directly in hostilities.
After carefully reviewing the document, Adalah sent a letter to Israeli authorities last month, in June 2019, calling on them to immediately order a ban on the use of live ammunition and sniper fire as a means of dispersing protests in Gaza.
Adalah Attorney Suhad Bishara, who wrote the letter, stated the following:
"The Israeli military – which has up until now kept secret its vague definition of the invented category of 'key instigator' – now openly reveals that this category was created retroactively in order to justify the shootings of people who posed no real and immediate danger to Israeli soldiers or civilians."
"The military's document," Bishara added, "attempts to explain away the indiscriminate shooting of unarmed demonstrators which results from a total disregard for human life."
Adalah is ready to launch further legal actions if its calls on the Israeli authorities are ignored.
Your support helps us to defend the right to protest for thousands of Palestinians, as well as the right to life, as dissent becomes increasingly dangerous.
Please donate generously to Adalah's work today.