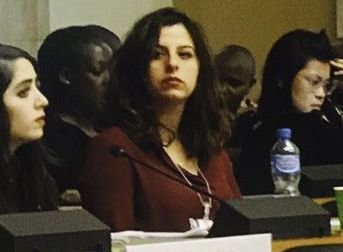 Making the global, local: protecting the right to protest
Dear Friends,
Greetings and warm hellos from Adalah! In this report back, we want to highlight some of Adalah's work before the UN, and our efforts to make the global, local to protect the protest.
Adalah has been working before UN human rights treaty bodies for 20 years, making international human rights law. In these processes, we document and expose human rights violations; inform the international community, including UN experts from around the world, of these practices; and frequently obtain favorable recommendations, which give international legitimacy and credibility to our claims. We then call on the Israeli authorities to implement these human rights recommendations, and we reference them before Israeli courts in further support of our legal arguments. In this way, Adalah tries to make the global, local and to work toward the full realization of international human rights.
Recently in October 2017, Adalah joined a delegation of Palestinian women's rights defenders and NGOs from Israel and the Occupied Palestinian Territory (OPT) to participate in UN Committee on the Elimination of Discrimination against Women's (CEDAW) review session on Israel in Geneva. Israel ratified the women's rights convention in 1991 and, like all other state parties, is reviewed regularly by the committee.
Ahead of the review, Adalah submitted reports and held meetings with members of the committee, and presented detailed information on Israel's violations of Palestinian women's human rights in all aspects of life. Importantly, Adalah highlighted Israel's failure to protect the rights of freedom of expression and assembly, to peaceful protest, and to use social media platforms to voice dissent, and the police and military's excessive use of force and extreme violence to suppress protestors.
The most serious illegal practices used by the police in Israel to suppress Palestinian protests, include: dispersing the demonstrations illegally and arresting protestors; refusing to give authorization for protests, claiming threats to public order; summoning protestors for interrogations with the General Security Service (GSS)/police; making illegal preventive arrests including those of family members of lead demonstrators; using excessive force and brutality against demonstrators; arresting protestors as groups, with the courts upholding "group detentions"; demanding lengthy times of pre-trial detention and house arrest; and failing to abide by special procedures that apply to children. Israeli Jewish protestors do not receive this treatment.
The CEDAW Committee issued its concluding observations in November 2017. The committee raised many of the concerns highlighted by Adalah and its partners. Regarding women's human rights defenders and NGOs in Israel, the Committee noted that:
"Following the adoption of the Anti-Boycott Law and Naqba Law in 2011, human rights defenders, including Israeli and Palestinian women, have been subjected to severe restrictions on their activities, including through limitations to their financing." The committee recommends that "the State party take specific steps, including through legal amendments, to create an enabling environment in which Israeli and Palestinian women human rights defenders and NGOs working on gender equality and women's empowerment may freely conduct their activities without undue restrictions, including on funding by foreign sources." (para. 38, 39)
Regarding suppression of protest of women and girls' in the OPT, the Committee stressed that:
"Israeli security forces continue to use disproportionate force in response to acts of violence, protest demonstrations and in its law enforcement operations in the context of counter-terrorism measures, with disproportionate impact on women and girls", and called on Israel to ensure that it "complies with the Basic Principle on the Use of Force and Firearms by Law Enforcement Personnel." (para. 18, 19)
In December 2017, Adalah wrote to the Israeli Attorney General (AG) to urge him to anchor these concluding observations in internal directives obliging government ministries to take measures to eradicate discrimination against women. Adalah argued that Israel ratified all of the international human rights conventions – including the women's rights convention (CEDAW) – thus expressing its intent to act in accordance with its standards and norms. Further, Adalah and women's rights groups in Israel asked for a discussion of CEDAW's recommendation in Israel's parliament, the Knesset. The Knesset's Committee on the Status of Women and Gender Equality, headed by MK Aida Touma-Sulieman, a member of the Arab Joint List, has scheduled a hearing for 12 March 2018. We will keep you posted about the outcomes - the AG's response and the conclusions of the Knesset hearing.
Thank you again for your generous contributions to Adalah, which make this crucial work possible. Please continue to help Adalah to protect the protest!
In solidarity,
Rina Rosenberg (Jabareen)
International Advocacy Director, Adalah