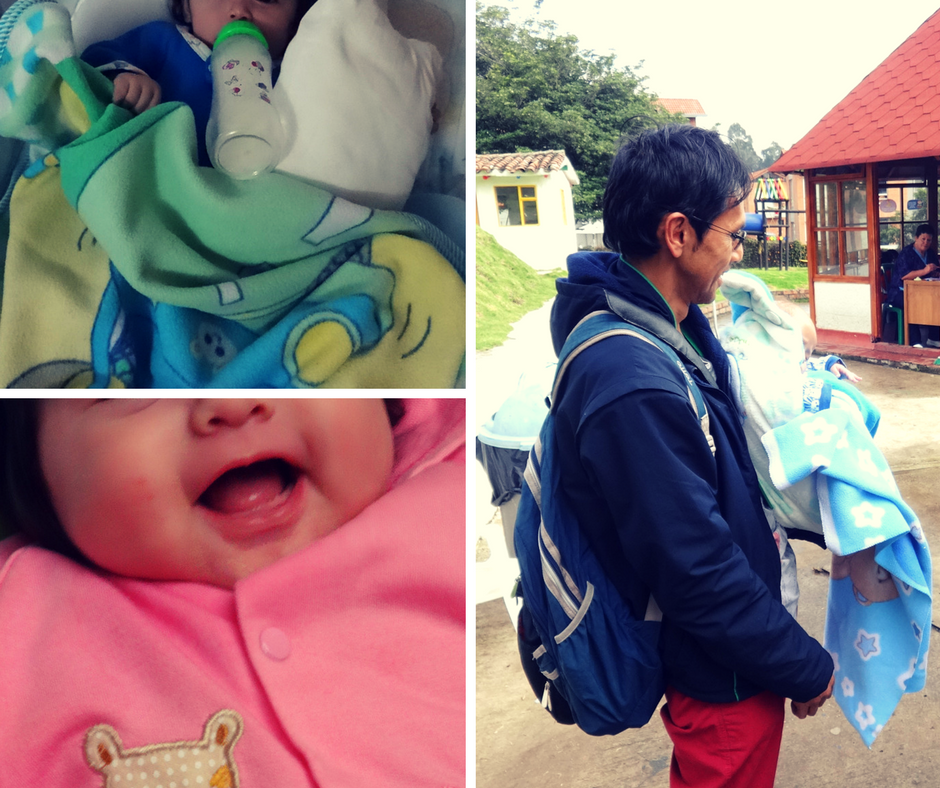 [Abajo puedes leer la historia en español]
The story of Ana and Sofía, two little twins

Ana and Sofía are two beautiful eight-month-old twins who came to CRAN five months ago. Upon arriving at our temporary home, they were diagnosed with acute chronic undernutrition. "They came in a very bad state, they would not laugh or even move", remembers Fernando, one of CRAN's health professionals. Due to their premature birth, their lungs had not yet fully developed and the conditions during their first days of life were not the best, either, so they have been constantly getting sick and hospitalized frequently.

"We did not know whether they had been attended before, or where, or if they were affiliated to the Health Care System either", adds Fernando. CRAN's professional team has carried out multiple actions and handled all the paperwork required to get to know their medical history and to guarantee their affiliation to the Health Care System.

In addition to the hospitalizations, endless lab tests have been performed on little Ana and Sofía. They have also gone through multiple consultations with nephrologists, pulmonologist, or pediatric gastroenterologists, among others. They have been put through a special nutritional regimen, as well, wich includes medical formula and nutritional supplements.

It all has been worth it, though, for today Ana and Sofía are completely different. They laugh a lot, for instance, and their eyes shine. Thanks to your donations to our project they are getting ahead. The caring, protective and loving environment that, thanks to your generosity, we can offer them at CRAN has allowed them to unfold their full potential.

Fernando has been working for CRAN during five years, contributing with his effort, dedication and affection so that the children who live temporarily with us can grow healthy and strong until they recover their right to have a forever family. For him, the best pay and the greatest motivation is to be able to see the children happy with a family that loves them and takes care of them. "Seeing them with their family when they come to visit us is the best reward for so much effort and hustle", concludes Fernando.

Thanks to you and many other supportive people, we can have people like Fernando in our team and obtain and cover for everything our children need. Thank you for making the world a better place!
*Español
La historia de Ana y Sofía, dos pequeñas gemelas

Ana y Sofía son dos hermosas gemelas de 8 meses que hace 5 llegaron a CRAN. A su ingreso a nuestro hogar temporal, se les diagnosticó una desnutrición crónica y severa. "Ellas llegaron en un muy mal estado, no se reían, no se movían ni siquiera", nos cuenta Fernando, uno de los profesionales del área de salud de CRAN. Por su nacimiento prematuro, sus pulmones no se habían desarrollado plenamente y, además, las condiciones en sus primeros días no fueron las mejores. Por eso, se han enfermado constantemente y han sido frecuentes sus hospitalizaciones.

"Tampoco sabíamos si las habían atendido antes o en dónde o si tenían alguna afiliación al sistema de salud", agrega Fernando. El equipo de profesionales de CRAN ha tenido que hacer todas las gestiones para conocer su historia médica y garantizar su afiliación al sistema de salud.

Sumadas a las hospitalizaciones, han sido muchos los exámenes que se les han practicado a las pequeñas Ana y Sofía y muchas las consultas con especialistas en nefrología, neumología y gastropediatría, entre otros. También tienen una dieta especial con leches medicadas y complementos nutricionales.

Pero ha valido la pena y hoy Ana y Sofía son muy diferentes. Ya se ríen mucho, por ejemplo, y sus ojos brillan. Gracias a tus aportes a nuestro proyecto, están saliendo adelante. El entorno de cuidado, protección y amor que podemos ofrecerles en CRAN por tu generosidad, les ha permitido desplegar todo su potencial.

Fernando lleva 5 años trabajando en CRAN, poniendo su empeño, dedicación y afecto para que los niños que viven temporalmente con nosotros crezcan sanos y fuertes hasta que recuperen su derecho a tener una familia para toda la vida. Para él, el mejor pago, la mayor motivación es ver a los niños felices con una familia que los quiere y los cuida. "Verlos con su familia cuando nos visitan es la mejor recompensa a tanto esfuerzo, a tanto corre corre", concluye Fernando.

Gracias a ti y a muchas personas solidarias podemos contar con personas como Fernando en nuestro equipo y gestionar y cubrir todo lo que necesitan nuestros niños. ¡Gracias por hacer del mundo un lugar mejor!
Links: