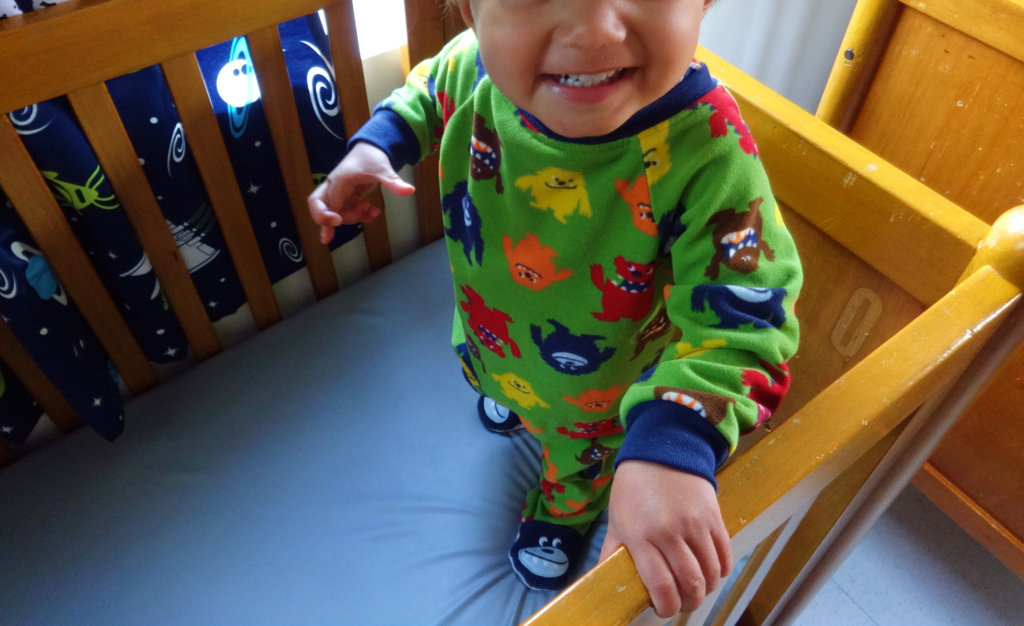 [Abajo puedes leer el reporte en español].
Day and night taking care of our children
Hi! We want to tell you that thanks to your support we have been able to cover the transportation and companionship of our children for emergency attention, appointments with doctors and medical tests so they grow healthy and happy.
This is the case of Pedro, 1 and a half year old, who arrived to CRAN with high level of malnutrition and during his stay Fernando and Sandra have had to take him to emergency room three times due to his vomit, inappetence and general unrest.
"The third time we took him to emergency room his feet were very swollen and the doctors hospitalized him in order to make test on his kidneys and rule out liquid retention", states Fernando, who is one of the people in charge of giving companionship to the children when visiting the doctor.
Sandra told us that "during the hospitalization we stood beside him day and night and although he didn´t complain about pain, he was very anxious and very weak. That is why, the most important thing is to pamper and give him a lot of love for a soon recovery".
"When he was out of the hospital it was decided to get a specialist for a more accurate diagnosis for Pedro to fully recover. In a lot of cases, public health service is very slow to cover emergencies that need timely diagnosis and on time medication ", states Delia, our nurse.
Currently, Pedro is already more lively, has recovered his appetite and continues to take his medicines on time to be able to get well and to keep growing healthy and happy.
Thanks to you, we can protect and care for Pedro and all our childtren, while they recover their right to have a family that takes care of them and love them permanently.
We invite you to continue contributing to our project and to disseminate with your friends and family.
Thank you for building with us a better world for every one!
***
Día y noche cuidando a nuestros niños
¡Hola! Te queríamos contar que gracias a tu apoyo hemos podido cubrir el transporte y el acompañamiento de los niños a urgencias hospitalarias, citas con especialistas y exámenes médicos para que crezcan sanos y felices.
Es el caso de Pedro, de un año y medio, que llegó a CRAN con un nivel de desnutrición agudo y durante su permanencia Fernando y Sandra han tenido que llevarlo a urgencias tres veces porque ha presentado vómito, inapetencia y malestar general.
"La tercera vez que lo llevamos a urgencias estaba con los pies muy hinchados y los doctores lo hospitalizaron para hacerle exámenes de riñones y descartar que estuviera reteniendo líquidos", aseguró Fernando, quien es una de las personas encargadas de acompañar a los niños al médico.
Sandra nos contó que "durante la hospitalización estuvimos acompañándolo día y noche y aunque no se quejaba de dolor, él estaba muy intranquilo y muy débil. Por eso, lo más importante es consentirlo y darle mucho cariño para una pronta recuperación".
"Al salir del hospital se decidió conseguir un especialista que nos diera un diagnóstico más acertado para que Pedro pudiera recuperarse del todo. En muchos casos, el servicio de salud estatal es demasiado demorado para cubrir urgencias que requieren diagnósticos oportunos y medicamentos a tiempo", afirma Delia, nuestra enfermera.
Actualmente, Pedro ya está con más ánimo y ha recuperado el apetito y sigue tomando sus medicamentos muy juicioso y a tiempo para poder recuperarse y poder seguir creciendo sano y feliz.
Gracias a ti, podemos proteger y cuidar a Pedro y a todos nuestros niños, mientras recuperan su derecho a tener una familia que los cuide y los quiera para siempre.
Te invitamos a seguir contribuyendo con nuestro proyecto y a difundirlo con tus amigos y familiares.
¡Gracias por construir con nosotros un mundo mejor para todos!
Links: