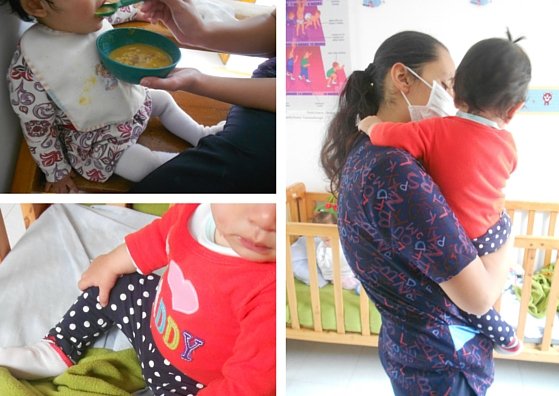 [Abajo puedes leer la versión en español]
Thanks to you, our children grow up healthy and strong because they have a human team in charge of attending their individual needs.
Four months ago, 9 months-old Ingrid arrived to the Foundation with an acute and severe case of malnutrition. At that point she weighted 6,800 grams and measured 70 cms., which showed that she urgently needed a diet reach in nutrients, protein and high in calories.
At the time the caregivers started to feed her 5 times a day including lots of vegetables and fruits on her diet. Luz (one of Ingrid's caregivers) tells us that "we prepared Ingrid's food in individual portions and cut it in small pieces. Those first weeks we concentrated on giving her piece by piece to ensure that her body would assimilate the food completely".
Patricia, our nutritionist, says that "the majority of the children arrive with a diagnosis of being too small for their age, and showing signs of malnutrition and unhealthy habits. When they arrive we start a process of nutritional recovery with an individualized diet according to the needs of each child and to provide education on nutrition"
Currently Ingrid is living with a family that looks after her with lots of love. When she left the Foundation she weighted 8,200 grams, and she had grown more than a centimetre in length. In addition, she had learned to use a spoon and she had acquired very good eating habits.
Thanks to your contribution we have been able to look after our children and provide them with an environment where they can grow healthy and strong until they can recover their right to grow up in a family that loves them and help them realize all their dreams.
We invite you to continue contributing with our Project and to share it with your friends and family. Thank you! :-)
***
Gracias a ti nuestros niños y niñas crecen sanos y fuertes porque tienen un equipo humano que se encarga de atender las necesidades de cada uno.
Hace cuatro meses, Ingrid, de nueve meses, llegó a la Fundación con una desnutrición aguda y severa. En ese momento pesaba 6.800 gramos y medía 70 centímetros, lo que demostraba que necesitaba con urgencia una dieta rica en proteínas, nutrientes y calorías.
Durante este tiempo, las cuidadoras le preparaban 5 tiempos de comida al día, que incluían muchas frutas y verduras. Luz, una de las cuidadoras de Ingrid, nos cuenta que "la comida de Ingrid la preparábamos en porciones sencillas y pequeños trozos. Las primeras semanas nos dedicamos a darle cada bocado para que su cuerpo asimilara bien los alimentos".
Patricia, nuestra nutricionista, dice que "la mayoría de los niños y niñas ingresan con diagnóstico de riesgo o de baja talla para su edad, con signos asociados a la malnutrición e inadecuados hábitos de vida saludable. Cuando llegan se inicia su proceso de recuperación nutricional con planes dietarios específicos para cada caso y educación en nutrición".
Actualmente, Ingrid ya está viviendo con una familia que la cuida y la ama. Cuando egresó de CRAN pesaba 8.200 gramos y creció más de un centímetro. Además, usaba la cuchara y adquirió muy buenos hábitos alimenticios.
Gracias a tu contribución hemos podido velar porque nuestros niños y niñas crezcan sanos hasta que recuperen su derecho a crecer en una familia que los ame para que todos sus sueños se hagan realidad.
Te invitamos a seguir contribuyendo con nuestro proyecto y a difundirlo con tus amigos y familiares. Muchas gracias :-)
Links: