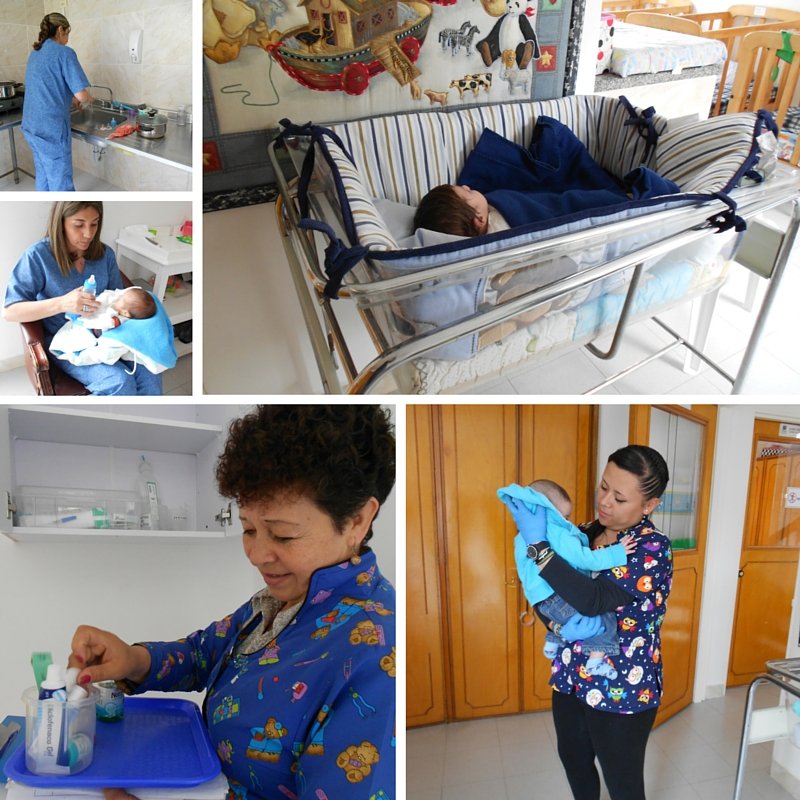 LOTS OF LOVE AND CARE
During this trimester our babies suffered from a viral infection causing them vomit and diarrhea, but it was controlled thanks to your support.
Nurse Delia tells us that "we had to take 4 babies to the emergency department of Suba's hospital where they were promptly seen and were kept 24 hours for observation."
Gloria, one of the people that accompany the kids to their medical control appointments tells us that "I have had cases where babies require hospitalization, and one has to be paying attention to the babies all the time. It is not only just taking them to the hospital, but you have to be very attentive to the doctor's indications and to give the babies lots of love and care because they are very scared and are feeling bad."
It is the case of Santiago, 4 months old, that arrived to the Foundation with jaundice it had to be hospitalized a short while later because he had bronchitis and anemia. Currently he has to have oxygen permanently, but thanks to the care, the medications and the love that he is receiving he has been recovering.
Martha, one of the helpers says that "Santiago is an adorable baby. He is currently gaining weight and he looks healthier".
We have been able of manage cases like Santiago in time and in an effective way thanks to you, because with your contribution we can look after the health of all our babies until they recover their right to grow in a family that loves them so that all their dreams become a reality.
We invite you to continue contributing with our project and to share information about it with all your friends and family.
MUCHO AMOR Y CUIDADO
Durante este trimestre nuestros bebes sufrieron de una viral de vómito y diarrea la cual fue superada gracias al apoyo de cada uno de ustedes.
La enfermera Delia nos cuenta que "nos tocó llevar a 4 de nuestros bebés a urgencias del hospital de Suba donde fueron atendidos a tiempo y estuvieron en observación durante 24 horas."
Gloria una de las personas que acompañan a nuestros niños a los controles médicos nos cuenta que "A mí me han tocado hospitalizaciones y uno tiene que estar muy pendiente de los bebés que acompaña durante todo el tiempo. No solamente es llevarlos sino que hay que estar muy atento a las indicaciones médicas, darles mucho cariño y amor porque ellos están asustados y se sienten mal."
Es el caso de Santiago de 4 meses que llegó a la Fundación con Ictericia y al poco tiempo tuvo que ser hospitalizado por bronquiolitis y anemia. Él en este momento tiene que estar con oxígeno permanente pero gracias a los cuidados, los medicamentos y el amor se ha ido recuperando exitosamente.
Martha una de las auxiliares a cargo dice que "Santiago es una ternura de bebé. Él ahora ya está creciendo y su aspecto es más saludable."
Casos como los de Santiago los hemos podido manejar a tiempo y de manera efectiva gracias a ti, porque con tu contribución podemos velar por la salud de todos nuestros bebés, niños y niñas, hasta que recuperen su derecho a crecer en una familia que los ame para que todos sus sueños se hagan realidad.

Te invitamos a seguir contribuyendo con nuestro proyecto y a difundirlo con tus amigos y familiares.
Links: