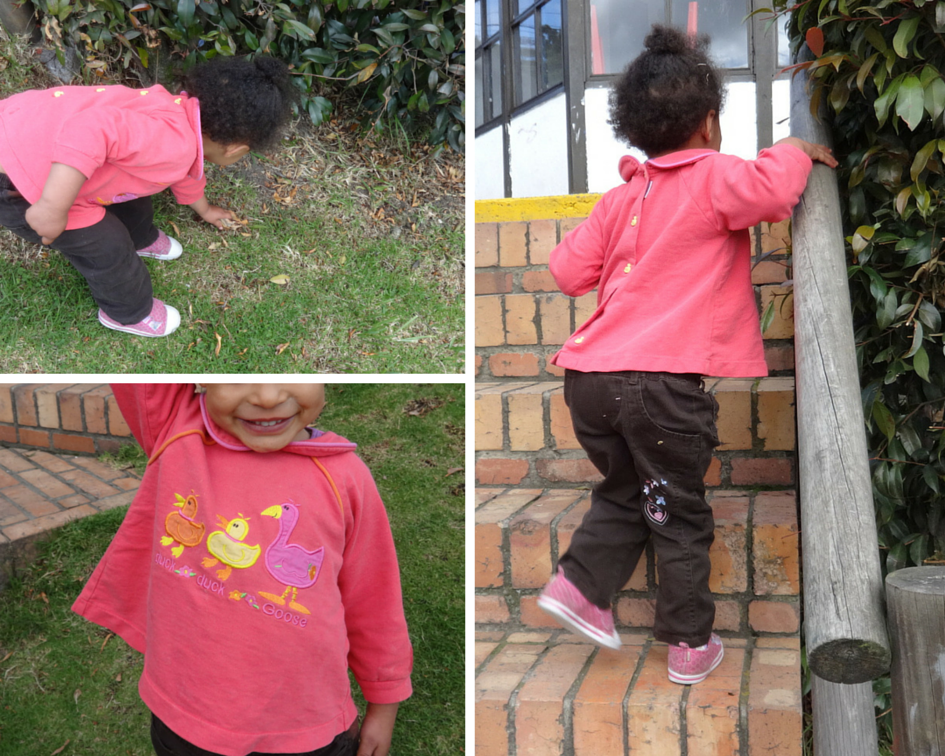 [Abajo puedes leer el reporte en español].
Karen is two and a half years old. She is a sweet girl who is always smiling. She enjoys observing, exploring and picking up stones, sticks and dry leaves.

At the beginning of May, Karen had flu symptoms: fever, no appetite, general weakness. Because of the sudden weather changes in Bogotá and viral infection that spread throughout the city, Karen's health was not improving. Given the situation, the health care specialists in CRAN decided to take her to the ER of the Suba Hospital, the closest to our location.

At first valuation, she is diagnosed with obstructive bronchial syndrome and she is immediately admitted. Thorax and lab tests were performed to her. On her third hospitalization day, Karen is diagnosed with pneumonia and is ordered to be transferred to the Roosevelt Institute a higher level health center than that in Suba.

Karen stayed there for three days in the ICU until the physicians and nurses were able to stabilize her situation. She was released nine days later and has fully recovered, though she keeps taking prescribed medicines. She has been able to play again in the park and laugh as usual.

Thanks to you and all the persons that have supported our project at GlobalGIving we were able to cover the costs involved in the transportation of Karen to the hospitals and we could also pay the persons who during Karens stay at the hospital were always by her side taking care of her day and night. We were also able to bring her at the hospital everything she needed: clothes, diapers, wipes, pijamas…Your solidarity allowed us to pay the mandatory cash contributions that have to be canceled to the hospital and correspond to a portion of the health attention Karen received. And moreover we were able to buy her the meds she requires without having to wait for burdensome and lengthy authorizations and processes that could have make state worse.

Thank you on behalf of little Karen and of all the children who thanks to your contribution you have protected and taken care of!

Please keep on supporting our project and to share it with all your friends and family.

Thanks for building together with us a better world for everyone!
***
Karen tiene 2 años y medio. Es una niña tierna que siempre está sonriente. Le gusta observar, explorar y recoger piedritas, palitos y hojas secas.
A principios de mayo, Karen presentó síntomas gripales: fiebre, inapetencia, malestar general. Debido a los repentinos cambios en el clima de Bogotá y a una infección viral que se propagó por toda la ciudad, Karen no mejoraba. Ante esto, los profesionales de salud de CRAN resuelven llevarla de urgencias al Hospital de Suba, el más cercano a nuestra organización.
En una primera valoración, se le diagnostica un síndrome bronquial obstructivo y se decide su hospitalización inmediata. Luego, se le practican exámenes de laboratorio y rayos x de tórax. Al tercer día de estar hospitalizada, a Karen se le diagnostica neumonía y se ordena su traslado al Instituto Roosevelt, un centro de salud de mayor nivel de complejidad que el de Suba.
Allí estuvo Karen durante tres días en cuidados intensivos, hasta que los médicos y enfermeras lograron estabilizar su situación. Fue dada de alta nueve días después y ya se encuentra completamente recuperada, aunque tomando las medicinas que le recetaron. ¡Ha podido de nuevo salir a jugar al parque y volver a reírse!
Gracias a ti y a todas las personas que han apoyado nuestro proyecto en GlobalGiving, pudimos cubrir los transportes para trasladar a Karen a los hospitales y pudimos pagarles a las personas que durante los 15 días que permaneció hospitalizada siempre la acompañaron y cuidaron, día y noche. También pudimos llevarle al hospital todo lo que ella necesitaba: ropa, pañales desechables, pañitos húmedos, pijamas… Tu solidaridad nos permitió además cancelar los copagos o aportes obligatorios en dinero que corresponden a una parte del valor de los servicios que Karen recibió. Y también comprarle los medicamentos que requiere sin esperar autorizaciones y trámites engorrosos y demorados que podían haber complicado su estado.
¡Muchas gracias en nombre de la pequeña Karen y de todos los niños que con tu donación has protegido y cuidado!
Te invitamos a seguir contribuyendo aquí con nuestro proyecto y a que lo difundas con tus amigos y familiares.
¡Gracias por construir con nosotros un mejor mundo para todos!
Links: