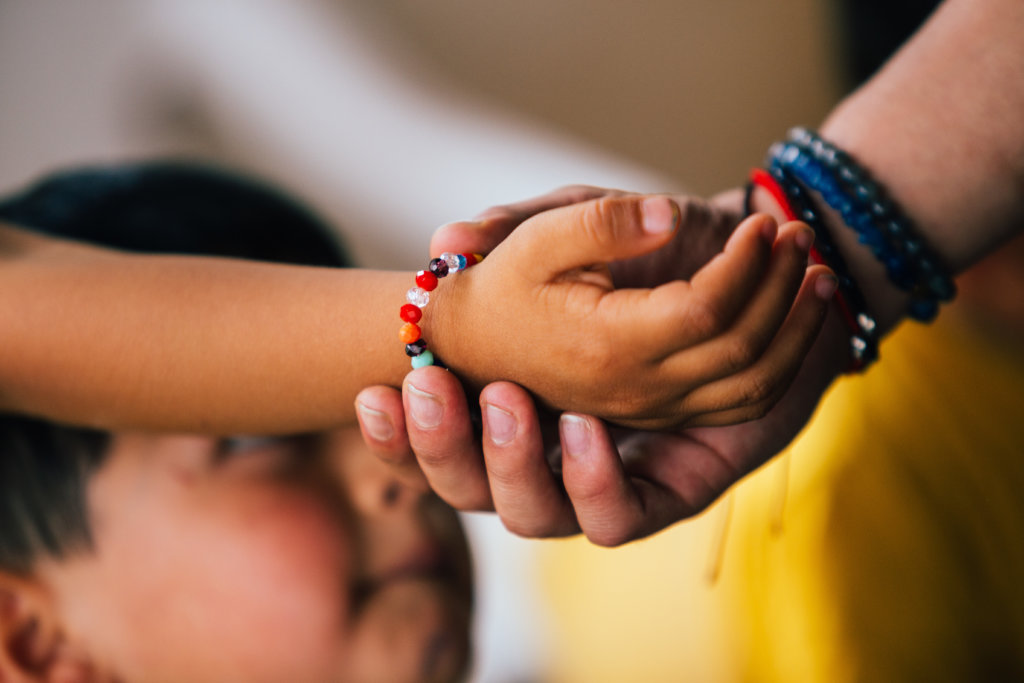 Every little contribution makes a huge difference*
Taking care in a responsible manner of every girl and boy that we take in temporary protection in our Institutional Home, poses a huge challenge for our Foundation, especially in terms of health services.
One of the main challenges that we frequently face in CRAN is to guarantee the health service with specialized doctors, medicines, emergency and hospital care, when needed. This, without a doubt, not only requires the investment of important quantities of money, that must be immediately available and that are not easily forecasted, but also de dedication, commitment and expertise of a team of professionals in order to overcome the obstacles posed by the mandatory health system in Colombia. Which, sadly, are many.
An example of this is the case of Tania, a 3 year old toddler who arrived to Fundación CRAN with a poor health status, with signs of physical abuse and an important medical condition: abdominal bloating, pain and digestive disorders.
Tania has had to be taken to the emergency room several times, recently she was hospitalized and has already completed almost a month there. Thanks to the persistence of our team of professionals, we have obtained specialized lab tests, specific diagnostic tests and she has also been seen by a pediatric gastroenterologist in order to obtain a clear diagnosis of her condition, hence having the possiblility to receive proper treatment for an illness that hasn´t been resolved despite of the loving care and follow up that she has received since her arrival to CRAN.
Thanks to the generous donation of people like you, that support our Health Project, we have been able to cover the cost of hospitalization of children like Tania and the permanent care of caregivers dedicated to each children while in hospital. In addition of the medicines and toiletries required during the period in hospital which are not covered by the health system.
We hope that Tania soon has been properly diagnosed and treated, so we can have her fully recovered and back in CRAN. Thanks again for your contribution and for being part of our cause to advocate for the right of children and adolescents in Colombia to have a dignified and happy life.
*Please find the Spanish version below
Cada pequeño aporte hace una inmensa diferencia
Asumir responsablemente el cuidado de cada niño y niña que acogemos en protección temporal en nuestro Hogar Institucional significa un gran reto, sobre todo en lo que a salud respecta.
Uno de los grandes desafíos que afrontamos con frecuencia en CRAN es garantizar la atención en salud con especialistas, medicamentos y la atención hospitalaria y de urgencia cuando ésta es requerida. Esto, sin duda alguna, no sólo requiere la inversión de importantes sumas de dinero que deben estar disponibles de inmediato y que son imposibles de preveer, sino también la dedicación, la constancia y la experticia para lograr superar los obstáculos que el sistema de salud obligatorio en Colombia, lamentablemente supone.
Un ejemplo de esto es el caso de Tania, una bebé de aproximadamente 3 años que llegó a la Fundación CRAN con un estado de salud precario, con señales de maltrato físico y que presentaba una condición médica con distensión abdominal y recurrentes dolores estomacales y desórdenes digestivos.
Tania, ha tenido que ser llevada de urgencias en varias oportunidades, recientemente fue hospitalizada y ya lleva un par de semanas internada. Gracias a la insistencia de nuestro equipo de profesionales, se ha logrado que se le practiquen algunos laboratorios especializados, exámenes diagnósticos específicos y remisión con gastroenterología para lograr diagnosticar y tratar la dolencia digestiva que afecta a Tania y que no ha podido ser resuelta a pesar del seguimiento y cuidado que ha recibido la niña desde su llegada a CRAN.
Gracias a las donaciones generosas de personas como ustedes que aportan a nuestro proyecto de salud ha sido posible costear los gastos de hospitalización de niños como Tania, el acompañamiento permanente en la clínica de cuidadoras dedicadas a ella, los medicamentos y elementos de aseo requeridos durante la hospitalización que no son cubiertos por el POS.
Esperamos que ya pronto Tania sea correctamente diagnosticada y que reciba el tratamiento adecuado para que regrese pronto a CRAN, completamente recuperada. Gracias por tu contribución y por sumarte a nuestra causa por la defensa del derecho de los niños, niñas y adolescentes a tener una vida digna y feliz.