Project Report

| Sep 14, 2023
Protecting Pangolins - September Update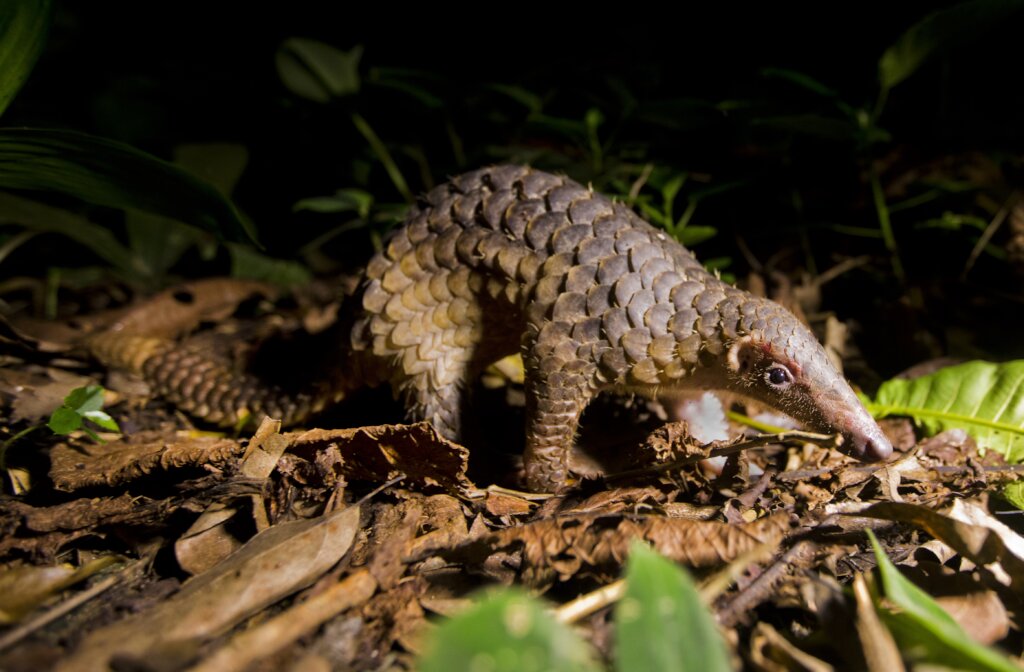 David Shepherd Wildlife Foundation (DSWF) work at all levels of the illegal wildlife chain to protect pangolins and help reduce demand for them on the black market, and as a consumer product. Recent reports from our conservation partners, the Environmental Investigations Agency, have identified alarming statistics on the illegal trade of pangolins. Between 2018-2022 over 264,000kg of pangolin scales were seized, equating to up to one million pangolins slaughtered for their scales alone. This figure represents an 130% increase in illegal trade compared to preceding years 2013-2017.
Pangolins are not only being consumed as a bush meat across Africa but also as a delicacy in Asia, with Traditional Chinese Medicine (TCM) commercialising the use of pangolin scales with products even being labelled as 'sustainably sourced'. Our partners are working hard (thanks to DSWF's support) to reduce demand for pangolins and their derivatives, by bringing about change that sees a reduction in the use of pangolin scales in TCM through education and awareness, as well as through law enforcement and training.
Nigeria
Nigeria is currently a main hub for transit of pangolin parts and scales into Asia. Poor governance and untrained law enforcement makes it easier for traffickers to trade out of the country. In addition, the underdeveloped tracking systems of the transportation companies make it easy for traffickers to mis-declare goods. Our partners in Nigeria have been developing relationships with law enforcement, which is now resulting in trafficking networks being stopped more effectively.
In addition, good progress has been made in raising awareness about unique wildlife species such as pangolins as well as the threats they face, their ecological benefits, and the reasons why people need to protect them. Our partners have been able to reach an estimated 20 million people a month in Nigeria with social media campaigns specifically tailored to encourage an appreciation, understanding, and care for pangolins and other wildlife. Our partners have documented that more young people in Nigeria are asking important questions about endangered wildlife on social media channels and showing a strong enthusiasm towards supporting local initiatives to protect pangolins and their habitats.Funding from DSWF made it possible to work with and support local media partners to improve the quality of environmental reporting and reach millions of Nigerians through social change campaigns, billboards, TV and radio series, newspaper editorials and stories, and other communication materials.
Zambia
An operation was recently supported by DSWF in Zambia, which resulted in the apprehension of four suspects involved in the wildlife trade. The suspects were attempting to make an illegal sale of a pangolin. Our partners received intelligence from multiple informers regarding the sale of two live pangolins in northern Zambia. Arrangements were made with the special anti-poaching unit to meet the sellers, where they would go in posing as buyers. After a no show at the first meeting, a second meeting was organised. This time, the sellers showed. The four individuals were apprehended and taken into custody, and their vehicle impounded. The information regarding a second pangolin was incorrect, but one live pangolin was found, and after a full health check, was released back into the wild where it quickly disappeared up a tree.
Cameroon and Ivory Coast
At the end of 2022, DSWF provided funding to a special programme aimed to infiltrate criminal networks and identify and apprehend wildlife traffickers. The investigations were focused on Cameroon and Ivory Coast, countries that are significant sources of ivory and pangolin scales going into the illegal trade and home to known international trafficking networks. We can now share the results and impact of this funding. The investigations delivered some excellent results, including the arrest of 57 significant wildlife traffickers. 29 of these were ivory traffickers who were caught with a 227kg haul of ivory and seven of the traffickers were arrested with a combined 366kg of giant pangolin scales. 51 of the 57 traffickers were prosecuted and convicted, receiving sentences of up to three years.
With your continued support we can continue to protect pangolins on the ground, run awareness campaigns, investigations, and work alongside law enforcement to conserve pangolins for future generations and put an end to the illegal wildlife trade.