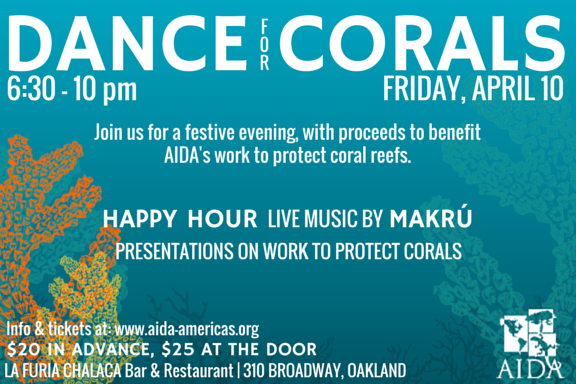 On April 10th AIDA will put on a party for corals! Our second annual dance party will raise funds for and increase awareness of our efforts to protect increasingly threatened coral reefs in Latin America.
At the event, AIDA will debut our newly-released guide - International Regulatory Best Practices for Coral Reef Protection. The guide will be distributed to government decision-makers throughout Latin America to provide them with examples of effective regulatory tools for protecting coral reefs. Increasingly endangered by human activities and climate change, corals need our advocacy more than ever!
The "Best Practices" tools can be adapted to the circumstances of various jurisdictions in the Americas where reefs are at risk. It is a compilation of approaches that countries around the world have implemented to regulate human activities that harm coral reefs.
Following two years of research and analysis, the guide presents basic legal and regulatory tools and practices that can be modified, improved, strengthened, and applied according to the national objectives and unique circumstances of countries seeking to implement stronger protections for coral reef resources.
In addition to presenting the guide, the "Dance for Corals" on April 10th in Oakland, CA will feature:
Presentations by AIDA's attorneys on work to protect coral reef ecosystems
A screening of the Earthjustice video "Coral and Parrotfish: A Love Story"
Complimentary hors d'oeuvres and cash bar
Live music by Latin groove dance band Makru
Raffle door prizes
Tickets for the Dance are being sold online in advance for $20/person via AIDA's website - www.aida-americas.org.
If you're in the Bay Area, please join us! Thank you for supporting this important work and helping us to protect these jewels of the sea!