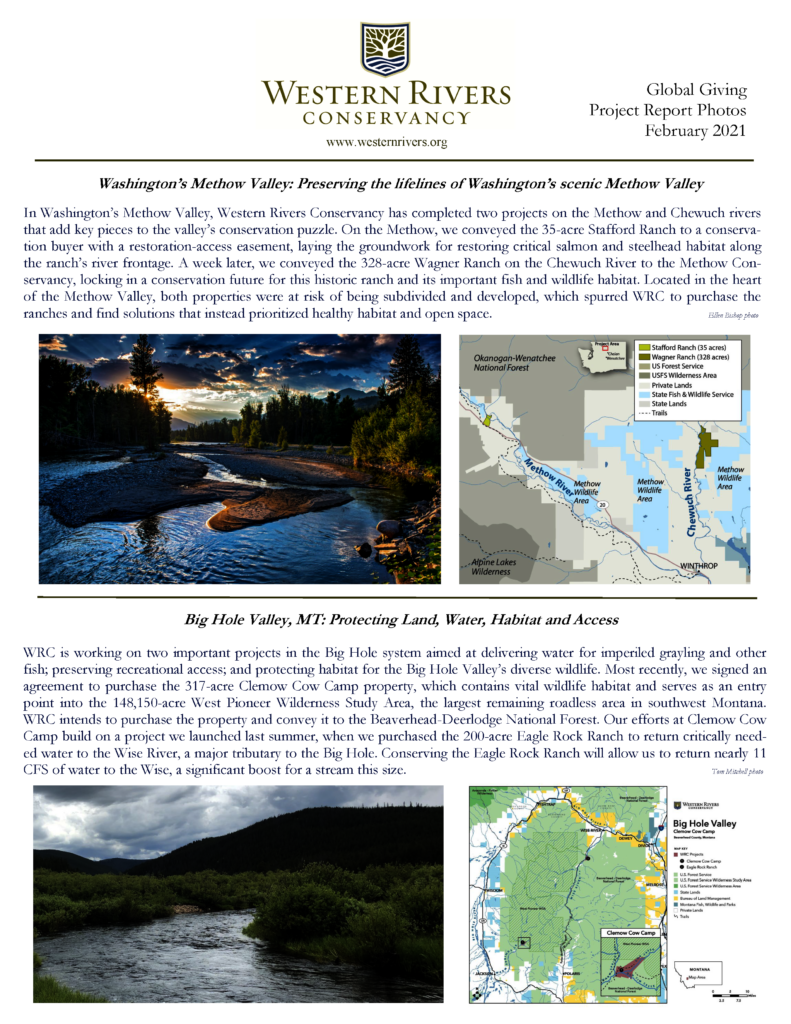 With backing from GlobalGiving donors, Western Rivers Conservancy is permanently protecting land along outstanding rivers across the western United States. Your gift supports the core costs of purchasing and conserving land for the benefit of fish, wildlife and people. Your contribution is dedicated to such efforts as preserving salmon and wildlife habitat, and creating new hiking trails, boating access and recreational opportunities.
Thanks to your support, Western Rivers Conservancy is:
Preserving the lifelines of Washington's scenic Methow Valley
Protecting Land, Water, Habitat and Access in the Big Hole Valley
Washington's Methow Valley:
In Washington's Methow Valley, Western Rivers Conservancy has completed two projects on the Methow and Chewuch rivers that add key pieces to the valley's conservation puzzle. On the Methow, we conveyed the 35-acre Stafford Ranch to a conservation buyer with a restoration-access easement, laying the groundwork for restoring critical salmon and steelhead habitat along the ranch's river frontage. A week later, we conveyed the 328-acre Wagner Ranch on the Chewuch River to the Methow Conservancy, locking in a conservation future for this historic ranch and its important fish and wildlife habitat.
Located in the heart of the Methow Valley, both properties were at risk of being subdivided and developed, which spurred WRC to purchase the ranches and find solutions that instead prioritized healthy habitat and open space. Wagner Ranch—which spans 1.6 miles of the Chewuch River, the largest tributary to the Methow—is a particularly important property. Over a dozen different salmon restoration opportunities have been identified on the ranch, and it abuts the 14,800-acre Methow Unit of Washington's Methow Wildlife Area, providing important habitat connectivity for wildlife.
The Stafford property spans a short but vital stretch of the Methow River and controls groundwater rights that will allow for future re-watering of dried side-channels and reestablish spawning and rearing habitat for salmon and steelhead.
Both projects deliver important wins for the Methow Valley, with special thanks going to the Methow Conservancy for step­ping up to acquire and conserve the Wagner Ranch. The Methow River Valley is a place where recreation and community coexist with fish and wildlife, and WRC is proud of contributing to the balance of this relation­ship, ensuring more intact open space and healthy habitat for the benefit of all.
Montana's Big Hole Valley:
Montana's Big Hole River is a poster child of an iconic western stream. One of the country's premier fly fishing rivers, the 150-mile long Big Hole tumbles from high mountains through some of the most diverse geography of any river in the state. It is a beloved trout fishery and, remarkably, the only river left in the Lower 48 with fluvial Arctic grayling.
Currently, WRC is working on two important projects in the Big Hole system aimed at delivering water for imperiled grayling and other fish; preserving recreational access; and protecting habitat for the Big Hole Valley's diverse wildlife. Most recently, we signed an agreement to purchase the 317-acre Clemow Cow Camp property, which contains vital wildlife habitat and serves as an entry point into the 148,150-acre West Pioneer Wilderness Study Area, the largest remaining roadless area in southwest Montana.
Two high-mountain Big Hole tributary streams, Cox and Old Tim creeks, flow through the Clemow property, which controls 2.77 CFS of water rights. WRC intends to purchase the property and convey it to the Beaverhead-Deerlodge National Forest, which plans to work with Trout Unlimited's Western Water Project to dedicate that water in-stream. By conserving this property, we will protect habitat for Canada lynx, grizzly bear, Rocky Mountain elk, mule deer and pronghorn. We will also conserve 154 acres of riparian wetland and wet-meadow habitat that is crucial for waterfowl and shorebirds and offers important headwater flow into the Big Hole River.
Our efforts at Clemow Cow Camp build on a project we launched this summer, when we purchased the 200-acre Eagle Rock Ranch to return critically needed water to the Wise River, a major tributary to the Big Hole. Conserving Eagle Rock Ranch will allow us to return nearly 11 CFS of water to the Wise, a significant boost for a stream this size. We plan to convey the ranch to the Beaverhead-Deerlodge National Forest and dedicate the ranch's water in-stream in partnership with Trout Unlimited's Western Water Project.
The Big Hole Valley is a gateway to some of Montana's most scenic countryside and home to some of its very best fly fishing. WRC's efforts in the valley will protect habitat for wildlife, deliver prime recreational access and return much-needed water to the system for the benefit of imperiled fluvial Arctic grayling, as well as westslope cutthroat and non-native rainbow and brown trout for which the Big Hole is famous.
Conclusion
The Methow and Big Hole Valley projects are just some of our recent projects. WRC currently has over two dozen active projects in seven states. With the support of GlobalGiving donors, Western Rivers Conservancy is expanding our efforts to protect riverlands for fish, wildlife and people.

We love to hear from our supporters. Please contact Anne Tattam at 503-241-0151, ext. 219 (or atattam@westernrivers.org) for further information. Thank you.