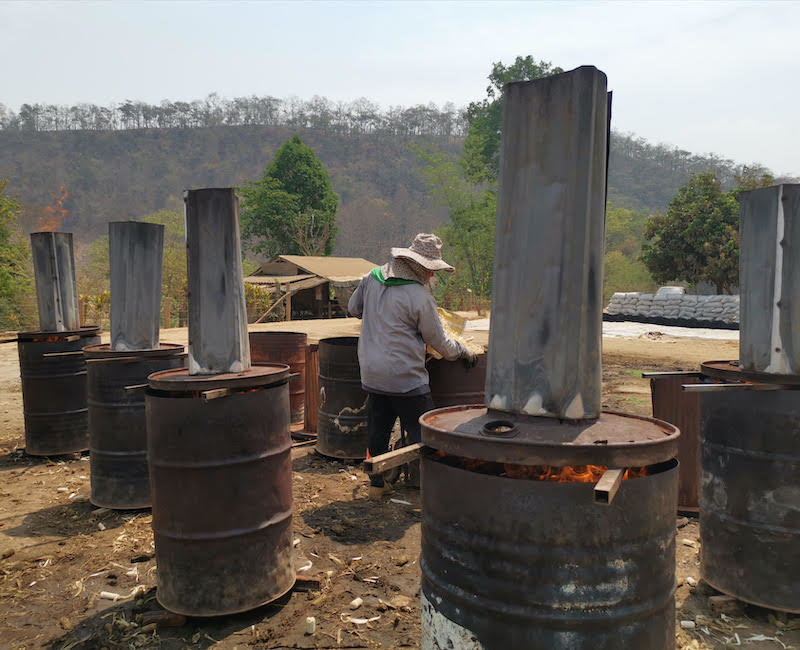 We said, "Do something to Stop the Smoke!" Shangri-La Did!
Keeping up with Gabriele Lombardo, General Manager of the Shangri-La Hotel in Chiang Mai, Thailand, is hard. The wiry Sicilian never stops and never stops doing and doing and doing….
Warm Heart sat down with Mr. Lombardo in October 2019 to show him the terrible human and economic damage Chiang Mai's "burning" or "smoke" season does to North Thailand and the hospitality industry, he understood immediately. When Warm Heart explained how the great hotels of Chiang Mai could stop the smoke, he said, "We will do it."
So began the Shangri-La "Stop the Smoke" project that with Covid-19 has also become an important employment and jobs training program. Shangri-La supported the creation of two community-based biochar making businesses and bought their first 50 tonnes of biochar production. This alone gave a large number of unemployed young men in very poor villages an amazing 300,000 baht ($10,000) over two months and stopped – as in entirely kept from happening – the release of 313 kg of PM2.5, the killer component of smoke. (Lest you have a hard time imagining a kilogram of smoke, a single kg of smoke is equivalent to the smoke of 71,429 cigarettes.)
Then Covid-19 arrived.
The country went on lockdown. Tourism stopped. Hotels closed.
Hundreds of thousands of taxi and tuk-tuk drivers, street venders, guides, chamber maids and waiters had no jobs. They did what people do – they returned to their home villages. But in the hot season, there were no jobs in the countryside and little food.
Enter Shangri-La.
What do you do with 50 tonnes of biochar?
Donate it, sure, but to whom?
With assistance from Aom Kwanpirom, Warm Heart Biochar Project Director, Shangri-La sought out small organizations training the urban unemployed to become farmers and either starting urban farms on empty plots or degraded soil near home. What these organizations need most is high quality soil amendment material to provide fertility to future gardens. What they need is ground biochar mixed with organic matter.
Suddenly, 50 tonnes did not look like enough biochar. Warm Heart found itself wondering how much of its own reserves were going to be needed!
Distribution started on May 29, with Warm Heart and Shangri-La staff volunteers helping with the hand-over and application.