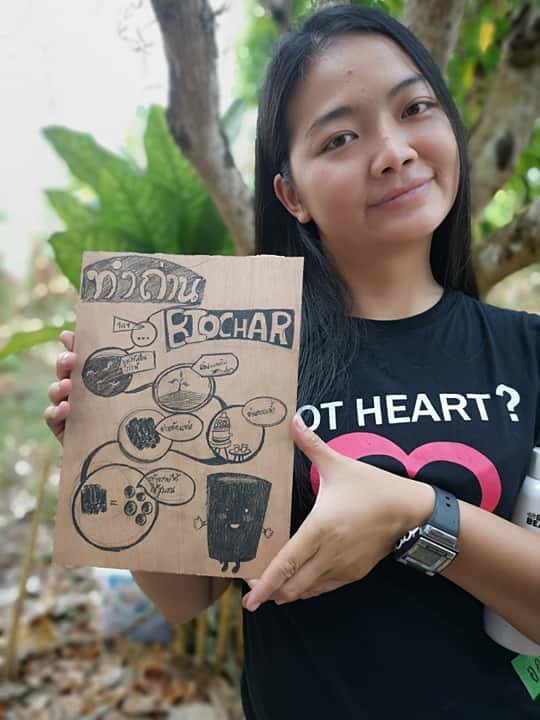 Warm Heart is very grateful to have been invited to join this year's inaugural Climate Action Fund project. We will be highlighting updates for you as this new program evolves.
In the meantime, lots of progress! Aom, our project manager, has been hard at work in Mae Wak village, Mae Chaem. The folks there are making the most of the 10 tonnes of biochar fertilizer we donated. She also has a couple of teams making char as fast as they can before the rain starts.
Rains Begin
Now that the rain has finally come, the growing season has begun, kicking off the cycle that leads to the burning season.
We are setting up one Community Social Enterprise to be ready to divert as much crop burning into biochar creation as possible.
Establishing a market for the biochar
Our biochar product line will soon be available in the largest "green" retailer in Chiang Mai, Rimping Markets. The price is competitive with "dirty" charcoal. But ours burns smoke-free, burns hotter, lasts longer, environmental contributor to improving our world. Establishing a market for the biochar is crucial to the success of the future Social Enterprises.
Moving to the Fast Lane
Warm Heart has the solution to the smoky season problem, a win-win fix that just needs to spread far and wide.
Shangri-la, one of Chiang Mai's premiere resorts, recognizes the solution and has reached out to Warm Heart to help us put our solution to work on a broader scale. We will be working together with the heavy hitters in the community, to get everyone's help setting up Biochar Social Enterprise Co-ops all across Northern Thailand.
But that is not all that has been going on.
Across the Globe
Our partners in Africa are making great strides in sharing and spreading biochar, teaching hundreds of farmers how to make and use biochar.
And they are having great results, too!
Thank you for your support. We need to continually be widening our audience. Please share with at least 1 friend!
Evelind and Michael
Coming soon to a Rimping near you!