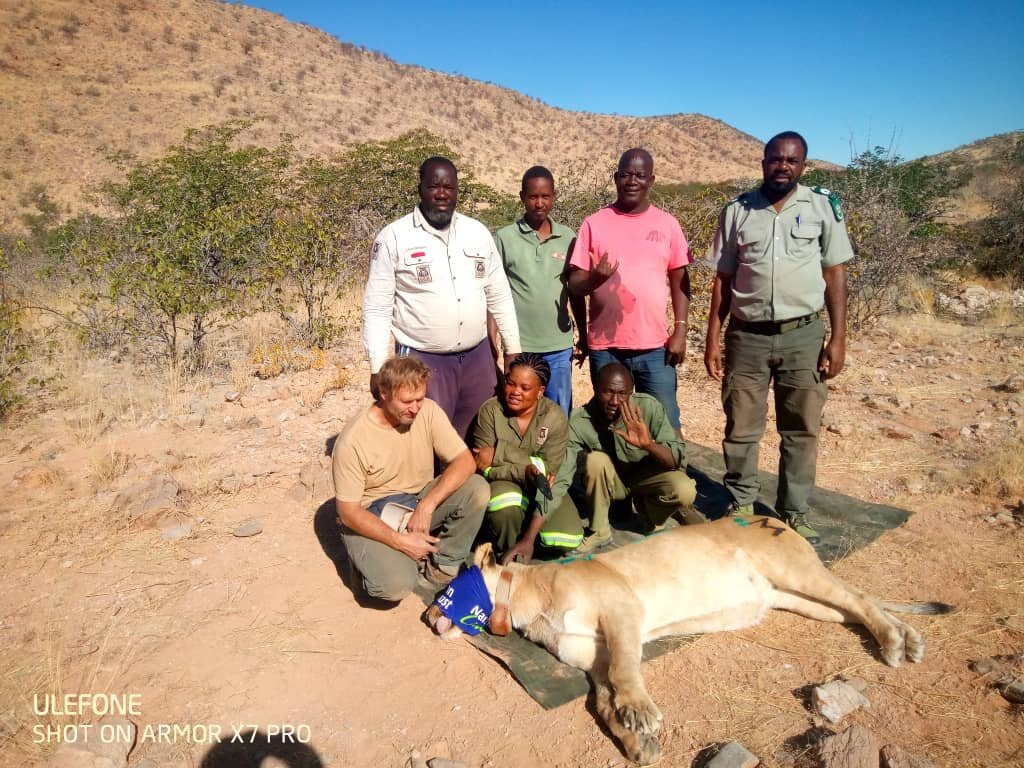 Namibian Lion Trust Report April - July 2022:
Thanks to the generous GlobalGiving donation and the Kevin Richardson Foundation, we have been able to continue with our Human-Wildlife Conflict Mitigation and Lion Research & Monitoring Programmes, most importantly supporting the dedicated Lion Guards in the field.
1. Monitoring male Lion, ID # Npl-27 + Lioness ID Npl-38: this includes the GPS-Satellite Collar & Satellite fees, Veterinary fees & drugs, food parcels, community support, foot & vehicle patrols, fuel & vehicle maintenance. Male lion ID Npl-27 was collared in August 2021.No incidents of livestock mortalities were reported until early June 2022, when Npl-27 rapidly moved northwards out of his home range, not to return; it was clear that his tenure had been replaced by another male. As a solitary male lion, he has since moved out of his known range onto communal & resettlement farmland, taking easy prey, i.e., donkeys and cows. At present, he remains solitary and threatened. Our Lion Guard Teams have increased patrols in the immediate area, in an attempt at mitigating lion-farmer conflict but the harsh terrain is challenging, and farmers are intolerant of more livestock losses after the extended drought.
June 18, the Ministry of Environment, Forestry & Tourism decided to return Npl-27 to his home range, in the hope that the relocation would allow him to settle down. Npl-27 was taken to another location, this territory already filled by Npl- 33 and his pride; two days later Npl-27 moved southwest. We continue to patrol and monitor his movement in the hope that he will soon join a group and settle down.
Lioness, ID Npl-38, was collared in June 2022. Npl-38 was first observed in March 2021, in the company of resident male Npl-33, two small cubs, ca.3 months of age, and a sub-adult female, approx. 3 years of age. Due to the absence of other pride females that could take care of the cubs should unforeseen death occur during the immobilization, we decided against fitting a collar on Npl-38 until her cubs were at least one year old. Also, in the hope that other females may be observed as part of the same pride, providing the necessary support in such a case. We returned to the area in June 2022, to find that only one of the cubs, a male, had survived; thus, collaring the lioness at that point would have been a great risk to the survival of the single cub. Observations of the sub-adult female indicated that her neck-size was too small to fit a GPS-Satellite collar. June 2022, with the assistance of the Ministry of Environment, Forestry & Tourism, the said female, ID Npl-38, was successfully collared. The small pride, including the male, Npl-33, her 18-month-old male cub (who miraculously survived his first year during the worst stage of the 9-year drought) and the young adult female, remain in this Exclusive Wildlife Zone, with the occasional forage onto adjacent communal farmland.
2. Supporting 10 Lion Guard Wages & Food Parcels: our dedicated teams spend most days & nights in the field, patrolling & monitoring lions, mitigating conflict between lion and livestock farmer, also searching for signs of bush-meat poaching, snares, and poisoned wildlife.
2.1. Kanisius Kenahama: "My work with the Namibian Lion Trust allows me to Live my passion for nature and to STOP the killing of lions". Kanu, as we all know him, is a registered Tour Guide, also an accredited Hunting Guide, with 15 years' experience as a tracker. His knowledge of animal behaviour and his ability to identify the known lions is crucial to locating them when on fi eld trips with his team. His loyalty to the Trust is sincerely appreciated. During the Lion Ranger Training, Kanu shows compassion for the farmers' plight but is steadfast in his belief that the lion should enjoy greater protection from retaliation, supporting stricter Law Enforcement. He has two young children, also taking care of his elderly parents.
2.2. Barman Guim: Barman Guim's love for the elusive Black Rhino that survives in this inhospitable, semi-arid area, is luckily shared with the few lions that are also found in this wilderness. This treacherous yet unique landscape is Barman's 'backyard', his instinctive knowledge invaluable when monitoring lions. Barman & his wife Marianna, farm on communal land, their children almost done with school take every opportunity to join on patrols, gaining experience from their father.
3. Patrols into Exclusive Wildlife Zones (EWZ): to establish lion presence & body condition, prey base numbers, food and water availability. The NLT collaring team, accompanied by MEFT Wardens & Dr Mike Thorne, a Zimbabwean national with more than 30 years' experience as a wildlife veterinarian, recently spent ten days in the Exclusive Wildlife Zones (EWZ). Our aim was to locate resident lions that had 'disappeared' towards the end of 2021. Due to the extensive drought, these areas were devoid of graze & browse, despite some perennial springs providing water for smaller mammals and birds. Insufficient food forced the surviving herbivores to migrate elsewhere, with no trace of the resident spotted hyaena, lion and other predators. June 2021, one of the resident collared lionesses, Npl-30, had shifted her range out of the EWZ primarily due to lack of natural prey, intermittently moving into the neighbouring conservancy, where she was poisoned in January 2022. As we have no further information on the remaining known groups and individuals, we set out to search for any sign and to attempt collaring any male or female lion found so as to re-establish our monitoring programme in this area. Two small groups of lions were found, one group comprising a mature male and female with approx. 3 sub-adults; the other group of two adult females and 3-4 sub-adults were only seen on trail-camera footage. Both groups were extremely skittish, moving out of the immediate area as soon as we arrived. Bait stations & trail cameras have been set up in order to improve on our knowledge of the pride composition & age-groups, in the hope of collaring at least one in each group.
4. Lion Ranger Programme, which includes the Namibian Lion Trust Lion Guards, was established in 2020. Candidates were selected from 9 Conservancies where lions are resident or move through as migrants. This programme was initiated by the Ministry of Environment, Forestry & Tourism (MEFT), inviting the lion-orientated NGO's present in the Kunene Region to join forces, aimed at providing more 'boots-on-the-ground' in these remote areas, monitoring lion movement in relation to livestock herds & settlements, warning and guiding the farming communities in the conflict hot-spots, as well as gathering reliable information on retaliatory killing of predators, by poison especially; bush meat poaching has increased since COVID-19 put many out of work, with the Lion Ranger Programme proving to be a most valuable community support system and wildlife protection activity.
Our Lion Guards, are dedicated to protecting the lion as well as mitigating farmer-lion conflict in Namibia's north-west. The Namibian Lion Trust Lion Guard and the Ministry of Environment, Forestry & Tourism Lion Ranger Programmes collaborate daily, deploying several teams comprising a combination of Lion Rangers & Lion Guards each representing his or her Conservancy; they are active in areas where farmer-lion conflict is rife, providing increased protection for the lion, simultaneously supporting the farmers who share habitat with wildlife. Foot patrols into remote areas effectively monitor illegal activities such as bush-meat poaching and wildlife crime. Ranger Training Programmes are aimed at uplifting morale and improving expertise, increasing the efficacy of the Lion Guard / Lion Ranger Programmes by encouraging and supporting long-term co-existence.
5. Livestock Protection Mobile 'Bomas': shade-cloth for 4 mobile 'bomas' have been purchased, proved to be a valuable protection method when in the field, will be allocated once farmers are forced to move their livestock away from their homesteads where stationary 'bomas' protect the herds at night. Good rains fell in most parts during January – April 2022, breaking the 9-year drought, with little need to graze and to spend the night further afield at this point.
The Lion Guards assist in locating within the study area, the lion to be fitted with GPS-Satellite tracking collars that provide invaluable data at 2-hourly intervals (the intervals may be set according to need); - monitor the whereabouts of both collared and uncollared lion in order to establish movement patterns and, together with the data retrieved from the widely dispersed trail cameras within their area and lion-sightings by community members, the Lion Guards are able to forewarn farmers who live in conflict zones ('hot-spots'); - when the Early-Warning System (EWS) detects lion movement or when an incident is reported, the Lion Guards (who form the Rapid Response Unit) move out to support the affected farmer or community as well as to protect the lion; - their night- and / or day-time patrols contribute to the protection of both the livestock and the villagers; - the collection and evaluation of valuable information on lion whereabouts, livestock management as well as lion and livestock mortalities, provides for reliable reporting and assessment. The Lion Guards contribute towards greater understanding and acceptance of wildlife. This takes time and patience, with many hours spent 'under-tree', meeting with farmers and traditional leaders to discuss workable solutions. By providing guidance and encouragement, they help the farming community to adopt our Livestock Protection Programme, which includes employing herdsmen and protecting their livestock at night. Last but not least, Lion Guards identify communities in need of our support and livestock protection 'bomas'. Together with the Ministry of Environment, Forestry & Tourism (MEFT) and the Department of Veterinary Services staff, they patrol & repair Protected Area fence-breaks, also reporting on poaching and other illegal activities.
The work of a Lion Guard is never done: a change of heart & mind-set, attitudes and behaviour, especially 'modernizing' age-old farming practices, takes time, determination and steadfastness... but will bring us all one step closer to co-existence between man and lion.
Cultivating greater tolerance and appreciation of Namibia's wildlife amongst the younger generation will determine what world we leave behind for the next generation, and what that generation we leave behind for the world...
We thank GlobalGiving & the Kevin Richardson Foundation for their tireless devotion to all things 'wild' – their enthusiastic support of Namibian Lion Trust keeps us 'out there', doing what we do best.
Yours in Conservation
Tammy Hoth-Hanssen