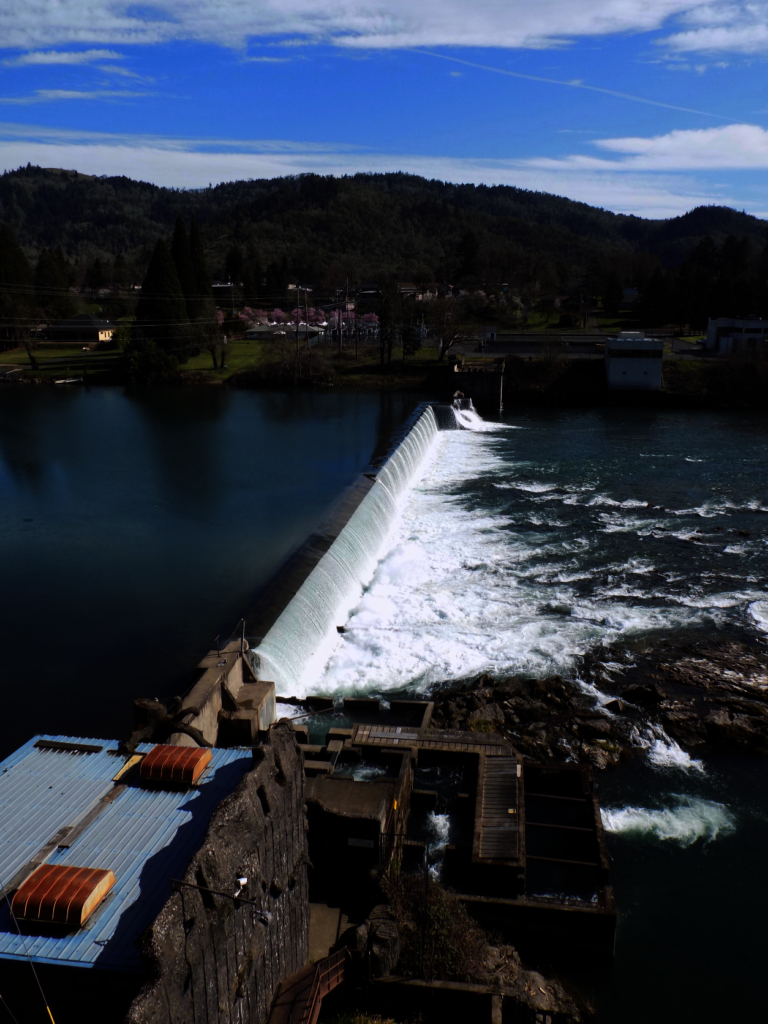 On the North Umpqua River, WaterWatch of Oregon is leading a coalition of over 20 local and statewide fishing, conservation, and whitewater groups working to end the harm caused by Winchester Dam, the Oregon Department of Fish and Wildlife's second highest priority for fish passage improvement among all privately owned dams in the state.
The disintegrating, 17-foot-high, 130-year-old Winchester Dam is maintained solely to create a private waterski lake for surrounding landowners, but it kills, injures, or delays salmon and steelhead trying to access 160 miles of high quality habitat upstream. Impacted runs include spring and fall Chinook, summer and winter steelhead, cutthroat, and Pacific Lamprey, as well as threatened Oregon Coast Coho listed under the federal Endangered Species Act.
To protect the irreplaceable North Umpqua, our coalition has so far intervened in a state proceeding to hold the dam owners accountable for a botched 2018 repair that killed numerous fish and harmed the primary drinking water source for 37,700 people, moved Oregon officials to require the owners to meet state dam safety standards for the first time in decades, and filed suit to stop harm the dam causes to protected Coho – after the dam owners rejected our coalition's offer to raise the public and private funds necessary to remove the dam at little to no direct cost to the owners.
One of just twenty designated high hazard dams evaluated by state officials to be in poor or unsatisfactory condition in Oregon, Winchester is categorized as high hazard by the Oregon Department of Water Resources primarily due to likely loss of life in the case of dam failure among the people who frequent the river, parks, and boat ramps just downstream. There may be an increased risk of a failure at this dam in the near term due to recent catastrophic fire in the North Umpqua.
Unfortunately, Winchester Dam's owners reneged on a verbal commitment to repair known safety issues at the dam in 2021, after already delaying action for 17 months on a 2019 request from safety officials for a comprehensive inspection and repair of the derelict dam. These safety problems, including many large holes through and under the structure, also cause delay, injury, and death for salmon and steelhead. Previously, Winchester's owners ignored or delayed action on warnings regarding leakage under the dam's south abutment contained in state inspection letters in 2016 and 2017. In late 2018, fear of a dam failure due to the growing leakage precipitated a hurried, unpermitted, and ultimately botched repair at the dam.
River advocates will continue pushing the dam owners to comply with state and federal protections for fish, water quality, and public safety. Our preferred alternative to resolve the myriad problems at Winchester Dam is to remove this obsolete structure through a cooperative agreement. We expect removal will bolster fish runs and improve overall river health and resiliency in the face of climate change.