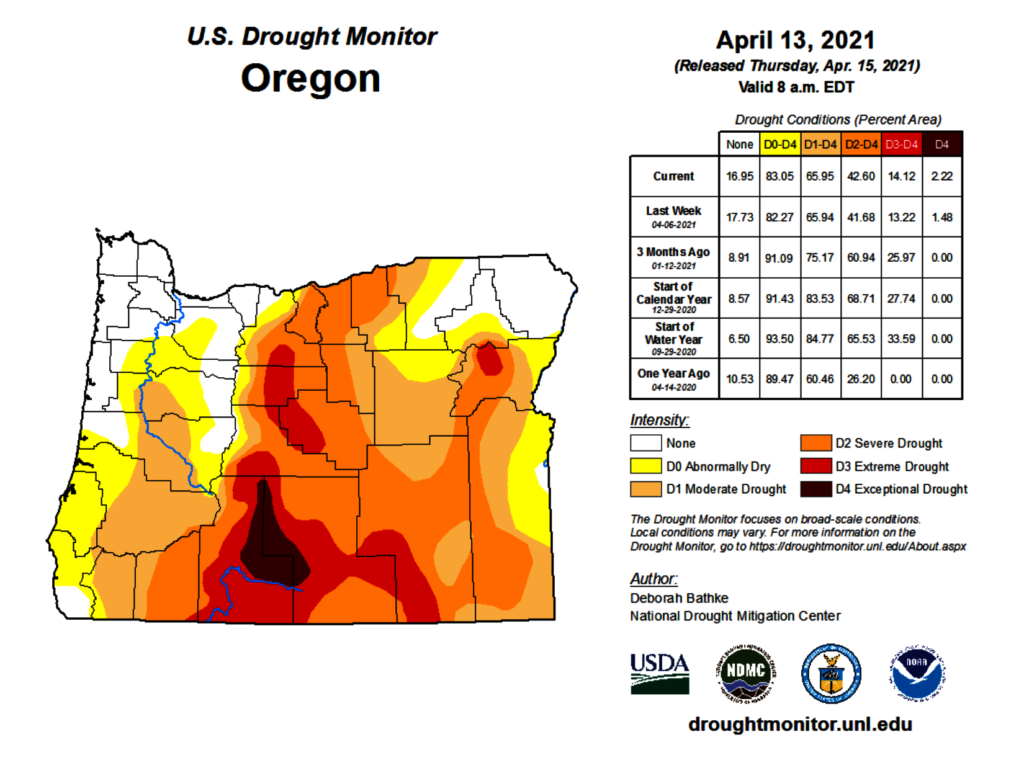 On Earth Day in April 2021, WaterWatch's staff took the time to reflect on what we love about Oregon's environment. From our majestic rivers to our snow-capped volcanoes, lush forests and spectacular deserts, Oregon is a truly special place.
But with the impacts of climate change being felt each year, we're also taking time to think about drought and water availability in our beloved state. As shown in the Oregon Water Resources Department's most recent Oregon Water Conditions Report (available here), more than 80% of the state is currently experiencing some classification of drought conditions. Reflecting upon the devastating wildfires that affected so many Oregonians in 2020, these conditions are troubling, if not bleak, to see in April of 2021.
We know that climate change creates negative impacts on species and freshwater habitats, exacerbating existing issues associated with stream and wetland management and water allocation in Oregon. Some of these impacts include: reduced snowpack, changes in water availability and changes in hydrology (see the Oregon Climate Change Research Institute's Fifth Oregon Climate Assessment Report, 2021). In short, droughts in Oregon have become more frequent and more severe in the last two decades - and are projected to continue on that trajectory.
In addition, climate change will exacerbate systemic inequalities by magnifying the existing disproportionate impacts of the current system on marginalized communities and the environment.
What Are Some Ways to Address Drought?
The task of mitigating climate change is one of the major challenges of our time, though it is not insurmountable. WaterWatch's expertise is in climate adaption: how can we lessen the impacts of drought on our rivers, waterways, and the fish and people who depend on them here in Oregon? There are many actions our state agencies can take under existing statutes to reduce those impacts. They include:
Ramping up enforcement against water waste and other unlawful uses of water
Requiring measurement and reporting of water use
Requiring mandatory curtailment/conservation plans for municipalities and irrigation districts during times of drought
Improving Water Management and Conservation Plans (WMCP's) to actually protect rivers and streams during drought
Establishing emergency drought fishing regulations
Leasing/purchasing water for instream use
Establishing required emergency minimum flows for fish and other aquatic species
Funding data and science necessary to build resiliency against drought
Improving riparian protections
Protect cold water thermal refugia for fish
These actions would help protect our rivers and make them more resilient and adaptable to the onslaught of climate change. They would also support salmon-dependent communities and help address injustices those communities face. Our wonderful rivers deserve celebrating every day, not just on Earth Day, and we need our state to take steps like the ones above to keep them healthy.
Links: