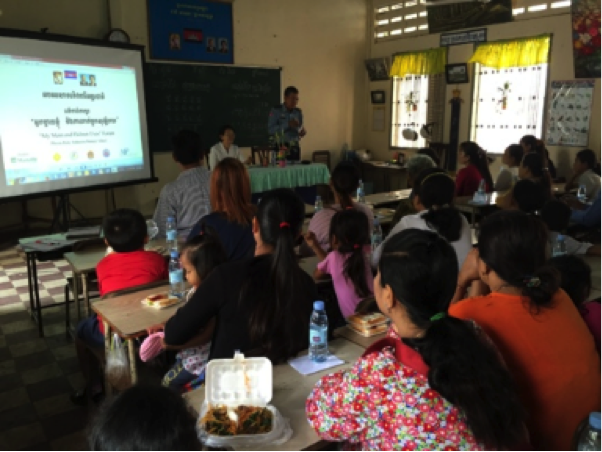 Manulife Cambodia encourages mothers to invest in road safety
In support of International Women's Day, which occurred on March 8th, AIP Foundation organized a "Mothers and Helmet Use" forum at Sothearos Primary School. The forum represents a vital part of the Helmets for Families project sponsored by Manulife Cambodia. The mothers in attendance received information about the broader ramifications of the new passenger helmet use law, the toll that road crashes take on society and families, the relationship between helmet use and injury prevention, and the role that mothers have in encouraging helmet use among their family members.
Cambodian civil society representatives renew their call for stricter implementation of the new Road Traffic Law
AIP Foundation, along with six other NGOs working on road safety in Cambodia, have recently re-emphasized their stance on the new Road Traffic Law by updating a joint statement that was previously issued at a press conference in late January and submitting it to the Royal Government of Cambodia. The joint statement urged the government to focus on implementing stringent, targeted law enforcement; retain the license provision for 125cc motorcycle riders; support public awareness campaigns; and, throughout this process, consult key road safety stakeholders as well as the public. The conference was attended by 40 participants and was covered by local and international media as well as a Cambodian TV channel.
AIP Foundation partners with Automobile Association of Cambodia for an inaugural Helmets for Kids ceremony
In March, 404 helmets were donated to students of Trapiang Kork Primary School in Cambodia's Kampong Cham Province, a school notorious for its high levels of yearly road injuries. This is the first collaboration between AIP Foundation and Automobile Association of Cambodia (AAC), an organization established in 2010 and a member of the Fédération Internationale de l'Automobile (FIA).
The helmet donation, along with a ceremony and road safety activities, aimed to promote helmet use among students and encourage them to be responsible motorcycle passengers and future drivers. This effort comes at an important time in Cambodian road safety, considering National Road Safety Week is celebrated during the second week of April.
The President of Automobile Association of Cambodia and the CEO of Automobile Association of Singapore, along with other representatives of AAC and several from AIP Foundation, were joined by the Under-Secretary of State of the Ministry of Interior, a representative of the Automobile Association of Singapore (AAS), students, teachers, and parents, as well as community members and local authorities.