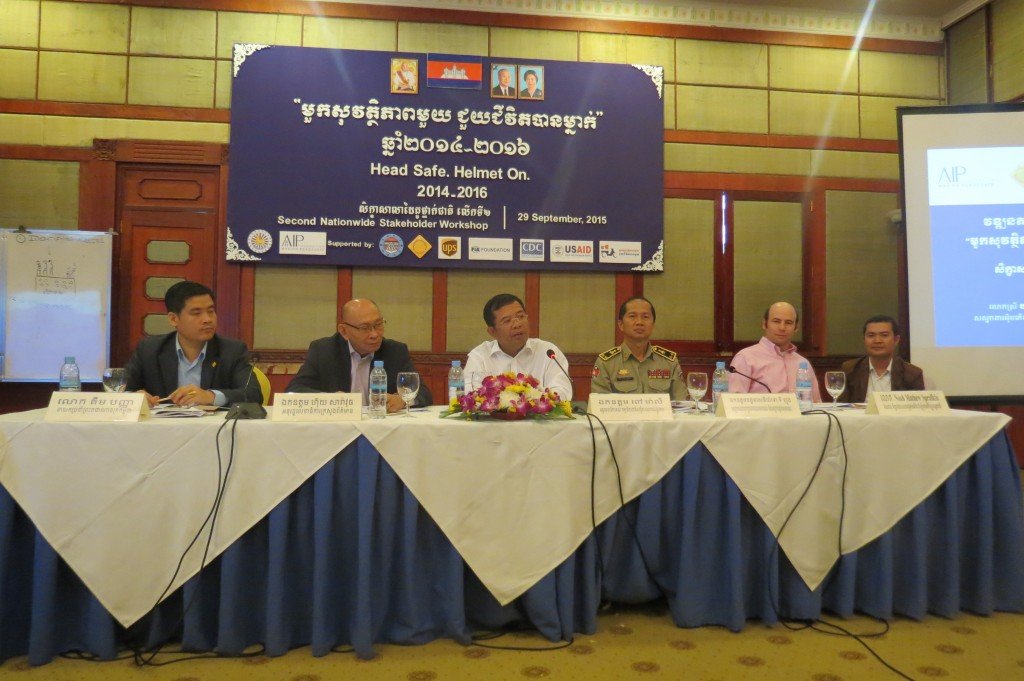 Road safety school groups inspire their community to be safer road users
Last month, 18 schools from Phnom Penh, Kandal, and Kampong Speu completed disseminating road safety messages as part of a "schools of excellence" competition to raise road safety awareness.
Throughout the year, school groups arranged road safety murals and distributed materials to help improve road safety behavior and their school's surrounding infrastructure. To take part in the competition, students and teachers received road safety education training.
In August, an award committee, comprised of representatives from the National Road Safety Committee, National Police, Ministry of Education, and AIP Foundation evaluated the 18 schools. The committee reviewed relevant documents and interviewed teachers and students. Afterwards, the committee surveyed the area around the school to observe school murals, the surrounding infrastructure, and safety materials available for students to cross the road.
After gathering the necessary information, the committee will provide information to AIP Foundation to determine the outstanding school in each participating province and to track its progress the following year. Evaluating successful schools is important in developing improved implementation guidelines and to determine best practices in order to cultivate safe road environments for all students.
AIP Foundation gathers stakeholders from across Cambodia to discuss passenger helmet enforcement
AIP Foundation held its second nationwide stakeholder workshop as part of the "Head Safe. Helmet On." project. The purpose of the workshop was to discuss the enforcement of the passenger helmet law, especially to include children, scheduled to begin from January 1st, 2016.
The workshop gathered approximately 30 participants from government institutions and the private sector. Among the attendees were representatives of the General Secretariat of the National Road Safety Committee and of the Department of Order, Ministry of Interior. At the event, AIP Foundation presented information on the project's recent progress, challenges faced thus far, and recommendations for the second year of the initiative.
Group discussions focused on the law and its sub-decree that mandates penalties for un-helmeted passengers, and particularly the importance of including children in the new traffic law. Also discussed were the national- and district-level passenger helmet enforcement action plans, which are currently in their draft phase.
AIP Foundation hosts second commune-wide meeting on road safety
Under the "Head Safe. Helmet On." (HSHO) project, AIP Foundation organized a second commune-wide meeting which attracted 45 participants in Chba Ampov District, Phnom Penh. The participants included commune road safety groups from the three targeted communes, district governmental officials, and media representatives.
At the meeting, AIP Foundation reviewed commune-based activity plans and presented the progress, challenges, and recommendations for future HSHO activities. Chba Ampov's District Governor attended and gave welcoming remarks to participants, delivering key messages for group discussion and highlighted the importance of promoting a better road safety environment.