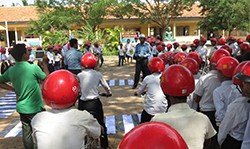 Police visit students on International Children's Day to emphasize safe road behaviors
Traffic police in Cambodia visited schools on June 1 to speak to students about road safety for International Children's Day. Five police officers visited each of AIP Foundation's 18 project schools under the "Head Safe. Helmet On." project to discuss proper pedestrian and road user safety, including helmet use and the importance of wearing a helmet.
In total, 90 police officers visited students at schools over three weeks. "On this special day, we highlight the important value children have in our society as well as their vulnerability as road users. We are grateful for the opportunity to demonstrate to students how important their health and safety is," said Mr. Ky Koun Cham Bak, School Principal.
In addition to motorcycle safety and correct helmet use, police officers instructed students on proper pedestrian and bicycle safety skills. Students and officers participated in a traffic safety simulation corner near schools to practice these skills in a safe environment.
International Children's Day is observed across the world to promote the welfare of children. "Children have the right to protection, health, and safety, including safety from road crashes. It is our duty to ensure the children understand how to stay safe when commuting on the roads and it is our responsibility to provide this education," said Mr. Say Set, Samrong Torng District police.
Road safety education focuses on mothers and their children
AIP Foundation organized a second "Mothers and Helmet Use" forum at Anuk Wat Primary School. Mothers received information on their role in promoting road safety and encouraging helmet use among family members. The forum is a component of the Helmets for Families project sponsored by Manulife.
Mothers learned about the impacts of road crashes on society and their families, the relationship between helmet use and injury prevention, and received information about the new Road Traffic Law. Students also received this information at a police training on June 25. On June 19 and 26, volunteers reached the community surrounding the school to further spread road safety awareness. These additional activities helped to reinforce key messages to children and their families.
"This includes traveling on the roads. Our project engages mothers to ensure the entire family supports the life-saving benefits of wearing a helmet. We want mothers to remind their children to be safe on the roads, and children to do the same to their families," said Mr. Pagna Kim, AIP Foundation Country Director in Cambodia. "We encourage every parent to obey the traffic law and always keep your children safe with a helmet."
"I believe if every parent knew this essential information— that practicing safe road behaviors and wearing proper helmets can save lives—more children would have helmets on. We want to engage as many parents as possible to be role models for their children. Protect your children's' lives: parents, put a helmet on your child," said said Mr. Hem Chalna Representative of Department of Order from Commissariat of National Police.
Mid-term assessment on behavior change campaign starts
AIP Foundation started a mid-term assessment to measure the effectiveness of its campaign to affect positive changes in the knowledge, attitude, and practice of motorcycle passengers across three target provinces in Cambodia – Kandal, Kampong Speu, and Phnom Penh. The behavior change assessment comes after one year of the "Head Safe. Helmet On." project implementation and is scheduled to take place from the end of July to early September 2015. More than 400 respondents from the target provinces will participate in the assessment. Its findings will be used to inform the project's second year and improve commercials and other communication materials.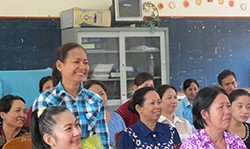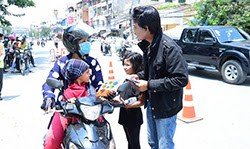 Links: