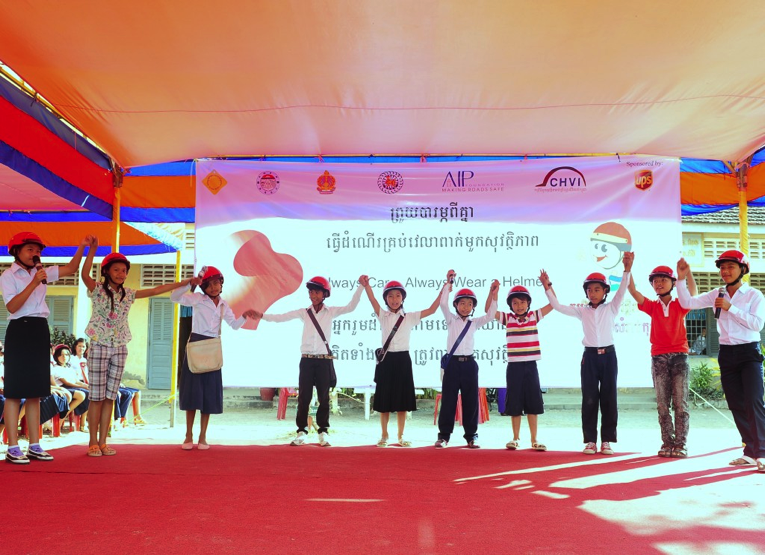 New Road Traffic Law Passes in Cambodia
The Cambodian National Assembly has approved the new Road Traffic Law, in which motorcycle passengers—including children—are required to wear helmets. This is a milestone event after 8 years of collective efforts by many organizations, including AIP Foundation. When the draft law was about to 'leave our children behind' in 2011, we led an initiative that resulted in the inclusion of children in the draft passenger helmet mandate.
In response to research findings that 98% of the public was in support of a passenger helmet law, we then submitted a Joint Statement to the Minister of Transport in 2013 appealing for the law to be passed. In May 2014, we presented a study to the Government demonstrating that 561 lives could be saved, 10,572 head injuries prevented, and USD 98,618,422 could be saved by 2020, if the law was passed in 2014.
On January 9, 2015, Cambodia's King Norodom Sihamoni signed off on a more robust traffic law, completing the final step for legislation. Passengers who are older than 3 years and riding on a motorcycle will now have to wear a helmet. The law also limits the number of people on a motorcycle to one driver, one adult passenger, and one child, and allows for fines of up to $1,000 for drink drivers.
Helmets Reach Thousands of Children in Phnom Penh, Kandal, and Kampong Speu Provinces
In December 2014, thousands of helmets were donated to primary students in support of passenger helmet use. Three large helmet handover ceremonies and 15 smaller handover events were organized at schools in Phnom Penh, Kandal, and Kampong Speu Provinces. The helmet handovers included information on proper helmet wearing and the importance of helmet use. The students were enthusiastic and pledged to wear helmets as part of their school uniform, regardless the time and the distance.
We organized a helmet donation of 6,652 helmets to students and teachers of six schools in Phnom Penh, with the support of USAID's Development Innovation Ventures (USAID-DIV) as part of the "Head Safe. Helmet On." project. Michelle Yeoh, celebrity road safety ambassador, and Cambodian Government officials came together to support the donation.
In addition to Phnom Penh, helmet safety programs were expanded to six schools in Kandal Province and six schools in Kampong Speu Province, totaling 16,022 high-quality helmets donated across the three target provinces.
Thank you for your support in protecting Cambodian children from brain injury. Without your contributions, these recent achievements would not have been possible!