The road crash crisis is affected by numerous factors, such as road user behavior, road safety management, the constructed environment, and the accessibility of safe vehicles and protective equipment. In Cambodia, AIP Foundation delivers quality helmets to children located in at-risk schools, often in dangerous traffic environments that endanger students on their way to school every day—building up their road safety knowledge through in-class education and promoting their access to protective equipment to reduce their risk of serious head injury or death during every ride. In light of the complexity of improving road safety for vulnerable communities, the solutions that partners invest their time, funding, and energy in must span sectors and focus areas. These solutions include improving road safety education for students and their teachers, sharing key informative messages to the community through creative forms and media, and working with local partners to encourage safer behaviors in their community.
In Cambodia, AIP Foundation has spent the past several months empowering local educators, building up road safety leaders among youth in our communities, and working with schools to paint educational and awareness-raising murals to encourage students to wear a helmet each and every time they ride a bicycle or motorcycle.
Together, we can work to ensure local communities and partners have access to the resources, knowledge, and skills they need to protect themselves and their loved ones on their journeys on the roads. Read on to learn more about what we have achieved to promote child helmet safety to save lives and prevent injuries in Cambodia over these past few months.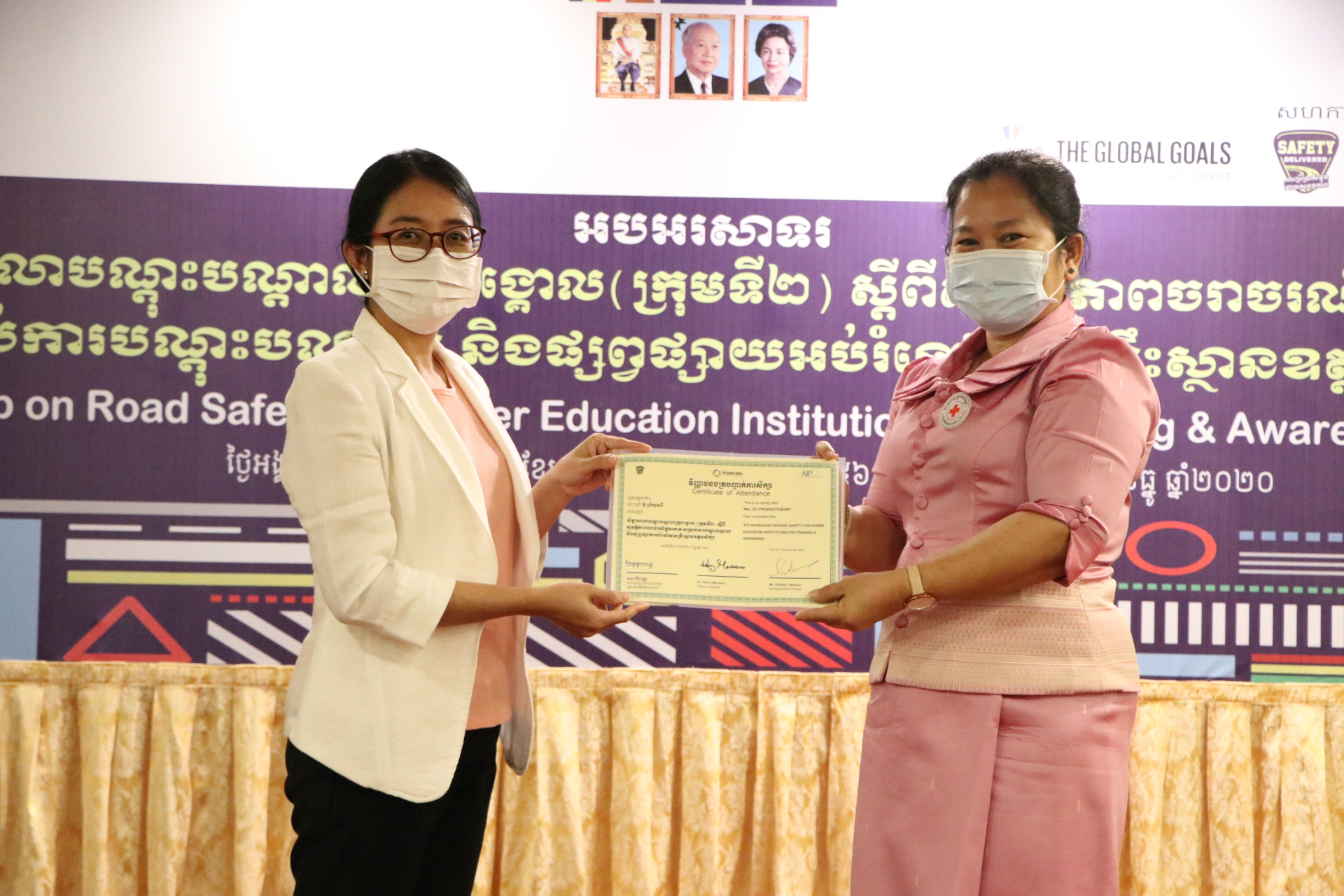 AIP Foundation distributing a certificate of completion following participation in road safety training to University educator in Phnom Penh.
AIP Foundation continues to build the next generation of road safety leaders
December 30, 2020
PHNOM PENH, Cambodia—December 28 – 30, 2020
Young people are very vulnerable road users. In 2018, 45% of all road fatalities in Cambodia were road users between the ages of 15 – 29. This vulnerability is echoed across the globe, with road crashes the leading cause of early death and years spent living with disabilities for people aged 10 – 24 in 2020. These statistics indicate an immediate need for intervention to instill better road user behavior and practices in young people.
To ensure the sustainability of the Safety Delivered program, AIP Foundation conducted a second Training of Trainers (ToT) program in COVID-19 prevention context with only 20 faculty members at 20 universities in Phnom Penh. Faculty members and other relevant participants received technical skills, materials and knowledge to pass down to their students, and support to serve as positive road safety role models on campus. Participants were able to listen to and learn from previous trainees who have implemented the training activities at their workplaces.
Through the Safety Delivered program, AIP Foundation is working to promote better road safety practices with young people. "Youth are the most vulnerable demographic on our roads. Safety Delivered program intends to create a change in road safety attitude. That begins by empowering youth to teach themselves and their peers, especially at university. AIP Foundation will give the tools and technical advice so that students can lead this generational change," Mr. Pagna Kim, Country Director of AIP Foundation in Cambodia.
Educators from O Ambel Primary School brainstorming ideas on encouraging better road safety practices amongst their students.
Teachers take a vital role in road safety education for students
January 19, 2021
BANTEAY MEANCHEY, Cambodia – January 19, 2021
Teachers are an important part of raising the next generation. With their encouragement and the training provided, they will be a crucial part of making roads in Cambodia safer for youth. The
Helmet for Families
program, supported by Manulife Cambodia, hosted a workshop for teachers to develop road safety educational materials at O Ambel Primary School.During the workshop, facilitated by AIP Foundation, work plans, lesson plans, and an array of educational materials were produced in close consultation with teachers.
More than 30 teachers took an active role in outlining methods to encourage safer commuting habits for their students including wearing helmets properly and practicing defensive road use like being aware of surroundings and staying alert. Drawing on the experience of teachers, teachers shared their experience and ideas on how to best communicate these materials with students.
The Helmet for Families program, focuses on educating vulnerable children, their parents, and teachers to promote comprehensive education about the risk of driving a motorbike or using a bicycle without a helmet. In addition to helmets, teachers have also received information regarding other risk factors on the road such as speeding, distracted driving, drink driving, and other tips to avoid road crashes.
To view more photos from the event, please click
here
.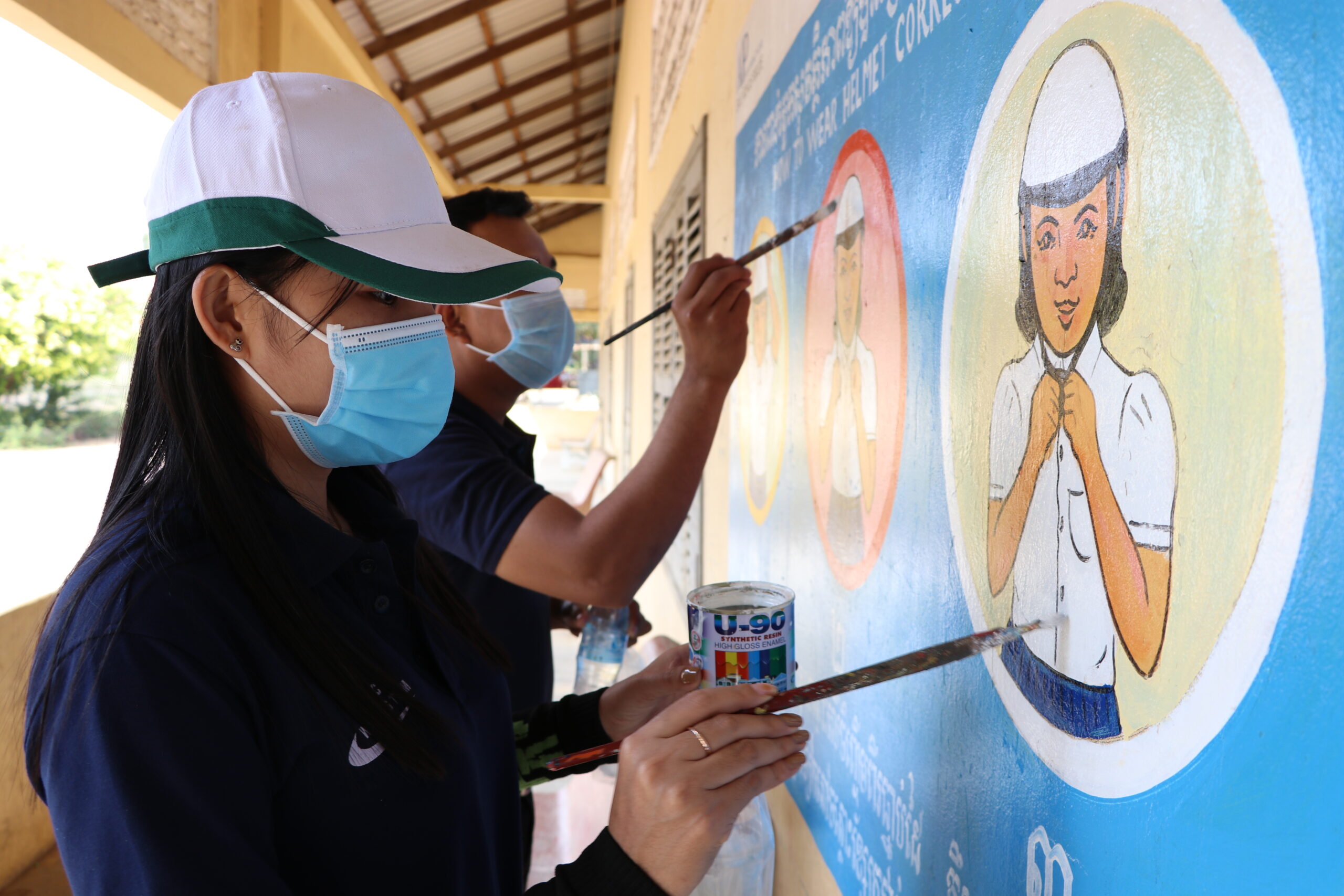 Volunteer from Manulife Cambodia painting on O Ambel Primary School's wall.
Public cultural art for social change in Cambodia
January 20, 2021
BANTHEAY MEANCHEY, Cambodia–January 20, 2021
Creative expression through public art is more than just claiming space, it's a visual expression that can inspire social change. Volunteers from Manulife Cambodia, students, teachers, and AIP Foundation painted murals and the walls at O Ambel Primary School as part of the Helmets for Families program.
Colorful murals were painted around the school's walls to encourage safer road use practices like staying alert when crossing streets, wearing a helmet while riding on a motorbike or bicycle, and checking for proper helmet use. Mr. Piseth Im, Program Manager for the Helmets for Families program, shared, "This is a great opportunity for all of us to create visual reminders for students and the wider community to prioritize safety first."
The Helmets for Families program focuses on increasing helmet use and road safety knowledge of students, teachers, and parents at target schools and raising awareness in surrounding communities like O Ambel Primary School where helmet-wearing rates are low, yet road deaths are high.
To view more photos from the event, please click
here
.