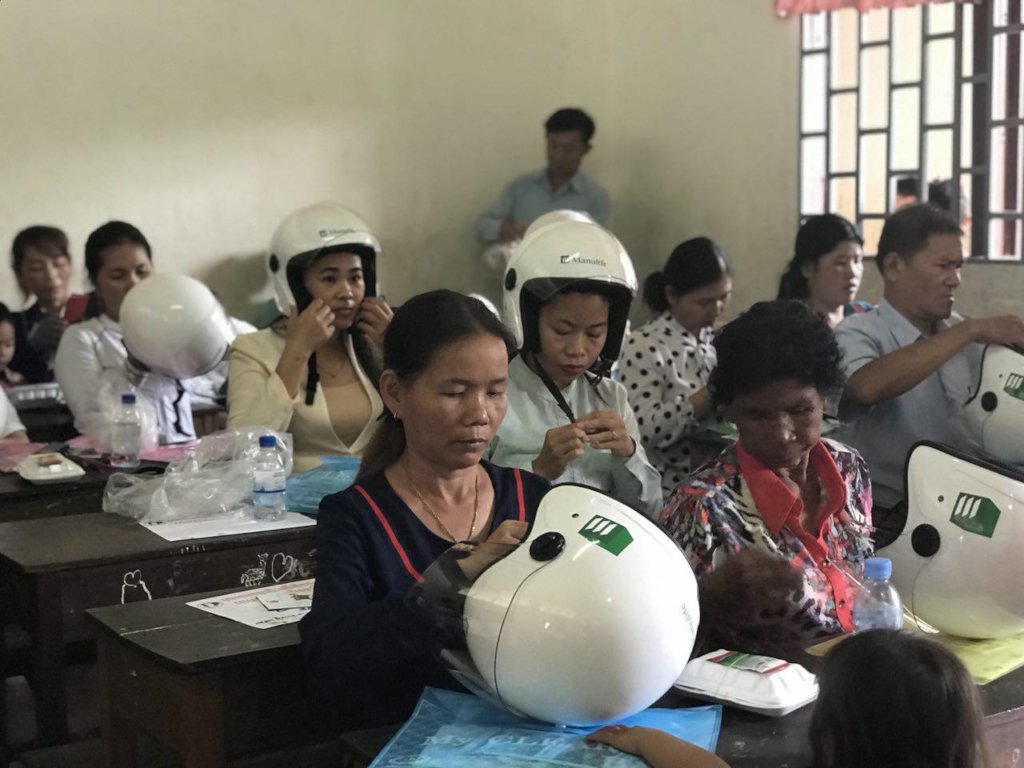 Dear Friends and Supporters,
As we move from spring into summer, the school year is drawing to a close - but our work continues. Throughout Cambodia, we are continuing to implement sustainable, effective initiatives to help work towards our goal of ensuring that every child has the right to travel safely on the roads. Read on for more information about our recent activities:
International Women's Day observed with road safety forum
01 March, 2018 – Kampong Cham
In support of International Women's Day, we organized a helmet use forum for 40 mothers at Veal Vong Primary School in Cambodia. The forum is a vital part of the Helmets for Families program, which is sponsored by Manulife Cambodia Plc. The mothers received information on the impact of road crashes on society and their families, the relationship between injury prevention and helmet use, and their role in encouraging helmet use among their families. Additionally, the mothers learned about the revised road traffic law in Cambodia, which now mandates that motorcycle passengers, including children over three years, wear a helmet when riding a motorcycle.
In addition to providing road safety education, our Helmets for Families program donated 1,048 helmets to teachers, students, and parents of Veal Vong Primary School in November 2017. We are collaborating with the Ministry of Education, Youth and Sport, General Commiserate of National Police, and National Road Safety Committee to implement other activities at Veal Vong Primary School over the coming year.
Over 1,000 helmets donated to province that accounts for 5% of nationwide road crash casualties
31 March, 2018- Kampong Cham
Over 1,000 quality helmets were donated to students and teachers from Batheay Primary School and High School as part of our Safety Delivered program supported by The UPS Foundation. Located on National Road 6A in Kampong Cham Province, the Batheay school district has recorded a high number of road crashes. In 2017, three people from the Batheay Primary School were injured in crashes, and between 2012 and 2017, five people died and 15 were seriously injured, including an ex-school director. In 2016, road crash casualties in Kampong Cham Province accounted for 5% of the nationwide total, with 86 people killed in the province.
During the week leading up to the helmet handover ceremonies, a road safety teacher training was conducted by AIP Foundation staff. A total of 68 teachers from both the high school and primary school attended the education session, which empowered them with the tools and training to pass on road safety knowledge to their students.
"This training is quite new for me and highly crucial towards being aware in order to avoid a road crash. I will distribute this information to my students, colleagues, and people in the community so they can better protect themselves from a road crash," said Ms. Siv Chanthrea, School Principal of Samdech Akka Moha Sena Padei Techo Hun Sen Batheay.
View more photos from the helmet handover ceremony and trainings here.
Youth ambassadors deliver distracted driving messaging to 1,000 people before Khmer New Year celebrations
09-11 April, 2018- Phnom Penh
University students from our Safety Delivered program's youth ambassador network took to major arterial roads in Phnom Penh in order to spread awareness about distracted driving ahead of the Khmer New Year holiday. H.E. Min Meanvy, General Secretariat of the National Road Safety Committee, also participated in the initiative to show her support.
Statistics indicate that in Cambodia, a high number of road crashes occur around major holidays as many citizens travel across provinces to enjoy time with family and friends at home. During the three days of the campaign, approximately 1,000 road users were educated on the dangerous consequences of mobile phone use while driving, speeding, drunk driving, and not using a helmet. The road safety ambassadors volunteered their time and enthusiasm to ensure these road safety messages were delivered to road users.
View more photos from the campaign here.
460 students use course to experience road dangers in a safe environment
24 & 31 May 2018- Phnom Penh
Over 460 primary school students practiced their road safety knowledge by riding their bicycles through a course simulating real-life traffic situations that confront the children everyday on the road. A motorcycle driving simulator was also present that allowed students to experience what it feels like to ride a motorcycle and avoid road hazards and distractions. The traffic course and motorcycle driving simulator were components of two road safety trainings organized by AIP Foundation and Honda for primary school students in May. AIP Foundation staff, Honda volunteers, and youth road safety ambassadors from Phnom Penh International University and the University of Cambodia provided guidance and corrected mistakes made by the students while on the course. They also provided road safety information on traffic laws, wearing a helmet, and being safe as pedestrians, cyclists and when riding a motorcycle. At the end of the training, the students participated in a Q&A to test their road safety knowledge.
View more photos from the trainings here.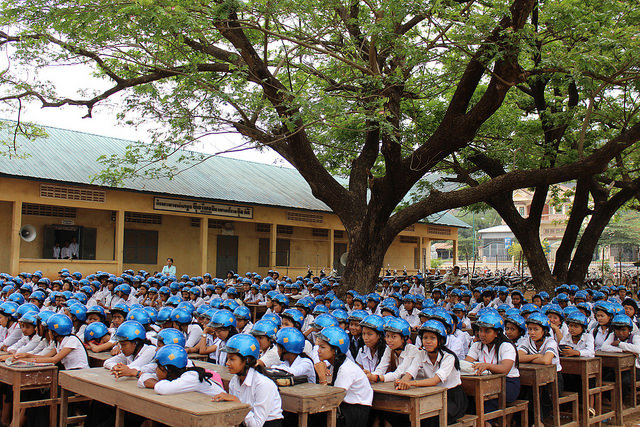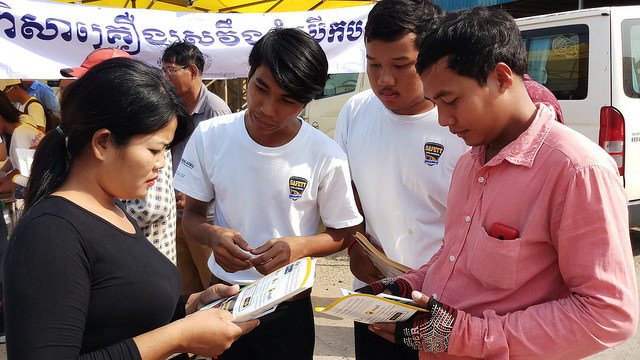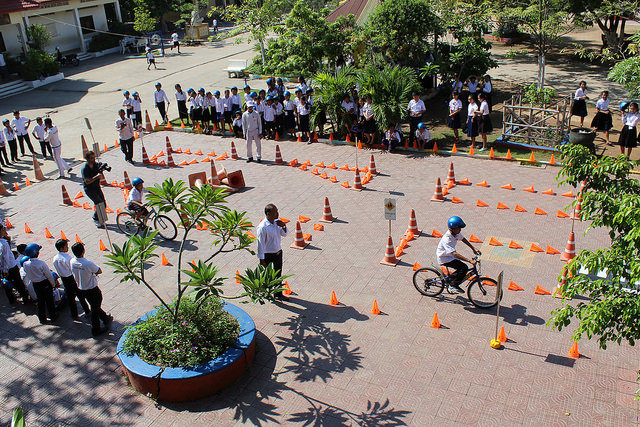 Links: