Project Report

| Mar 21, 2018
Getting students involved through education and emojis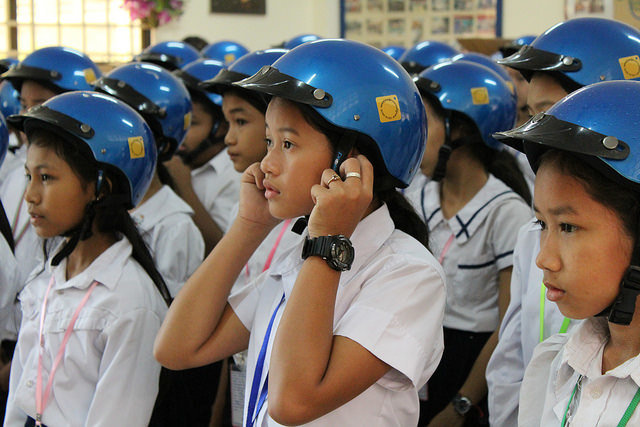 Thanks to you, our friends and supporters, we have been able to get 2018 off to a great start as we continue our initatives to keep children safe on the roads in Cambodia. Young people are among our most important road safety advocates - and we want to make sure they have the tools to succeed. From extracurricular activities to emojis, we work with students and young people to help create safer roads for the future. Read on to find out more about our achievements over the past few months:
New road safety ambassadors educate 2,253 students through Safety Delivered program
26 December, 2017- Phnom Penh
Twenty-seven newly trained ambassadors from the Safety Delivered program carried out education and awareness raising activities on road safety and helmet use for 2,253 students from Preak Leap Primary School and Neak Oknha Mohapheakdey Hun Neang Beong Trabeak South Primary School. The road safety ambassadors used extracurricular activities such as interactive games and question and answer to make learning about road safety concepts engaging for the students. Each of the students, as well as 85 teachers, also received a new helmet at the event.
Honored guests included Mr. Chhoun Voun, Deputy Director General of Transport and Permanent Deputy Secretary General of the National Road Safety Committee as well as local government officials, AIP Foundation staff, and the schools' management.
View more photos here.
Manulife Cambodia receives award from government for contributions to road safety education
24 January, 2018- Phnom Penh
More than 300 government officials and representatives from nongovernmental organizations, the private sector, and media attended a ceremony in Phnom Penh awarding Manulife Cambodia's CEO Mr Robert Elliott with a Certificate of Appreciation. The award was in recognition of Manulife's commitment to road safety education in Cambodia in 2017.
AIP Foundation and Manulife recently celebrated six years of partnership through the Helmets for Families program. During that time, the program has donated over 4,500 helmets to the most vulnerable road users.
Emojis take on sinister role in new campaign addressing distracted driving among youth
27 February, 2018 – Phnom Penh
A new safety campaign will integrate media- and community-based approaches to address distracted driving among 15 to 29 year olds. The campaign's slogan is "Leave your phone alone or you could be next!" and features a sinister, evil emoji character as its key visual. It will be broadcast through a public service announcement on national television channels and disseminated through digital channels via an online media campaign. We are leading the initiative as part of The UPS Foundation-supportedSafety Delivered program, and working in close consultation with the Cambodian National Police, the National Road Safety Committee, and representatives from relevant ministries and target universities.
The campaign's television commercial (TVC) takes the familiar icon of a cute and innocent emoji and turns it into a lethal killer on the road, by featuring a malicious emoji that preys on distracted motorcyclists. Through this innovative reimagining of common road situations into horror movie scenes, the campaign addresses the consequences of unsafe behaviors such as calling, text messaging, and using the Internet. These behaviors cause a driver to become distracted, slow his or her reaction time, and affect his or her ability to make safe driving decisions.
View more photos from the TVC launch event here.
Read the full press release here.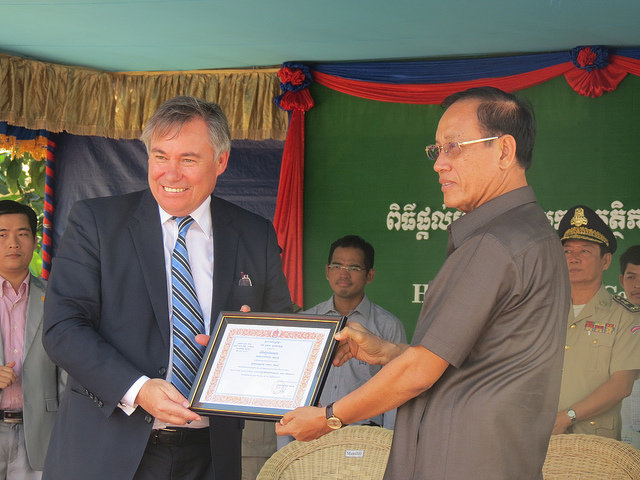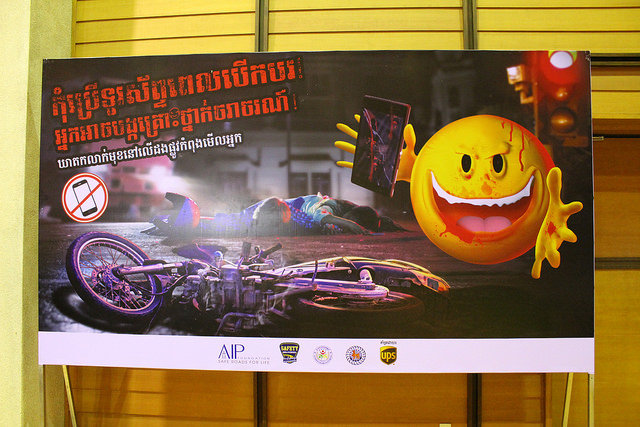 Links: