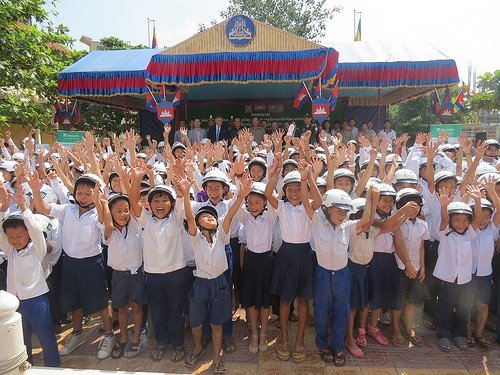 Asia Injury Prevention (AIP) Foundation, with the support of generous donors, gave 3,448 children life-saving helmets and road safety education in Cambodia last school year through the Helmets for Kids program.
Helmets for Kids is AIP Foundation's signature program that provides primary school students with high-quality helmets as well as teaches them the importance of wearing helmets and practicing safe road behavior. In addition to donating helmets and training teachers and students in road safety, the program also educates parents to put helmets on their children and raises awareness of issues surrounding road safety in the wider community.
During the 2012-2013 school year, the program was implemented at four schools in Cambodia, where helmet wearing rates increased from .1 percent to nearly 90 percent. Helmets essentially became part of the school uniform, as students were committed to wearing helmets when commuting to and from school each day.
Helmets donated through the Helmets for Kids program in Cambodia saved six children from injury in crashes. Since these children were all wearing helmets at the time of the crashes, they were protected from potential brain injury.
On April 15, 2013, fifth grader Phal Phada and his mother were on their way to a pagoda on a motorcycle when they were hit by another motorcyclist. Phada and his mother were thrown off of the motorcycle and landed in the middle of the road. Phada's right knee was bleeding and he had scratches on his body. Thankfully, both Phada and his mother were wearing helmets, so they were protected from serious injury. Phada shared his story with his friends to help them understand the importance of always wearing helmets.
By donating to the "Protect Cambodian Children from Brain Injury" project, you can help protect more children like Phada from serious injury in crashes. These children risk their lives every day by commuting to and from school by motorcycle without wearing helmets. Help to change this behavior and allow children to grow safely and pursue their dreams today!