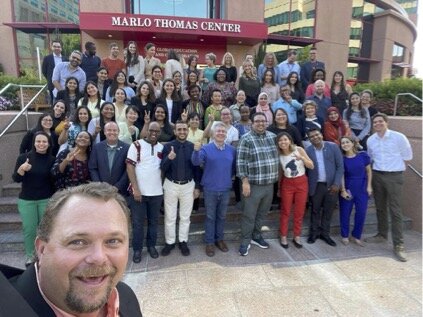 Thank you all for your ongoing support to promote paediatric pain management. We have been delighted to be able to continue teaching on pain management in children's palliative care since our last report. As we mentioned, we attended the EPEC Paediatric Become an EPEC-Pediatrics Trainer Conference and EPEC-Paediatrics Professional Development Workshop in San Francisco in July, so that are able to support the running of the EPEC courses alongside St Jude's and others form the EPEC team. This was a great opportunity to attend the programme and now means that ICPCN are able to support the delivery of EPEC Pediatric courses.
A combined EPEC (Education in Palliative and End-of-Life Care) Paediatrics End User and Leadership Workshop was held prior to the 7th International African Palliative Care Conference in Kampala, Uganda. The workshop was held at the Mestil Hotel Kampala and was attended by 55 participants from Benin, Botswana, Burkina Faso, Cameroon, Ghana, Kenya, Malawi, Nigeria, Senegal, South Africa, South Sudan, Tanzania, Uganda, Zambia, and Zimbabwe. The workshop was run by the African Palliative Care Association (APCA), International Children's Palliative Care Network (ICPCN) and the St Jude Global Palliative Care Program, and was funded by St Jude Children's Research Hospital. 34 participants undertook the end-user EPEC workshop including doctors, clinical officers, nurses, pharmacists and social workers. The majority (21) were from Uganda, from a range of organisations including: Kawempe Home Care, the Uganda Heart Institute, the Uganda Cancer Institute, Kirrudu National Referral Hospital, St Francis Hospital Nsambya, Mulago National Referral Hospital, Yumbe Regional Referral Hospital, Mildmay Uganda, Mbarara University, and the International Rescue Committee. A further 21 participants undertook the leadership workshop which was run concurrently with the EPEC workshop. The groups participated in several combined sessions as well. The workshop went well and we are in the process of writing up the report for publication.
Both Julia and Alex then attended another EPEC Programme and Paediatric Palliative Care Oncology Symposium at St Jude's in Memphis, with Julia supporting the facilitation of the programme and Alex undertaking the course. It was exciting to be with 43 participants from around the world, to share experiences and to learn from each other. Training has continued on paediatric palliative care, including pain management for participants from Uganda, and also Iraq, along with participants from around the world attending our series of monthly webinars, and undertaking our elearning programmes.
There continue to be many new and exciting opportunities ahead of us and we look forward to collaborating with many of you as we seek to improve access to children's palliative care and pain management around the world.