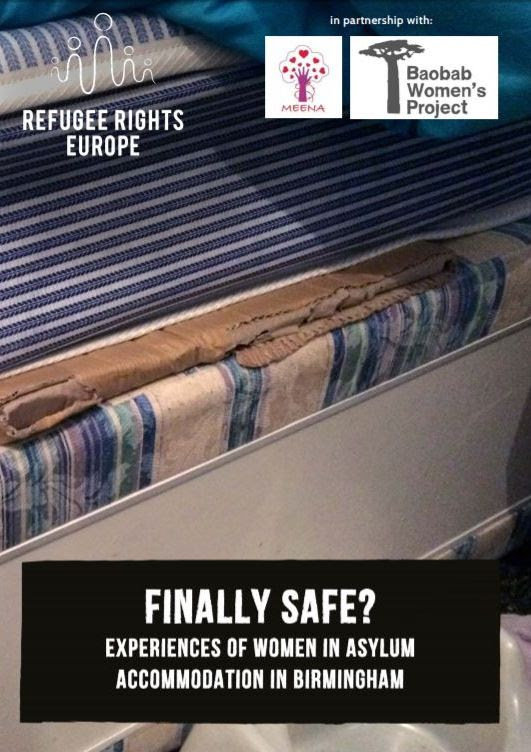 We hope that you're doing well and that everyone had a great holiday season! We're writing today to share the latest updates of our work. We've had another busy few months at Refugee Rights Europe and we're excited to share our work with you.
In November, we published our new report in collaboration with Meena Centre for Women and Children and the Baobab Women's Project. Our report 'Finally Safe?' looked at asylum accommodation for asylum-seeking women in the UK and found that much remains to be done by the Home Office and its contractors to ensure safe, hygienic and dignified housing for asylum-seekers. You can find the full report here.
Released on the 70th anniversary of the Universal Declaration of Human Rights, 'The State of Refugees and Displaced People in Europe' is our latest summary report of our key research findings from 2017-2018. The report paints a harrowing picture of human rights for refugees and people in displacement throughout Europe, documenting chronic police violence, lack of access to information, substandard living conditions, gender-based violence and absence of child safeguarding structures. On December 13th, we hosted an event at Amnesty International to launch our summary report with our researchers and a panel of partner organisations to discuss advocacy successes and prospects for 2019 and beyond.
In 2018, Refugee Rights Europe has continued to stand up for the human rights of refugees and displaced people across Europe, calling on decision-makers to uphold their international and national commitments. In early January, we published our 2018 Annual Report that details our impact and successes for the past year. You can also view our 2018 summary video here.
In 2019, we will continue our advocacy work at the international, EU, and national level and collaborate across civil society to create a strong, unified voice for long-term, structural change. None of this work would have been possible without generous supporters like yourself, and we are immensely grateful the support. Keep watching on our Instagram, Facebook, or Twitter pages for upcoming reports, events, and information!
To support our work please consider making a small donation here. With your help, we can continue our efforts to promote the human rights of some of the world's most disadvantaged groups.
Thanks again for your continued support, and please feel free to drop us a line if you would like any further feedback about our work.
Warmest wishes,
Krystal Garvin and the Team