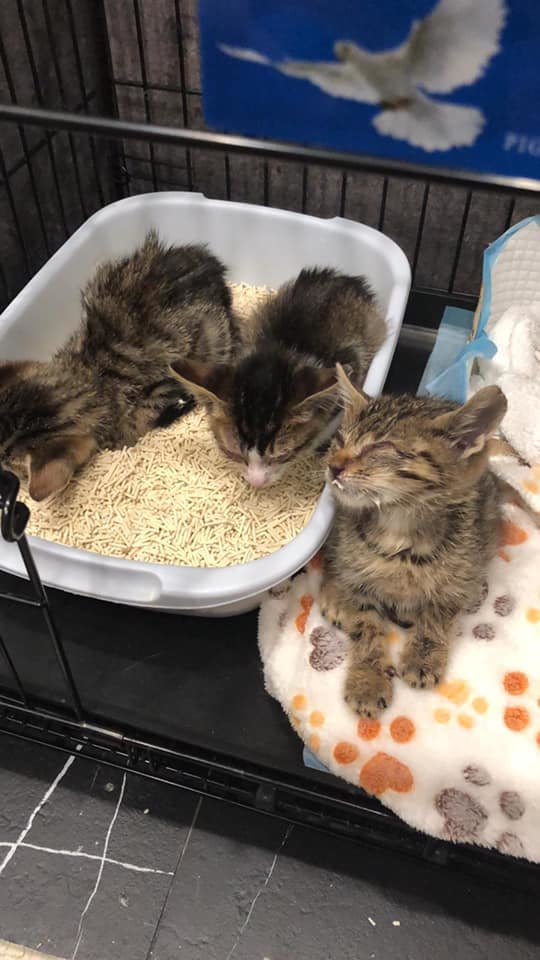 In the mid of February and it was a Saturday, there was a neighbor in Mui Wo (Eastern side of Lantau Island, while Tai O is on the Western side of Lantau Island, driving time is about 30 minutes) found 4 baby kittens (about 2 months old) at the Mui Wo garbage station.
This lady requested Tai O Stray Cat Home to give assistance for these baby kittens; therefore, I asked my friend in Mui Wo to provide temporary care for them. Their health conditions were not good and turned out one of them left us on that Saturday night. Due to their bad condition, I made an appointment right away to bring them to go to the clinic for medical treatment next day morning. What I could do was keep praying and hopefully the miracle would be happened for them.
After seeing the doctor, all these three kittens are fine, but they were still too lightly weighted, each of them was only about 300 grams. One of the kittens, he was in the worst health condition; he was also starting to eat and urinated today.
I would like to say thanks to my friend Iris, she is the one in Mui Wo to provide temporary care for these kittens, with her sleepless care for them, they are getting better and better. Besides, I would also like to say thanks to Ms Chan's Reiki team for treating kittens with Reiki until two o'clock in the morning, without their help, I don't think these kittens could have this peaceful transition. I am thinking, with my friend (Iris) help to take good care of kittens, they will be able to catch up their weight soon. However, in the mean time, we need to work hard to find homes for these kittens.
My friend Iris, the caregiver, told me that all three kittens are getting fatter and bigger; and also they all gained weight. They are so pretty now and their eyes are getting less swollen. However, two of them have issues, one of their eyes would be blind and couldn't see anymore; you know what this will not be easy to find homes for these handicapped kittens. No matter what, we need to keep praying and work hard to take good care for these kittens and find home for them; and of course, we need your support to for this new challenge.