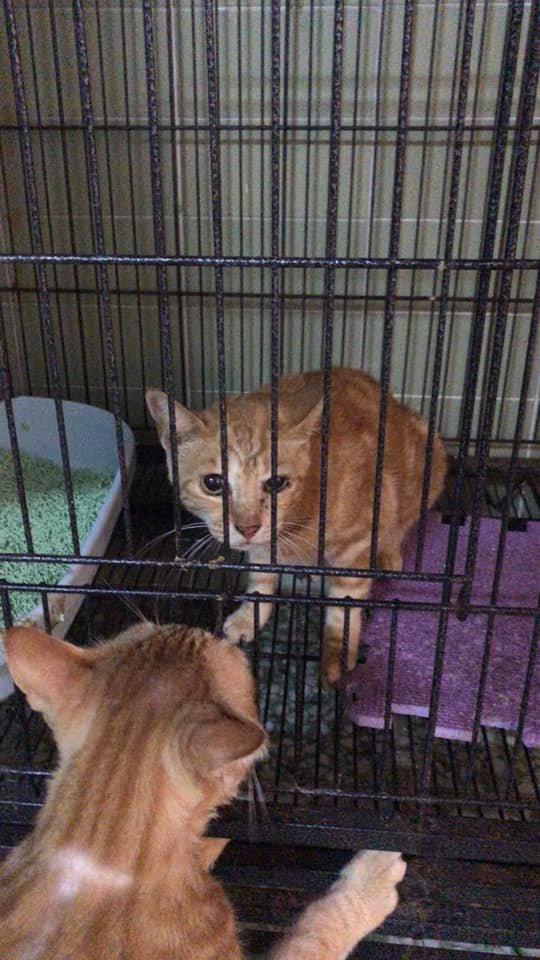 One of the stray cats is named as "Short-Tail"; he used to come to greet me during the mealtime daily. However, I haven't seen him for food recently. I was worried about him and not sure how's he doing.
A few days before, one of the neighbors told me that she saw "Short-Tail" in the nearby area; she mentioned that he seemed uncomfortable and walked so awkwardly, after that he disappeared.
Finally, I could find "Short-Tail" and he was hobbling close to my place. Therefore, I brought him to the Tai O Stray Cat Home Campus and then will bring him to see veterinarian in the next morning. When he was in the cage of the campus, he didn't eat any food at all and his eyes were full of tears. I was so upset and heartbroken to see him like this.
When we were in the clinic, the veterinarian checked "Short-Tail" and said his right back limb got burn by hot water; therefore he has fever and low blood pressure due to the inflammation of his back limb. Anyway, "Short-Tail" needed to stay in the clinic for a few days. Because of staying in the clinic for treatment, the medical expense for "Short-Tail" is about USD 3,000. I would like to kindly ask for your donation for his treatment, we greatly appreciate your donation and it will be fully used for his medical care.
At this moment, the veterinarian said "Short-Tail" fever has gone down and his condition is fine. However, the veterinarian has found out that he has Feline Immunodeficiency Virus (FIV); that means I better find a new home for him instead of staying in the Tai O Stray Cat Home Campus. FIV may transmit to other cats in the campus due to fighting or biting; also "Short-Tail" may easily get sick due to poor immune system with FIV. How could this happen to "Short-Tail"?
Anyway, please keep praying for "Short-Tail" and send blessings to him; also, your donation to him is so important. Once again, thank you for your help and support to Tai O Stray Cat Home.