Dear Project of the Month Club Members, Thank you all for another amazing month! During the month of August, we raised $710 from 30 members to support a project called "Restore Eye Sights To 500 Bangladeshis." We were able to provide screening for fifty cataract patients and fund cataract surgery for ten people. The picture above is of one woman whose eyesight was restored during GlobalGiving-funded surgery this past month. Your donation has given her the miraculous gift of sight!
During the month of September, your donation will support a Back-to-School project called "Provide Technology For Haitian Students." This project was started by Jeff, a Pennsylvania middle school teacher, who wanted to find a new way to engage his students. Together, they found a school in Haiti to partner with and have set up a wiki where the students create lessons for each other. They have regular Skype video conferences between the two classrooms where they provide video instruction on topics ranging from English to electrical circuit design.
Since none of the Haitian students have computers at home - and the school only has limited resources - this project is also working to build a new computer lab for the school in Haiti. As one of their recent project reports shows, they have completed building the room, including installing new desks and chairs, but don't yet have it equipped with computers. That's where we come in.
With your generous monthly donation, this September we expect to be able to purchase a computer for the computer lab in Haiti, as well as provide an internet connection for that computer for the first semester of the school year, and training for the teachers on how to utilize technology effectively to improve the quality of education for their students. What an incredible accomplishment you are supporting!
As always, if you know of someone who you think would enjoy belonging to the project of the month club we encourage you to spread the word. Although the impact we are able to make is a great one, if just 14 more people join with a $25 donation during the month of September it would enable us to purchase a second computer for the Haitian students' computer lab.
We'll be in touch next month to cover the impact we've made together and tell you about our next exciting Project of the Month.
Sincerely, Mari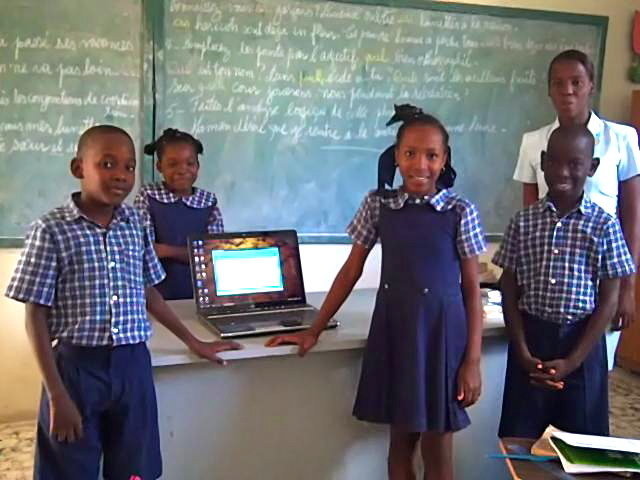 Links: