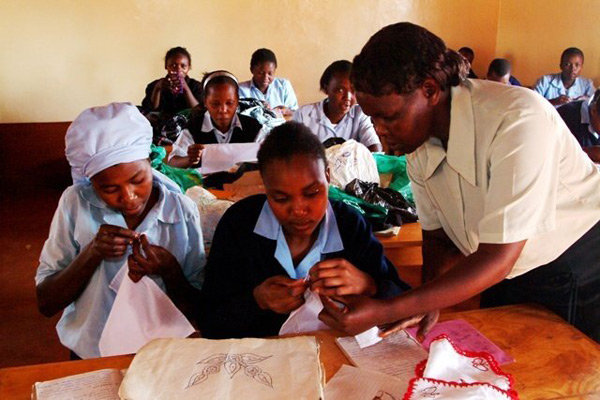 Dear Project of the Month Club,
It's officially summer, so it's no surprise that things are heating up around these parts. We just welcomed more than 70 brand-new, high-impact nonprofits — working on everything from education for children with autism in Venezuela to providing solar lamps to bring indoor lighting to villages in Liberia — to the GlobalGiving community through last month's Open Challenge. Today, though, I'm most interested in sharing the story of an organization working to break the cycle of poverty for girls in Kenya.
Before I share that story, let's look at what you and fellow Project of the Month Club members accomplished in June: 202 of you gave a total of $6,450 to support Awamaki's Empowering Women Through Design In Rural Peru project. Your donation will be helping Awamaki provide further training and support to their artisans so that they can expand the markets for their products.
In July, your monthly donation will support Vision Africa's Train 300 Destitute Kenyan Girls For Self-Reliance project, which rescues destitute girls and offers counseling and training in lifeskills, vocational skills and business, in order to equip girls to improve standards of living for them, their families, and communities. Fittingly, they call this program "Seed of Hope".
Vision Africa's project leader Kirsty McLullich had this to say when she was informed about her project's selection this month:
"We are excited to be nominated as GlobalGiving's Project of the Month for July 2015. Having partnered with GlobalGiving since 2009 we have seen the real difference that donations from this site can make to the disadvantaged girls who benefit from our training centres. On behalf of the staff and students at Seed of Hope, thank you to every member of The Project of the Month Club for supporting our work to empower girls for an independent future."
"At Vision Africa we believe in Value For Money. We ensure that every donation is wisely spent to make the maximum impact. A donation of $6,500 to Seed of Hope could be used in many ways. One example is that it could fund a feeding programme for 140 students for a full academic year. The feeding programme provides students with a nutritious meal each day they are in school. In a recent poll of 116 students:
97% said the feeding programme helps retain them in school
62% said it helps with concentration
47% say they have 0 or 1 meals at home a day
This underlines the importance of the feeding programme as part of our holistic training programme for disadvantaged young people."
Feeding 140 students for an entire year? That's the kind of life-changing impact you're able to make each month, and I'm just as thankful as Kirsty and Vision Africa are for your continued support of the Project of the Month Club.
Warmly,
Mari + the GlobalGiving Team