Project Report

| Nov 30, 2012
Empowering Communities to Protect Primates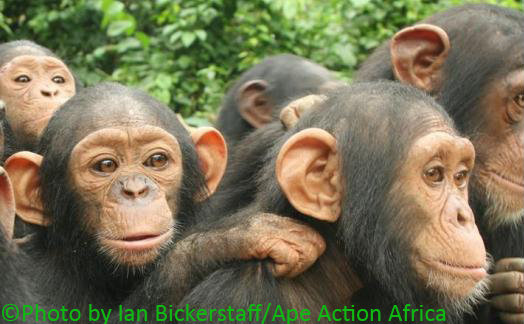 Empowering 22 African Communities to Protect Primates
Project Report, November 2012
Thanks to your support, PASA is making a difference for Africa's primates and the human communities that share their habitat.
There are currently 22 PASA member sanctuaries in 12 countries stretching from Gambia in the west to Kenya in the east. A survey of PASA sanctuaries showed their conservation education and messaging reaches more than 400,000 people each year on-site, as well as many thousands in local communities. PASA sanctuaries each employ 26 people on average and add a cumulative value of more than $3 million to local community economies every year!
Over the past two years, PASA collaborated with the Disney Education and Science Team to develop a grassroots public awareness campaign called Communities for Primate Conservation. Pre/post evaluations demonstrated that the campaign created positive changes in knowledge and attitudes about primates. It also served as the starting point for 28 community projects to promote conservation, including jewelry making from recycled paper, community farming, and conservation-themed community performances (Birungi, 2012; Bettinger et al., 2012; Fawoh, 2012; Lehnhardt et al., 2010).
Building on this success, we are now directing our conservation education efforts toward human-wildlife conflict, an issue that is particularly prevalent in many African countries. Human-wildlife conflict refers to direct conflict between the goals of people and animals (such as when a chimpanzee raids a crop or attacks a human), but also involves conflict between humans about wildlife and conservation. This commonly occurs when communities feel that wildlife organizations care more about wildlife than people and can result in the loss of community trust and support for conservation initiatives. Click here to see news from CSWCT (Ngamba Island Chimpanzee Sanctuary, Uganda) about human-wildlife conflict in their area.
As the ambassadors for their sanctuaries, as well as respected leaders and wildlife authorities of their communities, PASA educators are frequently asked to address human-wildlife concerns. PASA will collaborate with human-wildlife conflict experts and organizations to bring PASA sanctuary staff training on specific wildlife conflict mitigation strategies, allowing educators to transform conflicts into sustainable solutions for both humans and non-human primates. Our first step will be to launch the Human-Wildlife Conflict Resolution Program at the February 25 - March 1, 2013 PASA Educators Workshop in Yaounde, Cameroon. This first phase of the program will empower the local educators and conservation leaders to work directly with their communities in resolving specific cases of conflict with nonhuman primates.
The second phase includes a needs assessment of human-wildlife conflicts in local communities, community meetings and surveys, data analysis, and the development of specific community Conflict Intervention Plans. Phase 3 will include a second, intensive training for PASA sanctuary educators preparing them to deploy Conflict Intervention Plans (CIPs) in their communities. This will be followed by implementation of the CIPs, and ongoing evaluation and adaptive management of the CIP projects. By developing and implementing a Human-Wildlife Conflict Program, PASA can better facilitate a long-term strategy to foster peaceful coexistence between humans and African apes and monkeys.
Thanks to support from you and our partners, we have secured funding for the February education workshop. Please help us reach our goal of raising $50,000 to fund new community projects that protect forests, primates and people.