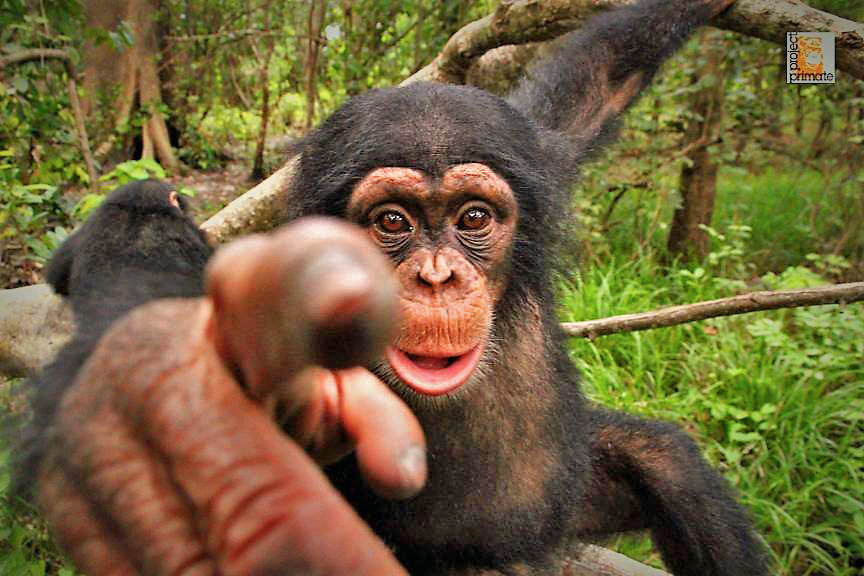 Tita's story is one of the most heart-breaking we have ever shared, but thanks to you, she is now living happily with her new family in the forest.
Little Tita was close to death when she was rescued by Chimpanzee Conservation Center, a PASA member in Guinea, and other partners. Her mother and sister, captured alongside Tita by poachers trying to sell them as pets, were already dead after trying to defend themselves and Tita. I know this kind of cruelty is difficult to read about, but because of Primate Protectors likeyou, Tita was saved from this horror. Because of you, she is now smiling again.
I'm so happy to tell you that Tita is now spending her days playing with her new family – a large group of young chimpanzee orphans. Each day, they go to the forest with their caregivers and learn the skills they need to survive in the forest. Tita spends her days in the trees, playing with her new siblings and eating her favorite foods until her belly is full. Christelle Colin, Executive Director of Chimpanzee Conservation Center, says that Tita is a sweet chimp who always has a mischievous look on her face, as if she's always up to something.
When Tita was rescued and brought to CCC, she had numerous injuries and the worst case of trauma the sanctuary had ever seen. Staff there worked around the clock to care for Tita, and finally she began to recover. Her broken arm healed, and over time, her heart began to heal too.
Christelle reports that Tita is a wonderful older sister to the new babies that arrive at CCC. When baby Sewa was rescued, Tita cared for Sewa like she was her own sister – after all, Tita means "sister" in a local Guinean language.
Tita should have grown up in the wild, cared for by her mother and playing with her sister. That future was stolen from her, but with your support, PASA members across Africa are fighting the illegal wildlife trade and giving orphans like Tita a second chance at a happy life.
Thank you for making Tita's new life possible.