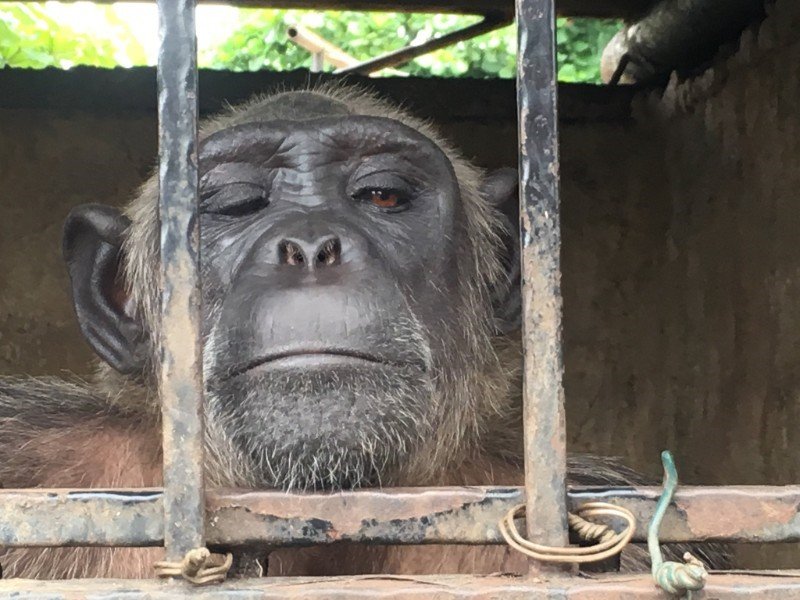 I am pleased to share that thanks to you, PASA's support of the emergency rebuilding project at Sanaga-Yong Chimpanzee Rescue in Cameroon has been a success. A severe storm caused several fallen trees to crush chimpanzee enclosure fencing at the wildlife center. Support from the PASA network made it possible to quickly rebuild the fence, and the center's chimpanzees are once again able to enjoy their spacious enclosure safely.
You may remember Joanna and Rikita. These chimps have been kept as illegal pets in Angola in dark, filthy, cramped cages for over a decade. They have not felt the sun on their faces, climbed a tree, or had a breath of fresh air since they were two years old.
We just learned that export permits have been approved for Joanna and Rikita! If all goes according to plan, in a couple weeks they'll be in Tchimpounga Chimpanzee Rehabilitation Center, a PASA member in Congo. Thanks to the tireless efforts of PASA's network and your support, these chimps will have rich, full lives in sunny forest enclosures and the time and space to recover from their abuse.
PASA members are increasingly recognized as leaders in conservation education. Permanently located in Africa for decades, often in critical wildlife habitat, with close relationships with local communities, they are ideally positioned to produce lasting behavior changes. PASA launched our Kids for Compassionate Conservation program, which includes the children's book, "Je Protège les Chimpanzés" / "I Protect the Chimpanzees" in French and English and its accompanying innovative, interactive curriculum, in collaboration with our member centers Sanaga-Yong, Limbe Wildlife Centre, and Ape Action Africa. This entertaining and engaging book teaches African children about wildlife conservation issues that are relevant to their lives and inspires them to empathize with chimpanzees.
With your support, over the past year we have extended the program to the Republic of Congo, Uganda, and Gabon, in addition to expanding it to more children in Cameroon. HELP Congo in the Republic of Congo is using the book to teach and inspire children who live near wild chimpanzee habitat. Fernan-Vaz Gorilla Project is adapting the curriculum from Cameroon to the cultural context of Gabon. Chimpanzee Trust, which runs diverse awareness and education programs in chimpanzee habitat in western Uganda, is integrating the children's book and the five-day curriculum into their other education work.
Now members of the PASA family, Diane Toomey and Debbie Meyer, are preparing to write a second book that will build on the pioneering, fun conservation education of the first book and its curriculum. They plan to inspire children across Africa by telling the stories of PASA wildlife center staff members. I can't tell you how thrilled we are that youth across Africa will continue to be empowered with knowledge and appreciation for wildlife conservation, leading to greater shifts in behavior that reduce negative impacts on primates and their habitat.
Thank you immensely for your continuing support of great apes and monkeys in Africa. By partnering with PASA, you make it possible to continue providing outstanding care for primates rescued from the illegal wildlife trade and the bushmeat crisis. Is one of PASA's programs a good fit for your priorities? Please let me know! We would be pleased to submit a grant to you at the next available opportunity. Together, we protect endangered primates and secure their future. I can't thank you enough for your dedication.
Links: