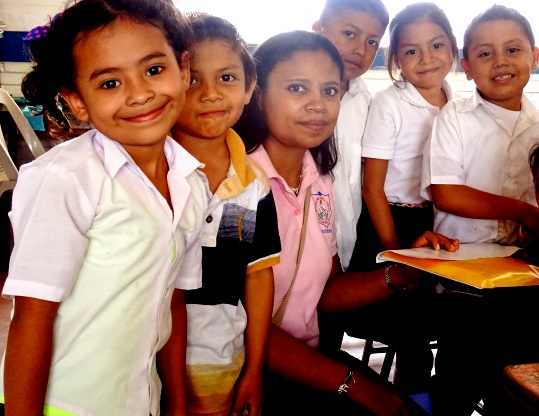 "Miss Rita is downstairs, cleaning the storage room," the other teachers told me. I am at San Pedro Apostle School, one of four schools under the supervision of Director Rita Reyes located in the municipality of Ticuantepe, Managua.
Indeed, between old furniture, broken slates and dust, was Miss Rita with her hair braided under a hat. "You should not come in it's very dirty. I`ll be out, ¨ she shouts from the inside. At that moment a man says between his teeth, "that's the difference between being a teacher by vocation and those who just come because they have to. She knows how to roll up her sleeves."
Beyond the improvements made in the dining hall, kitchen and storage room made with the support of donors like you, for teacher Rita, the most significant changes have been in children's habits and behavior. "We have strengthened our strategies and experiences with the students in the topic of Food Security and Nutrition. Thanks to the school garden initiative, choices in snacks and hygiene have improved, such as washing hands and swapping 75% of junk food with fruits and vegetables. In the beginning, we struggled with parents who preferred to give children soda beverages. That has also been a important change in the children's eating habits. "
In the near future, all of these learning processes will be strengthened to positively influence behavioral changes within students, faculty, and parents through campaigns and trainings on the topic of food security and nutrition. Improved food security and nutrition practices have led to higher school retention rates.
"During the municipal evaluations, we were able to present our work, how it has been done, how the project has supported us, and how school gardens have become family gardens. This year, the ministry of education made a presentation of how school gardens work – using as an example a school garden just like ours," clarifies the teacher.
Schools like San Pedro Apóstol are now references when it comes to the subject of food securityand nutrition in schools. This has been possible possible thanks to the generosity of our donors. However, a lot remains to be done. For now, they will continue on with the cleaning of the school to optimize the space where children learn and play.
Links: