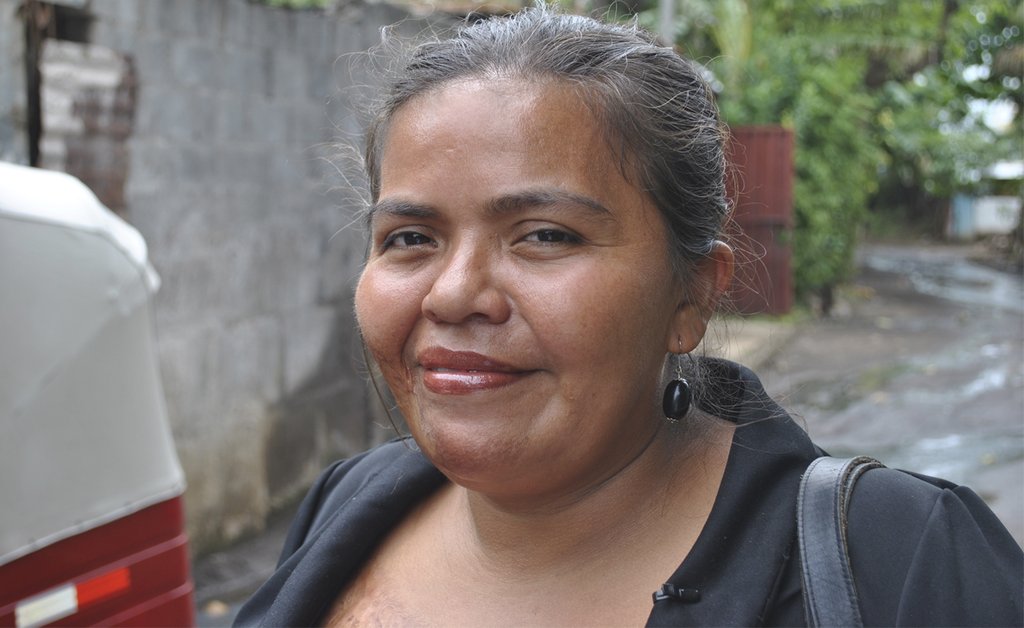 Coming straight from her classroom, Maura strode into the meeting room with confidence, a pencil tucked into her hair. "¿Comenzamos?" she said immediately. "Should we start?"
From that moment, she guided us through the story of her life, her strong, enthusiastic voice revealing her natural talent for teaching. With no reservations, she told us of struggles and heartache, but all that was overshadowed by her unflappable determination to move forward and provide a better future for her children. Maura knew from a young age where she wanted to go, and, with support from Fabretto, she is on her way there. As a parent, student, apprentice, and teacher, Maura has taken full advantage of the opportunities provided by Fabretto and has become a leader in her community. Her positive attitude and commitment to achieving her dreams is a true testimony to the spirit of Fabretto.
Maura's life has not been easy, but she never stopped believing in a better future. Tears came to her eyes as she spoke of her difficult childhood in rural Nicaragua and moving alone to Managua to support her family as a young adult. Three years ago, Maura began attending Fabretto's parent training sessions and enrolled her children in Fabretto's educational programs. Later, she joined the vocational training program "to learn to make jewelry to make progress on her own." But Maura didn't stop there. "Since I was 6 years old, I had always dreamed of being a teacher," she recalled. Over the years, she worked as a nanny, factory worker, and even a salesperson on the streets, but she never gave up on her dream. "Teaching is a calling," Maura stated with conviction. "Fabretto was my path to enter."
Now, Maura is entering her final year of her degree program to become a teacher. She recently completed a 3-month internship at a Fabretto's Education Center, and when Fabretto's director noticed her potential, she offered her a temporary substitute teaching position. "I had faith that I would find a job after my internship ended," Maura explained. "I just wanted to learn… As a teacher, I am constantly learning."
Maura became animated as she described her experience as a teacher at Fabretto's Center. "The children are so sweet," she said. "In just one week, there was tremendous love between us. The children's love has also helped me grow."
As we listened to Maura, we were not only impressed by her life experience, but also motivated for her future and the future of other Fabretto beneficiaries. "I want to show my children who their mother can be," she said, her eyes bright with emotion. "With Fabretto, I have been growing, and my children too… and they are proud of me."
In Nicaragua, receiving a quality primary education is so much more than just getting children to attend school. Fabretto creates a safe and fun environment for learning by encouraging and explaining to parents how they can support their child's education, giving teachers like Maura the resources and education so they can make their passion for teaching more effective, and providing a daily lunch so they can grow and lead a healthy life. Together with your support, we can continue education programs so that the children like those that Maura teaches are not only be inspired by her, but have the opportunity to learn and develop the skills needed to reach their goals.
Links: