Project Report

| Mar 27, 2013
Primary Educational Enrichment Report 2012-13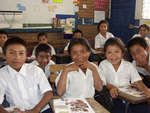 Nicaragua´s school year just recently took off for the 2013 school year on February 11th. For this reporting period Fabretto is happy to share the 2012 school years accomplishments and end results as well as share some of the upcoming highlight for the first quarter of the new 2013 school year.
The 2012 school year ended with greatest numbers of student beneficiaries served in its history. 8,789 primary school students participated in Fabretto´s Primary Education Enrichment Program. An almost 22% increase in the previously projected target thanks to the insertion of new schools within the scope and reach of Fabretto. This number of student equals to a 94% retention rate overall, up from 91% from previous year. This increase in the number of children staying in school reflects a greater importance placed by parents on the educating their young as a result of awareness campaigns, workshops and the quality of Fabretto´s programs in education and nutrition. In addition, an average of 80% attendance rate across the board was reached.

Fabretto's program for early and primary education program is focused on improving the quality of education for students, up through the sixth grade, the last year of primary school in Nicaragua. Program activities include teacher training, provision of teaching and learning materials, infrastructure improvements, and the implementation of after school, enrichment activities, such as: tutoring, computer classes, sports, art, and school gardens. Fabretto offers these programs in seven education centers, which are owned and operated by the organization, as well as in more than 90 public, primary schools. Parental involvement is critical in this program, which also includes the organization of community education networks, and workshops for parents on issues related to the preventative health, education and well-being of their children.
As an additional impact evaluation of Fabretto's Primary Educational Enrichment Program, students from first through third grades were given Early Grace Reading Assessment or EGRA tests in August 2011 then again in July and November of 2012. The EGRA tests are used by USAID to measure children's fluency and reading comprehension. Since the ability to read and understand is an important component to the learning process, the EGRA results are an excellent indicator to assess the learning process experienced by children in their early years.
The test results show considerable improvement from the initial assessment in 2011 to the test results from 2012. Test results are categorized into three different levels: reading "well", "adequate", and "at risk". Fabretto's test results show improvement with children reading well initially assessed at 27% of students increasing to 52%; students at the adequate level went down from 45% to 25%, and the at risk percentage went down from 28% to 24%.
These EGRA test results are the product of Fabretto´s strong emphasis in 2011-2012 on improving reading and comprehension. Some of the initiatives and activities that resulted in an improved pedagogical and learning environment attributable to Fabretto´s reading and comprehension endeavors:
The creation of 30 reading clubs across Fabretto supported schools
The construction of 42 resource centers across Fabretto supported schools. Students here can have access to story books, atlas´s, dictionaries and other relevant reading materials
Reading fairs and contests among students
The restocking of 5 libraries with more and new books
The creation of 2 mobile libraries with the use of donkeys to reach far flung and marginalized communities
What to expect in the months to come in the 2013 school year?
Fabretto has projected several promising pieces of data. For example, Fabretto estimates that this year, with the help of all our generous donors, the number of enrolled students will grow to 8,915. In other words, Fabretto will grow its primary education services by roughly 200 students. In addition, Fabretto expects to retain 88% of the students, however recent years has shown that Fabretto meets and exceeds this number by several percentage points.

In addition, certain activities are being planned and already underway. Strengthening primary education in 2013, will begin with recreational and mathematical Olympics to further enrich primary students in arithmetic problem solving. Training and workshops will be held to refresh and familiarize beneficiaries and teachers as well. In March Fabretto will start applying tests in language classes and math to track the performance of students during term 2013. Finally teachers will be receiving training for about 140 hours on active strategies participatory curriculum development MINED, will be taught by UNAN, the National Autonomous University of Nicaragua a specialized segment for strengthening teacher nationwide.