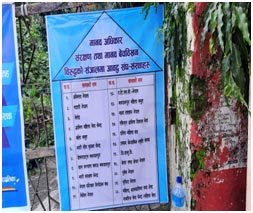 Due to rapid spread of Corona virus, conducting any program including against human trafficking has been impossible. Makwanpur district as rest of the country has been very affected by second wave of COVID and believe the third wave will be followed soon. The schools have not opened for this academic year March/April, although businesses are open with limited hours, gyms, banquets halls and other places to accommodate large people continue to be closed. People are advised to stay home as much as possible. Within July15 -Aug 16, 2021;14, 317 have contracted Corona virus, 13,687 got healed. In this second wave 155 passed away. Thus, District COVID Crisis Management Committee, DCCMC called meeting on July 13, 2021 initiated the Campaign to wear mask with all the government institutions, private and civil society organizations to set up Health Desks. The Human Rights Protection and Human Trafficking Network with 22 member organizations (which was initiated by HIMRIGHTS in 2008)set up Help Desk in the Hetauda Bus Park for fourteen days. We chose this spot as human traffickers use bus park for trafficking. Thus, we chose this place to prevent any human trafficking or vulnerability as well as to provide info and mask against COVID 19. We provided mask, information and leaflets on COVID 19 to anyone who was walking without a mask. They were requested to put on masks. We, HIMRIGHTS provided with 2000 masks for people without masks and 30 T-shirts for the campaigners. Others in this campaign chipped in too. We also distributed posters on how to prevent contraction of COVID 19.
While the Help Desks were set up in different parts of the Bus Park, one of the teams noticed a young woman walking back and forth nervously. Then we saw a man on a motorcycle meet with her and forcing her to sit on his bike. We realized she was not willing to go with him. So our team went to talk to them. Ms. A Shyangtan (fake name), 25 years old, her husband works in Malaysia as a migrant worker. This guy had convinced her that he would get her a good job. As soon as we intervened the guy ran away. We informed her that she could be easily trafficked with false promises. She left for Bara district, her home town with her sister-in-law.
Late last year we were nominated as member of District Committee to Control Human Trafficking and this year we are supposed to set up hoarding boards in various parts of Makwanpur against human trafficking but nothing has happened due to COVID 19. The priority of the government has focused on COVID. There is little information on if there is continuation of human trafficking. In the first phase we found women and girls are being trafficked via India to other countries in food trucks as these were the only trucks allowed during the lockdown to pass through Nepal-India international border. People are going through lots of hardship including accessing the basics, like food. In a recent research which I lead, yet to be published, found many crossed the border trafficked to India and other countries.
With support from Core International we are supporting with education (schools are yet to open) and food to 100 children and their families, masks and soaps to 5000 families, as well as basic medical needs to COVID Hospitals in our working area, Manahari and Raksirang Rural Municipalities, Makwanpur District.