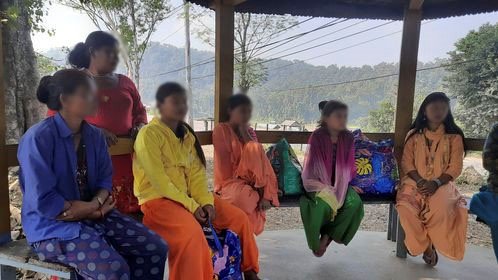 Four Girls prevented from Trafficking
COVID-19 prevalence in the country have affected every part of life and especially increased human trafficking vulnerability of marginalized population. Since March 2020, we have been in some sort of nationwide lockdown. Apart from the last two major festivals, Dasain and Tihar, people tend not to come out of their homes unless necessary. The domestic and international flights have resumed to some extent but public vehicles are limited. The international borders are still closed. The scenario is quite bleak. Many are jobless; the farmers are unable to effectively produce- lack of fertilizers nor sell their produces due to lack of transportation.
I believed especially with restricted movement in the cross-border trafficking, would not take place however, it had not stopped. In fact, the traffickers are taking advantage of this situation by hiding women and children in vegetable/food/essential trucks. These trucks are prioritized to cross the border between India and Nepal as well as China and Nepal.
Recently on World Children's Day Nov. 20, 2020 we, intercepted four girls between the age of 13-16 from Manahari Rural Municipality, Makwanpur. It is illegal for children to work in hazardous jobs. The local people saw all four of these girls with big bags going along with a local man. They got suspicious about their activity. Thus, they informed the police. Thus, the police informed HIMRIGHTS, government and nongovernment organizations jointly intercepted four girls, age 13-16, indigenous, from being trafficked to carpet factories in Kathmandu Valley. They were handed over to the parents with promises not to send them into any exploitative work.
Some of the local people had participated in trafficking awareness prevention programs which made them alert on the possibility of human trafficking. I am very happy that our years of work did come to practical use for prevention. Thus, with the fund raised during Dec. 2020 we will continue to conduct awareness, skill development and income generation for these four girls and other vulnerable women and children. We will send them to school if they agree to it. We will also work closely with the local government for these girls and to prevent human trafficking.