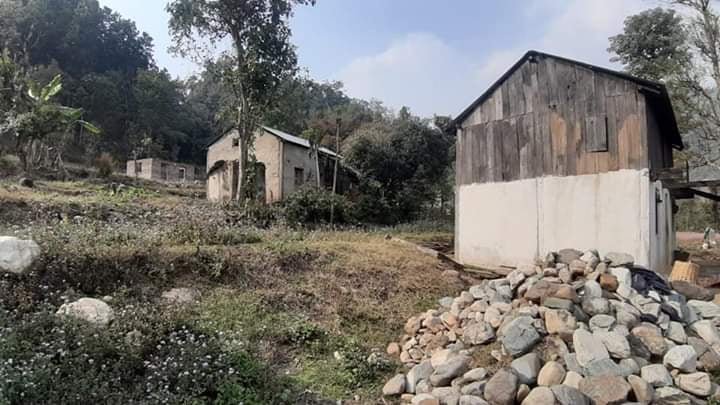 Raising Awareness against Human Trafficking in Raksirang, Makwanpur
For this Quarter HIMRIGHTS conducted the workshop against in Shree Praja Jagrit Aadharbhut School in Raksirang, Makwanpur, Jan 23rd 2020. We had 30 students participate in the workshop from grade six, seven, and eight (22 girls and 8 boys). We ensure participation of boys too as increasingly boys and men are being trafficked into slave like practices
Although, this particular district/locality is adjacent to Kathmandu Valley, it is located in a difficult mountainous terrain, last permanent motorable road is about 45 minutes from the main highway. There is a temporary motorable track on the river bed, the only alternative route is to hike up 4 hours each way specially during monsoon (I am attaching couple of photographs to give you some reference). Each student walks to school minimum of 20 minutes to an hour and half. To avoid the long hikes, some of the students live with their relatives. Furthermore, many students come to school with no food as most of their parents have to go to wage work from 6 a.m. Thus, many of the students go with a meal a day only. Child marriage and labor is very prevalent which also leads broken family, divorce, remarriage and human trafficking.
The car is on the river where ever its dry and at times just driving on the water. (Image A, B, C)
The objectives of the program were to create awareness on the current situation of human trafficking and how the children can be prevented from being trafficked and what they could do to prevent it in their families and communities. We shared on the facts of human trafficking that is going on in the district and in country. Then we asked them to draw their understanding of human trafficking and what is going on in their own communities. The program was led and coordinated by Ms. Kumari Waiba, HIMRIGTHS district coordinator and along with Ms. Maya Lama, district representative from Maiti Nepal (one of the leading organizations on human trafficking), who share their experiences and Surya Bahadur Praja, principle and teachers: Elena Praja and Shyam Mahato. They made their presentations: An introduction to what Human Trafficking is, An explanation to how foreign employment has led to Trafficking; How Human trafficking can take place in Nepal itself; How the entertainment industry can lead to violence and abuse—internal and external trafficking; and The methods via which traffickers lure and traffic people. Posters, pamphlets and other materials were provided to illustrate on the topics. The program had a drawing section where students were requested to draw what is Trafficking in the past and present context, how it could take place and what they had learned through the presentations. This graphic process is for them to internalize the issue and also so that they could use their drawings to share with their colleagues, family, friends, and communities. We conducted follow ups to learn the impact of this program not only with the 30 students but its ripple effects too.
The students have taken initiative to raise awareness through similar programs and are interested to conduct art contest on Human Trafficking with other classes.
After the Drawing Program ended, the students took part in awareness programs in their school during their extracurricular classes. These programs included raising awareness about the methods of trafficking/traffickers, the practice in general and other aspects through their drawings and talks. The students were provided with various material for making illustrations and pamphlets, comic books (by children for children on human trafficking) by HIMRIGHTS.
Stationary: pencils, erasers, chart papers, sharpeners and drawing papers and the snacks for the program was provided by HIMRIGHTS while Maiti Nepal had provided various Pamphlets and Brochures pertaining to the topic.
Representative of Maiti Nepal and the Principal of the School took part in presenting the topic and have made the program more effective with their personal and professional experience(s) and knowledge(s).
In three hours, students were made aware about Human Trafficking. This program was the first of its kind to take place in this school. The teachers and Principal of the school shared that this program was a great success and were very thankful to HIMRIGHTS and the GlobalGiving, who had donated to this project. They requested for similar programs to be held in the future too, as there is constant need to raise awareness to different and new groups to highlight the issue and constant evolving new trafficking trends. We have been unable to conduct follow up programs due to preponement of school exams and nationwide lockdown for almost two months due to Covid-19 pandemic.
I would like to thank GlobalGiving, all my friends, and donors who have supported this project, without which this would not have been possible.
The children in their newly built classrooms from the 2015 earthquake, learning about human trafficking. Pictures have been taken with permission of the students, aware of the fact that it will be uploaded to the internet. (Image D, E)
The Participating students being briefed about the program by Kumari Waiba (HIMRIGHTS) and Maya Lama (Maiti Nepal District Representative) through illustrative presentation. (Image F, G)
The Students drawing in the program. (Image H, I)