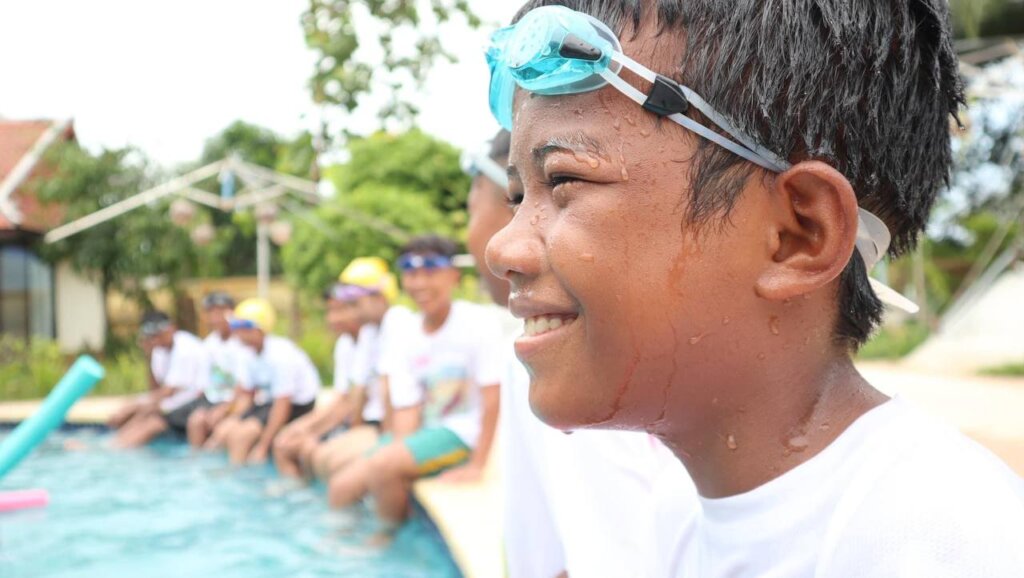 To date the Helpcode Program have facilitated programs on Water Safety and Cardio Pulmonary Resuscitation for 2528 children disaggregated by gender Females 1271 and males 1257 in 32 targeted Primary and Secondary schools in the Informal Settlements of Phnom Penh, Kandal, Kampot, Sihanoukville and the surrounding Islands of Koh Rong and Koh Rong Sanloem.
Helpcode planned the program implementation in collaboration with the Sihanoukville Provincial Ministry of Education,Youth and Sports. The cooperation with the MOEYS enables School Principals to coordinate time for students in each grade to attend the Helpcode Drowning Prevention Program. This support is crucial in meeting the need to prevent children from drowning.
The course importantly is a competency-based training program with participatory learning tailored for children, adolescents and adults. The course covers twelve key messages on water safety and teaches participants how to effectively perform safe water rescue and Cardiopulmonary Resuscitation. The course not only provides participants with the knowledge and skills they need to stay safe in and around water but also provides the opportunity for participants to practice these important skills so they have the confidence as well as the capacity to take action on preventing drowning.
The program has also worked to develop a partnership with the Mermaid and Dolphin Swim Schools, both accredited organizations that are supporting Helpcode facilitate the Survival Swimming Part of the DPP. Helpcode are excited to be able to report that the Survival Swimming part of the DPP was able to commence on November 15, 2021 in line with school reopening.
Since November 2021 the program has been able to facilitate 5 Swim for Survival Programs reaching 200 children. All 200 children were passed in as competent in meeting the expected training competencies on completion of the training. The training is facilitated using a best practice standard approach of 1 trainer per 5 students. One group of 20 students is trained in the morning sessions Group A with a further group of 20 children trained in the afternoon sessions Group B. The Swim for Survival Program is facilitated over a 4-day period.
The Helpcode Program has also been able to facilitate Water Safety and Cardio Pulmonary Resuscitation programs for adults within the communities of the 32 school Drowning Prevention Program catchment areas. In total the program has reached 500 adults disaggregated by gender Females 305 and 195 males in the 32 targeted Primary and Secondary school community catchment areas.
Helpcode again planned the program implementation in collaboration with both Provincial and Local Government and Community Leadership Groups. The cooperation with Provincial Government and Community Leadership Groups provided important support for the program in being able to work and achieve success within the targeted communities.
The Helpcode Team in Cambodia facilitated a Beach Drowning Prevention Activity on World Drowning Prevention Day July 25, 2022. The activity was facilitated at Otres Beach in Sihanoukville on Sunday July 25, 2022 to create a supportive environment for engagement of as many people as possible. Many families visit the beach on Sundays to Picnic, spend some time outdoors and in the ocean.
The activity involved the production of a World Drowning Prevention Day Banner featuring information on World Drowning Prevention Day and the 12 Key Water Safety Messages. The Banner was displayed in an area of high vehicle and foot traffic at Otres Beach. Practical Water Safety and CPR stations were set up for people to practice safe water rescue techniques and Cardio Pulmonary Resuscitation. Information Pamphlets featuring water safety messages were distributed to approx. 550 people on the day.
A Drowning Prevention Article was featured in the Phnom Penh Post Newspaper on Monday July 25, 2022 highlighting the Helpcode Drowning Prevention program and featuring information on steps people can take to prevent drowning.
Along with the Newspaper article a series of Drowning Prevention Awareness Radio Grabs were played 6 times a day for 5 days on 2 Cambodian Radio Stations 97.5 FM and 93 MHzfrom July 23rd 2022 through to July 27th 2022.
DJ Nana a social influencer and media personality in Cambodia with a following of approx. 1.5 million people who actively advocates for and supports the Helpcode Drowning Prevention Program in Cambodia uploaded to her Website a World Drowning Prevention Day Post which also received significant interest.
The Helpcode Cambodia Drowning Prevention Program is demonstrating results. Based on participant's experiences with the program in communities where the Drowning Prevention Program has been implemented training in Water Safety and Cardio Pulmonary Resuscitation has improved community knowledge and confidence in knowing how to stay safe in and around water and to be able to take effective action on the prevention of drowning.