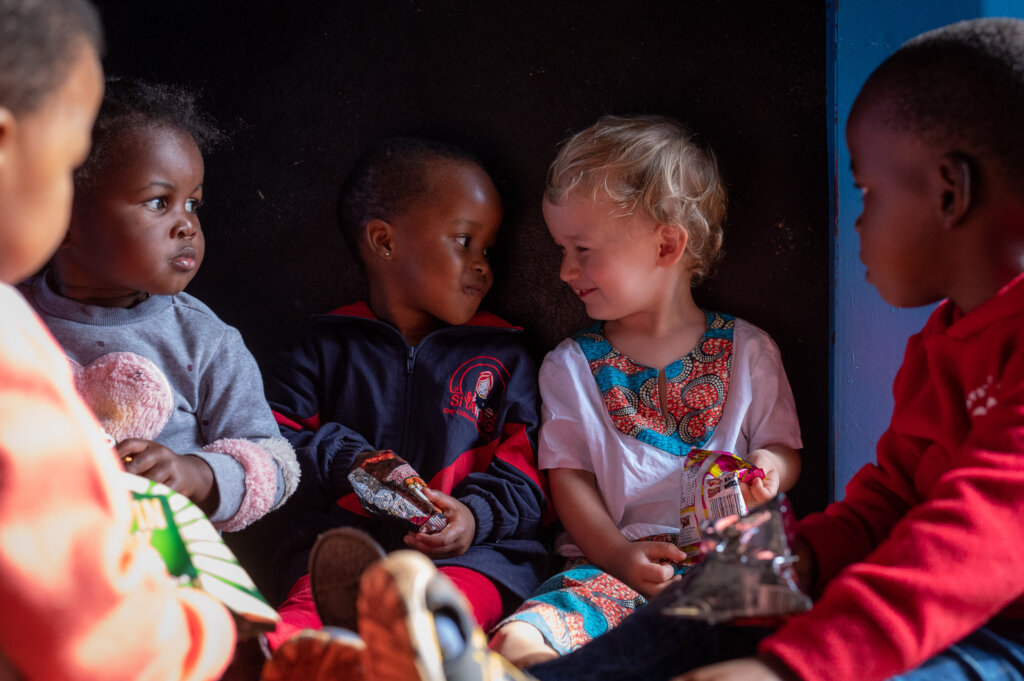 Dear Friends of Thembanathi,
It's been a while since I've written to you! Things have been busy for me in South Africa, with building a new non-profit research organization focused on participatory research, youth engagement, and social justice, and growing my own family. And with the pandemic, I haven't been able to travel to KwaZulu-Natal to visit Siyabonga for 3 years. In April, Helen and I planned a trip up to visit Siyabonga and the other projects in the Even Ground network of community-based educational organizations and were both excited to visit Siyabonga again after so long. We managed to get to KwaZulu-Natal, but then were caught in a major storm that caused hundreds of deaths, thousands of homes lost, and significant damage to roads and other infrastructure throughout the province. We had to turn back to Cape Town because the roads to Siyabonga were washed out.
After the province had recovered somewhat from the devastation of the floods, I was finally able to successfully make it up to Siyabonga, accompanied by my partner and toddler son. My partner Franc, a professional photographer, spent two days capturing everyday life at Siyabonga, while I was able to spend time with the director Khethiwe gaining a deeper understanding of their current circumstances. Our son, Jasper, spent the two days in the preschool class, enjoying time with the friendly children and generous teaching staff. We were touched by how warmly everyone received him. It's amazing how easily young children can connect, offer kindness, and show affection for each other, despite significant language and cultural barriers – we adults could certainly learn a thing or two from them!! We will be sharing more pictures and stories of the children at Siyabonga in upcoming updates.
In the meantime, since you haven't heard directly from me in a while, I wanted to briefly share my impressions and thoughts about how things have been going at the center, which we built more than 10 years ago with support from many of you. When I lived in the area, I used to come to the center often and got to know many of the children by name. By now, all these children are many years further in their educational journeys and there's a whole new crop of eager young children. Some of the teachers, by contrast, have been working at Siyabonga since we first opened the doors of the early childhood development center – amazing staff retention for this rural area with high population mobility. Their knowledge and experience, enhanced through continuing education funded by Thembanathi, are obvious in the well-run classrooms, happy children, and committed families. The director, Khethiwe, has also done an amazing job of managing the center and ensuring that all programs are delivered at a consistent standard.
There have of course been some setbacks and challenges in the past few years, as was the case for nearly all non-profit organizations in South Africa during the pandemic. In addition, the region where Siyabonga is located has faced chronic issues with lack of service delivery and have had water shortages and inconsistent electricity for years. The water situation has gotten even worse recently, and the center has had to spend a significant amount of their limited funding to buy water privately to cover their basic sanitation needs. In addition, after several severe storms, the center roof has started leaking. Khethiwe made a special appeal for support to help repair the roof.
As always, your support is essential to keeping the program operational. With additional funding, we could also help Khethiwe fix the roof and improve the center infrastructure. And, your gift to Siyabonga this week will have an even bigger impact on their ability to serve the children in their community! Starting tonight at 9:00 pm PDT (12:00 am Monday EDT) through Friday, September 16, 8:59 pm PDT (11:59 pm EDT), all donations up to $50 will be matched at 50% by GlobalGiving during their Little by Little Campaign.
Thank you again for the critical role you have played in the work of Thembanathi, Holy Cross, and Siyabonga over the years. I am confident that the hundreds of children who have attended Siyabonga since it began have benefitted greatly from the support, education, and nutrition they received while there.
With deep gratitude and best wishes,
Lindsey