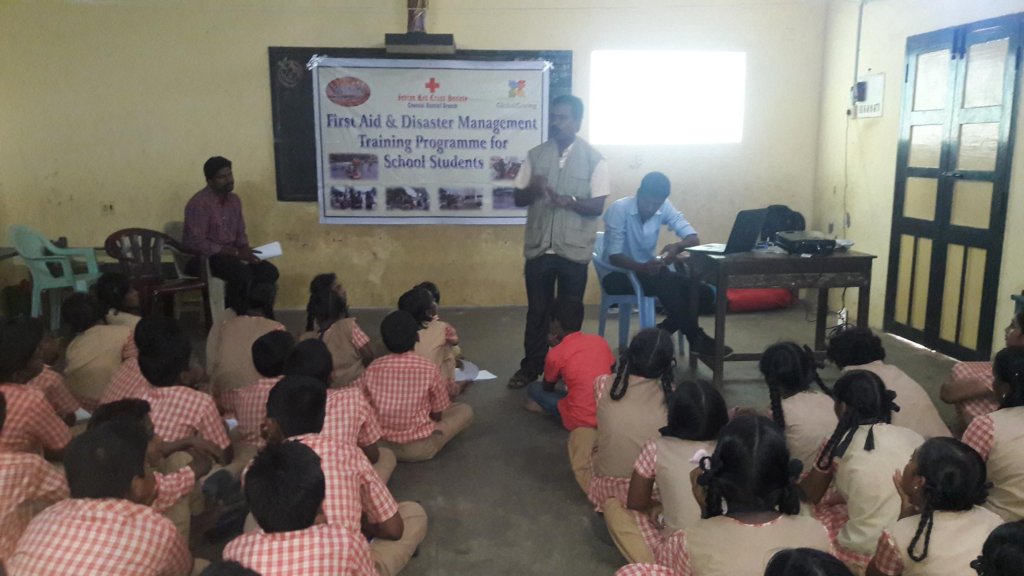 Our First aid and disaster preparedness training programme was taken up to 12 schools – Govt.Hr.Sec.School, Nandanam; P.S.High School, Mylapore; The Madras Seva Sadan Hr.Sec. School, Chetput; Raja Muthaiyah Hr. Sec. School, Raja Annamalaipuram; Chennai Girls Hr. Sec. School, Nungambakkam; Jeyagopal Carodia Girls Hr. Sec. School, Choolaimedu; St.Joseph's High School, Nungambakkam; Chennai Corporation High School, T.Nagar; Chennai Corporation High School, Appadurai; Chennai Corporation High School, Teynampet; Chennai Corporation High School, Dr.Giriappa Road; Chennai Corporation High School, Vanniyar Street; in Teynampet area of Chennai to give school students and staff a flexible approach in offering first aid and immediate rescue measures during a disaster. 925 students from middle and high school grades were the participants of the training.
The training programme that ranged from one-to-five hours was facilitated with the help of Mr.K.Palani, Secretary, Indian Red Cross Society, Sub-branch, Amijikarai, Chennai City; Mr.K.Lawrence, Demo Organizer, Red Cross Society; Mr.K.Subramaniyan, First Aid Trainer. All our dedicated trainers from the Red Cross Society and 24 volunteers who are well equipped with extensive first aid knowledge and ample experience working with young people took up the training programme in an efficient manner.
Each training module ran through 20 – 30 minutes and included a broad range of topics like the basic concepts & elements in disaster management, types of natural hazards and brief description of various natural disasters, such as flood, drought, cyclone, earthquake and their impact.
The course module also included first aid measures during bleeding, head injuries, emergency treatment and support to preserve life through clearing and maintaining open airways, restoring breathing or circulation, how to protect a person, particularly if they are unconscious, practical training on fire fighting, lifting mechanisms, formation of teams and how to communicate using sign language/signals during disaster. The training offered practical, fun and interactive first aid training to the children where teachers were also welcomed to participate in the training.
Case study
I'm glad to appreciate the excellent effort taken by SPPD & Global Giving with the assistance of Red Cross Society in orienting first aid and disaster preparedness training at school level. Though there is a mass response amongst young pupils to learn first aid, many of them wouldn't know what to do if someone they knew was hurt, or who is in need of immediate help. However I believe the training has provided an opportunity to every young student the chance to learn vital life saving skills, the knowledge and confidence to be the difference between a life lost and a life saved", remarks the Principal, Jeyagopal Carodia Hr. Sec. School Choolaimedu, Chennai.
"The training imparted by SPPD & Global Giving had made me more informative about things which I had not known earlier. This has motivated me to make a decision to help people who are in distress and trouble.
At this juncture, I would like to experience an incident I witnessed few days ago. I happened to notice an elderly man who was passing through our area was about to faint and fall, and he did. Everyone was trying to get water and splash on his face, and also tried to move him sideways to bring him out of that condition. In the mean time we had called the Ambulance services – 108 for help. But it was too late, the elderly man had passed away before the Ambulance could arrive at the scene of this incident. It was shocking to see that no one could offer a proper first aid.
It struck me that I could have helped the elderly man through training you had given to us. I was able to visualize the process of, first move such people to a place of fresh air and make him to lie in a straight line position, and then to blow our breath into him by placing our mouth on his mouth.
It also made me to realize that this small effort to give a first aid to someone can make a difference in their life. I would like to thank Global Giving, Red Cross Society and SPPD for this training program. I am so motivated that i have taught at least few people about this, and how it can be life changing !", says Z, a student of Grade VIII from St .Joseph's High School.
"The education by SPPD, Global Giving and Red Cross Society on First Aid and Disaster Preparedness was a very useful program for every one of us. This will help us to be prepared to apply the right solution for every situation. Some time ago my father had beaten my brother for not performing well in his studies. Because of this my brother was heartbroken and hung himself to commit suicide. No one was willing to go and help him, except my father who had cut the rope and saved him from dying. Inspite, my brother was finding it hard to breathe, and asked for water. We called the Ambulance to take him to the hospital, but after drinking the water my brother died, the paramedics confirmed it.
Your training program had clearly taught us that during such conditions we have to make the affected person to breathe easily, and not to give water immediately. I was shocked that we did the wrong thing, and had felt how useful it would have been if we would have received it earlier, Probably I could have saved my brother," says B a student of Grade IX, Govt. Hr. Sec. School, Nandanam Chennai.