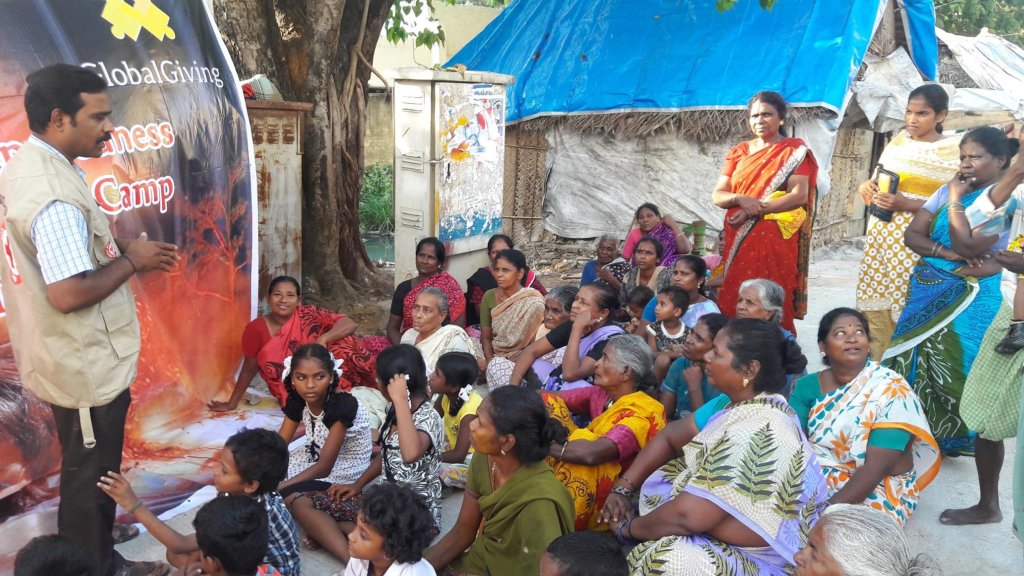 In continuation of our project for the flood victims in the slum areas of Chennai, community level awareness and disaster preparedness programme were carried out.
The aim was to educate the community - children; older adults and people living with disabilities our primary focus make them better prepared for a disaster.
The community level training was imparted to the people living in Thiru.V.Ka Nagar, Dr.Giriappa Road and Thomas Road, Teynampet, Chennai. Around 397 participants where children, older adults and neighbours living in that surrounding acted as participants in the training programme. They were educated on immediate first aid, planning which involved identifying organizational resources, formation of teams, determining the roles and responsibilities, communication touch up with neigbhouring communities, etc. to ensure that the response system functions successfully. The training programme was facilitated with the help of Mr.Palani, Chariman, Red Cross Society, Chennai City; Mr.Lawrence, Demo Organizer, Red Cross Society; Mr.Subramaniyan, First Aid Trainer.
The participants kept the training session very active by their constant interaction with the resource person, clearing their queries during rescuing period, immediate sanitary measures they need to adapt to protect themselves from diseases, etc. By the end of the training programme the people of this locality had a clear perspective on flood preparedness.
CASE STUDIES
One community member aged 50 years, is a parent of three children, the younger two pursuing their schooling while their eldest son discontinued education as the family demanded his early employment to support the family. He is a painter by profession and wages are daily based. "We have all experienced the disaster caused by November 2015 floods in Chennai and during that critical moment we had no idea as to how to react to such situations. We came to know about the awareness programme carried out in our slums and participated in the same. It has educated me on First Aid and the practical demonstration of training has helped me to understand and learn how to lift a disabled/old aged person, calling for support during fire incidents, pumping motions, etc. I am so, so glad that I attended this course. This was the first awareness programme that I have ever participated!"
A home maker, 29 years old residing at Dr.Giriappa road was intimated through her neighbours about the awareness programme carried out in their slums and she was very interested in participating in it. In her own words… "My family had a bitter experience during the November 2015 floods in Chennai where we had witnessed many deaths, and we deeply regret of our helpless situation. The floods had completely tossed up the lives of many. The training that I attended has kept me well informed on immediate first – aid in different situation, how to assist older adults and adults with disability , how to lift them as a single person which the trainer termed it as " Single man lift and double man lift". The training was framed completely in a practical session which made me understand it in a better way. It has revived my lost confidence to face any emergency situations and rescue victims courageously which I failed to do during the flood due to the panic I pursued on the sudden shock."
A 47-year-old widow, resides at Thiru.V.Ka Nagar and is employed as a Home maid. After her husband's demise she adopted a girl child who unfortunately has heart problem. "On the initial diagnosis of my daughter's heart problem, I found it extremely difficult to handle the situation and was completely under panic. The situation worsened during the November 2015 floods in Chennai. I was unaware of the immediate first aid to be given to a person who has cardiac arrest. But now, the course I recently attended, was a on a clear cut conception and the training was much more informative than I anticipated. The course material was thoroughly relevant, instructive and engaging. It was enlightening to learn that helping and perhaps even saving a person's life is far easier to handle than I had imagined."