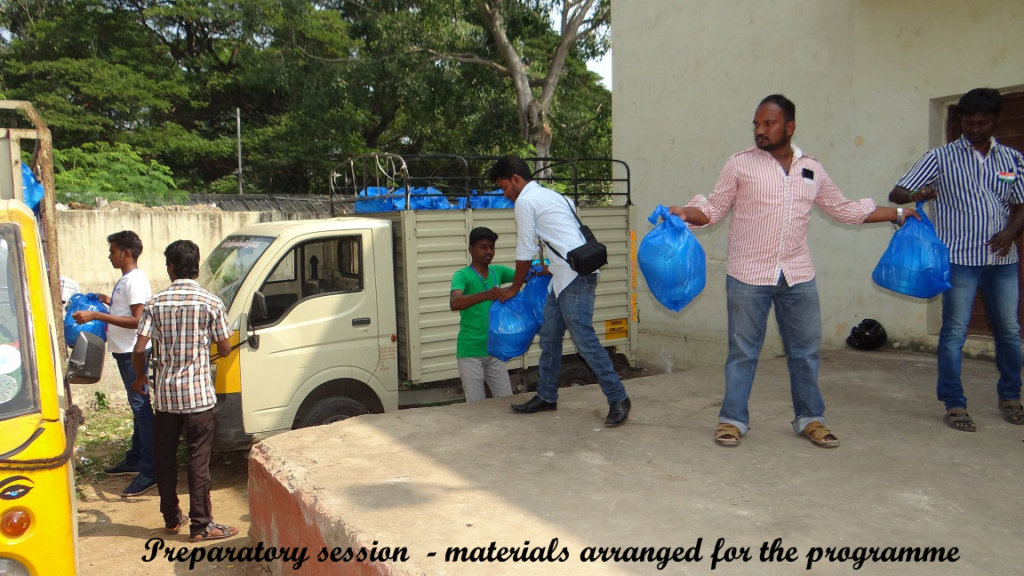 With the support of GlobalGiving, we have taken the initiative to help the flood victims of Chennai with provision of relief items. In these items were kitchen utensil kit which comprised of cooking pot, frying pans, ladles, tumblers and plates.
Our first effort towards this relief programme was to conduct a face-to-face survey with the residents of the focused area - Giriyappa Road, slum of Teynampet, Chennai. Our team of members was at the project site a week ahead collecting complete details from each family. The survey recorded details from 280 to 300 families. Following are the findings of the survey conducted.
The residents told the team members that so far they have received bed sheets, food provisions, mats, etc. which was helpful to them and thanked every good person who offered their services.
All their belongings were either washed out in the flood or even their attempt in collecting the remains after the disaster was futile. The utensils were soaked with dust, created very bad odour and were completely useless. Though provisions were distributed, they hadn't the proper utensils to make use of them.
Our next focus was to seek permission from the nearby school and police station to help in distributing the kit without any commotion. The venue was fixed at Sathiyamoorthy High School, Teynampet and timings between 01.30 to 03.00 p.m. The list of beneficiaries was tracked down with the help of the survey papers. 300 families were selected and prior information on the relief activity was intimated to the recipients.The recipients were on time at the said venue and the programme took place at ease without any strife.
In this time of need, we shall help them as much as we can. Let us stand united to help them return to normal life.
Quotes from participants
1. A mother of four children. Theirs' is a big family with 4 children and 6 adults. In her own words… "We lost all our things in the flood and are totally depended on the relief items that are provided by donors. We are thankful for providing us this utensil kit which is absolutely helpful to us."
2. One of the participants, is a widow and has no children. In her own words… "I lost all the few things I owned in this flood. We were provided with benefits from different sources, But I was unable to avail any of these benefits as I'm working and I was unaware of the timings of distribution. However I express the effort taken in giving prior intimation to the beneficiaries of the date, venue and timing the distribution will take place. That is why today I'm able to receive this donation provided by them."
3. "The flood had created a great damage to the few properties we owned. However we were provided with benefits and thanks to the effort taken. We have received mats, bed sheets, provisions, etc. but we hadn't any utensils to make use of the grocery given. I express my thanks for providing us with this utensil kit which will be helpful for our cooking purpose."
Thank you for stepping forward to help those in need!