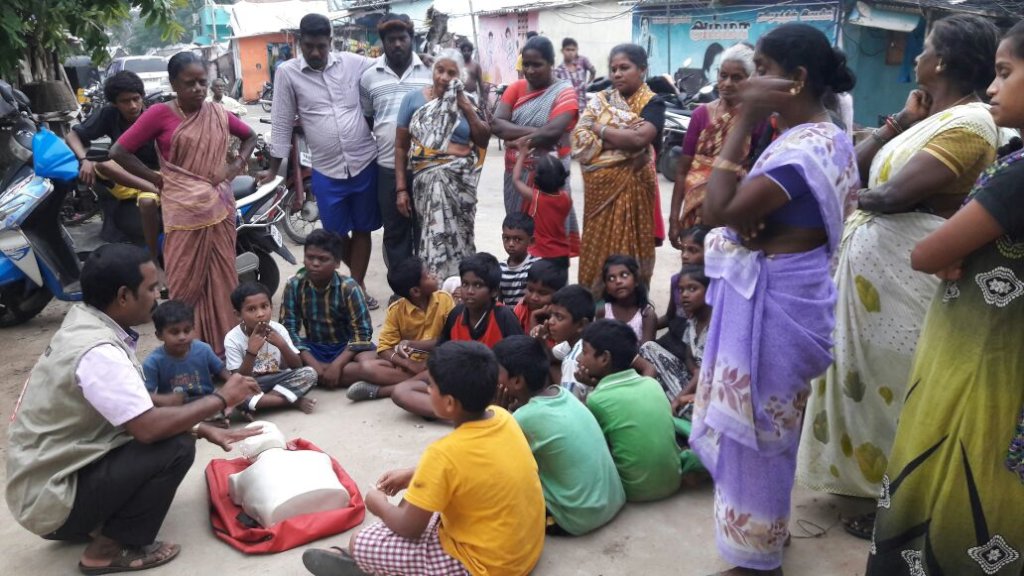 Successive journey on Disaster Preparedness
Society for Poor People Development (SPPD) has been working in the disaster affected poor slum habitations since the heavily disastrous deluge that shook the city of Chennai in the year 2015. Disaster Preparedness is carried out as a continuous intervention by SPPD in association with Global Giving and Red Cross in the slums here.
For past three months we have been demonstrating and educating basic precautions that should be taken among children, youngsters, adult and aged people.
We are providing whistles for children and guiding them to make alarm when they are realizing that they are not in safe circumstances.
We are leading them into the world of awareness about personal hygienic and lack of hygienic habitual actions which may lead into or causes severe diseases during the disaster.
We demonstrate the first aid procedure to handle health problems towards breathing when they are in need of emergency treatment, and what are the methods and procedures should be carried out to stop fire before spreading vigourously and how to carry emergency patients those who are under major injuries. For these whole training activities we have chosen 150 community members, among them we have trained and summarize the list as 50 voluntaries and provided Emergency Medical Kit.
All these activities are taken place at the areas of Dr.Giriyappa Salai and Kovil, M.k Radha Nagar, Thiru V.KA Gudiyiruppu at the broad surroundings of Teynampet in Chennai.
And the sufferings of the poorest communities, who live in the hundreds of slum settlements was unthinkable indeed so SPPD team have involved to bring up betterness in their life. We would like to thank you for generous support and you have become a part of this intervention and extended a helping hand to prevent the loss of the lives and heavy damages of the hapless poorest communities living in our slums.
We would like inform our special gratitude to Mr.Shann Lakshmanan, Chennai flood Fundraiser.