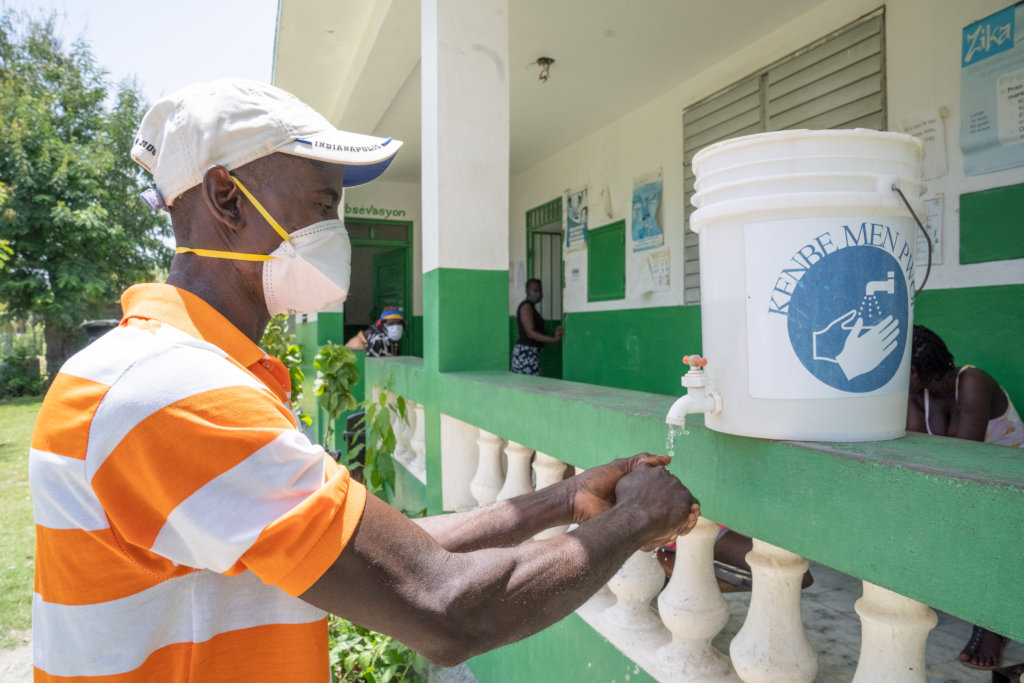 Some good news from Haiti--new daily Covid-19 cases have declined significantly since the last time you heard from us. After 9 months of pandemic, Haiti has had less than 10,000 cases and 300 deaths. Due to its very poor health infrastructure, we were expecting much higher numbers since the Dominican Republic (our neighboring country) was reporting an extremely high number of cases towards the beginning of the pandemic.
When the first case was reported in Haiti, there was a lot of stigma associated with Covid-19. People burned health centers because they didn't want Covid-19 in their area or were physically violent to people showing signs of the virus. This kind of attitude was caused by fear or lack of education about Covid-19. Many people hid their symptoms, afraid of being targeted or isolated by their communities. At C2C, from the beginning of the pandemic, we have educated our patients about the virus. We show informational videos in the waiting room, our registration nurses talk about the signs of the virus and best practices every morning before consultation starts, and our community health team travels to remote areas and talks to the communities about the best practices to reduce the spread of the virus.
From the beginning of the pandemic, we have put in place a protocol that outlines the steps to take when we have a patient showing signs and symptoms of Covid-19. Furthermore, we are in direct contact with the Ministry of Health and whenever we suspect a patient might be infected we call them and they schedule a test at the patient's home or in our clinics. Even though we were not sure how the pandemic would affect Haiti, we kept all of our clinics open. We selected an area in each clinic where patients would be isolated if they showed signs or symptoms of Covid-19. We put a handwashing station at the entrance of all our clinics and every patient coming in or leaving must wash their hands. We took the temperature of every individual that entered the clinic. And, all our staff is equipped with PPE even though it currently costs three times the price to buy PPE and hand sanitizers in the country. This was all possible because of YOUR support!
At C2C, we remain cautiously optimistic. Second waves in Europe and the US have presented a stark reminder of just how important it is to continue to take this pandemic seriously. While it's been admittedly difficult to adjust to this "new normal," we cannot let our guard down and must continue to adhere to virus mitigation best practices.
We are grateful for your generous support which has allowed us to be better prepared to handle a second wave of Covid-19 in Haiti. Thank you so much for all you've done to support C2C during this unprecedented year as we continue to provide high-quality primary care in northern Haiti!